Support NRA American Hunter
DONATE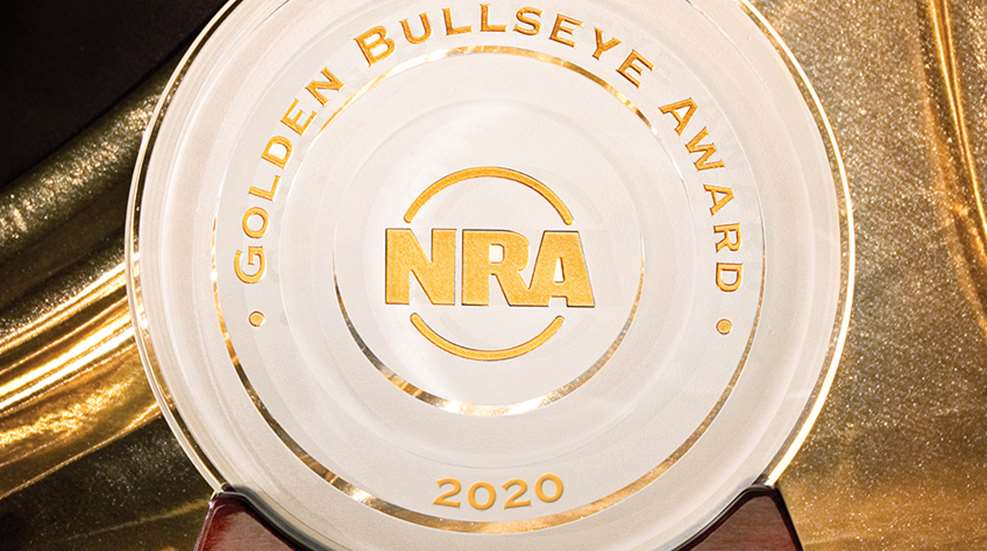 NRA Publications will present its 18th annual Golden Bullseye Awards and Golden Bullseye Pioneer Award at an invitation-only breakfast on Saturday, April 18, during the 2020 NRA Annual Meetings & Exhibits in Nashville, Tenn.
"We are pleased to announce the winners of the 2020 Golden Bullseye Awards," said Doug Hamlin, Executive Director of NRA Publications. "Selected by a six-member committee consisting of editors, graphic designers and veteran NRA Publications staff, they epitomize what NRA members seek in their shooting and hunting equipment—outstanding performance, innovation and value. Congratulations to those who have created the industry's best new products."
To qualify for consideration for a Golden Bullseye Award, the product must have been:
• Recently introduced and available to consumers prior to the selection of the Golden Bullseye Awards;
• Used/tested by a staff member or regular contributor to the magazine and/or affiliated media;
• Reliable in the field, meeting or exceeding the evaluator's expectations;
• Innovative in design and function;
• Readily perceived as a value to the purchaser; and
• Styled in a manner befitting the shooting and hunting industry and, perhaps more importantly, its enthusiasts.
Whereas the Golden Bullseye Award acknowledges the finest products available in the shooting sports, the Golden Bullseye Pioneer Award specifically honors outstanding personal achievement. The Pioneer Award spotlights the exemplary achievement and cumulative body of work of an individual, or members of a family, team or partnership, responsible for the development and introduction of shooting equipment that has made a profound, positive and enduring impact on the way Americans shoot and hunt.
The winners of American Hunter's 2020 Golden Bullseye Awards are:
Rifle of the Year: Remington Model 700 American Hunter


"The American Hunter staff worked with Remington personnel for more than a year to develop a general-purpose, practical, big-game hunting rifle. In addition to adding a host of special features 21st century hunters will appreciate, we ensured the rifle would be short, light, durable and, above all, accurate. … The new receivers and barrels on this rifle are likely the best ever made by Remington, the products of custom-grade refinements at production-level costs."
—J. Scott Olmsted, Editor in Chief
• Hardware: Remington Model 700 American Hunter
• The Making of the Remington Model 700 American Hunter
• #SundayGunday: Remington Model 700 American Hunter
• Video Series: Remington Model 700 American Hunter Rifle Project

MSRP: $1,349; remington.com

---
Shotgun of the Year: Franchi Instinct LX


"The beating heart and soul of this shotgun is its feel and performance, and those are as solid and traditional as its looks. Thank you Franchi. You get it. You understand the American hunter. Your Instinct LX shotgun proves it."
—Ron Spomer, Field Editor

• Hardware: Franchi Instinct LX
• #SundayGunday: Franchi Instinct LX

MSRP: $1,699; franchiusa.com

---
Ammunition Product of the Year: Hornady .300 PRC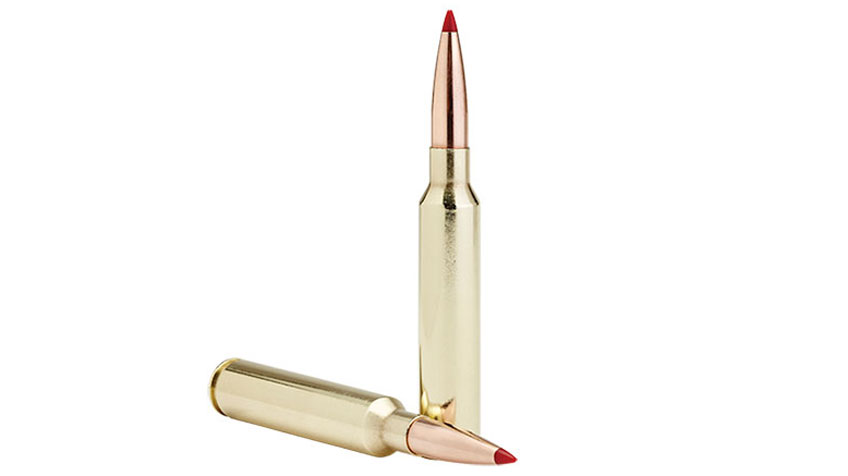 "The
.300 Precision Rifle Cartridge
(PRC), like many cartridges born in Grand Island, Neb. (.17 HMR, Ruger Compact Magnums, 6.5 Creedmoor, 6.5 PRC), is the product of years of thinking and tinkering by
Hornady
. But more importantly for hunters and long-distance shooters, it represents a paradigm shift. ... 

The

.300 PRC

is based on the .375 Ruger; call it a .30-375. Maximum cartridge overall length (COAL) is 3.7 inches. A 2.58-inch-long case creates capacity for 75-80 grains of powder to push big .30-caliber bullets at high velocity. So the cartridge has the capacity to kill not only most big game but also many existing .30-caliber magnums."
—J. Scott Olmstead, Editor in Chief

•
Hardware: Hornady .300 PRC


MSRP: $56.17 per 20-rnd. box; hornady.com
---
Optic of the Year: Leupold RBX-3000 HD Laser Rangefinding Binocular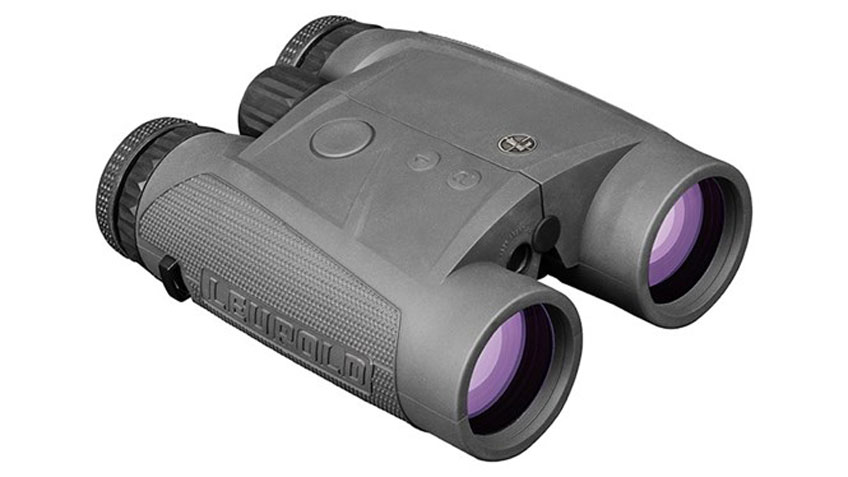 "… optical quality is just one benchmark in a laser rangefinder binocular. Laser performance is the other. Here the RBX shines as well. When I hit the RBX-3000's range button, a readout instantly appeared, and it was flashing some big numbers. Only after seeing 2,240 pop up did I remember the 3000 in the name stands for 3,000-yard ranging ability on highly reflective objects. I've seen three of the world's top-end laser rangefinder binoculars routinely reach 1,700 yards and quite often 1,800 yards, but this Leupold nearly doubles that."
—Ron Spomer, Field Editor
• Hardware: Leupold RBX-3000 HD Laser Rangefinding Binocular
• First Look: Leupold RBX-3000 TBR/W Rangefinding Binocular
• Video: Leupold RBX-3000 TBR/W Rangefinding Binocular
• Leupold Introduces RBX-3000 TBR/W Rangefinding Binocular

MSRP: $3,899.99; leupold.com

---
Gear of the Year: ALPS Outdoorz Hybrid X-Pack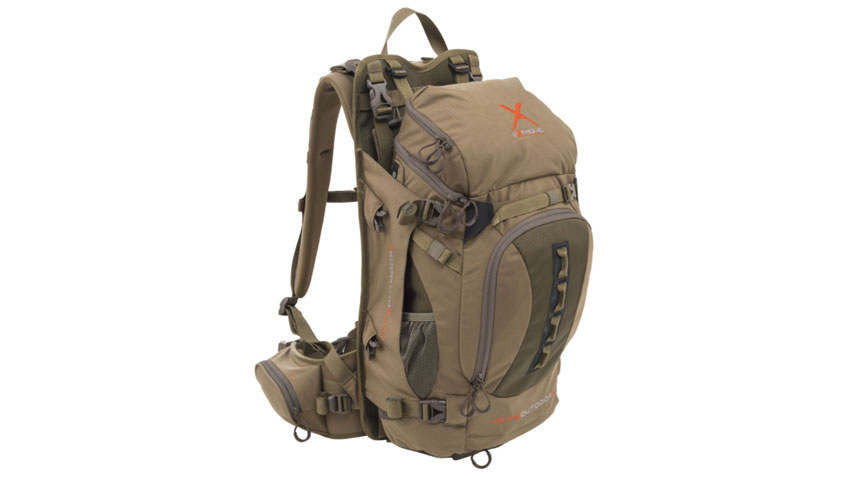 "Not too big, far from being too small, this pack hits the sweet spot for all-day hunts. Expanding the pack for meat hauling is simple and intuitive, and the adjustment range is such that both men and women can achieve proper fit. With a durable exterior, built-in frame and large storage compartment, all built into such a lightweight and compact package, it's no wonder my guide was hoping I left it behind."
—Jon Draper, Executive Editor   


• 
Best New Big-Game Hunting Gear for 2019

MSRP: $299.99; alpsbrands.com
---
Women's Innovation Product of the Year: Lacrosse Windrose Boots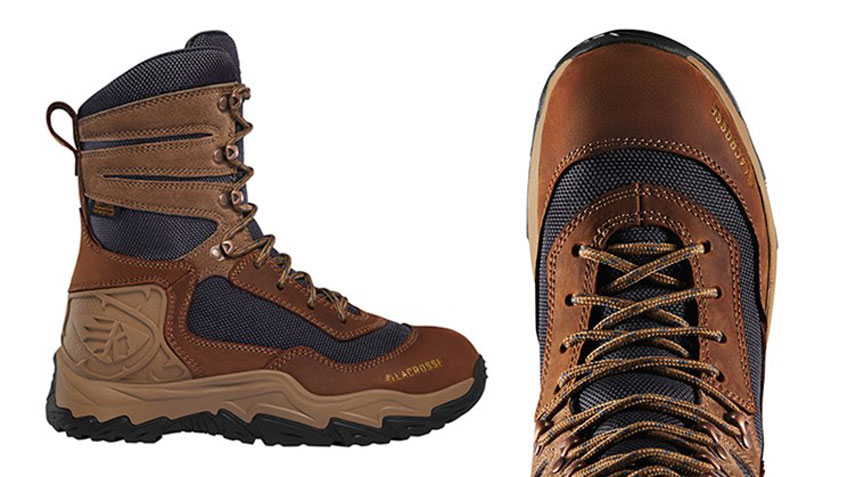 "Featuring a rugged leather and textile upper with a lightweight, comfortable EVA midsole platform underfoot, the new Women's Windrose is a versatile hunting boot designed with an athletic feel. The exterior rubber heel cup allows for a snug, secure fit and prevents slipping, and the outsole features multi-directional non-loading lugs for increased surface area and stability on uneven terrain. Thanks to the company's Dry-Core lining, they are 100 percent waterproof, and are also available with 600G Thinsulate Ultra insulation for hunting in colder weather." 
—Rose Bier, Managing Editor

• Must-Have Women's Hunting Gear for 2019

MSRP: $140-$150; lacrossefootwear.com
---
2020 Golden Bullseye Pioneer Award: Dennis Reese, CEO-Owner, Springfield Armory
"I could not be more honored to be given the National Rifle Association's Golden Bullseye Pioneer Award," said Dennis Reese, CEO-Owner of
Springfield Armory
. "From the earliest days of the company to where it stands today, our relationship with the NRA has been one that is extremely important to me, both personally and professionally. The Association's work to promote our Second Amendment rights is absolutely necessary to ensure those rights, enshrined in the United States' Constitution, are protected."
Reese has been part of Springfield Armory in Geneseo, Ill., since its founding in 1974. Dennis worked with his father, Robert Reese, in the company's early years and has been an integral part right through to his role as CEO-owner today, 45 years later. Building on his passion for civilian-legal firearms inspired by iconic military classics, Reese has taken a hands-on role from the beginning and steered the course though substantial change along the way.
Since its orgin, Springfield Armory has been deeply involved with the development and introduction of its M1911-A1 pistols, M1 Garand and M1A (a  semi-automatic rendition of the U.S. military M14 rifle) for the civilian market. However, Reese has overseen the introduction of numerous other innovative products that have expanded the company's product line beyond these classic platforms. From the XD series of polymer-framed pistols (including the popular XD-M and XD-S variations) to the 911 series of pocket pistols to the SAINT series of AR-pattern carbines and pistols, Springfield has stayed on the cutting edge of the consumer firearms market. Add to this the exciting new Hellcat micro 9mm, a pistol that has rewritten the rules on what shooters can (and should) expect from their CCW pistol, and you can easily see how Reese's leadership has advanced Springfield Armory to become a leader in personal protection and tactical shooting.
Reese has also ensured that Springfield Armory gives back to the firearms community, supporting groups such as the pistol and rifle team of Hillsdale College in Michigan. By giving back, Reese has committed Springfield Armory's help in nurturing the next generation of shooters and firearms enthusiasts. That includes steadfast support for NRA's mission, and accordingly Dennis Reese was recognized for his personal commitment to American rights and liberties through an invitation to join the Association's exclusive Golden Ring of Freedom.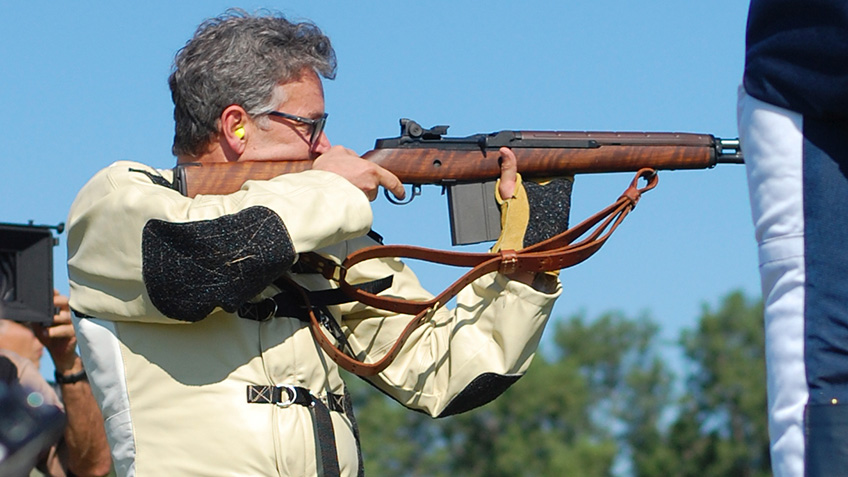 "Springfield Armory will continue to do its part in helping protect our right to keep and bear arms, and will work hard to keep bringing exciting and innovative firearms to the consumer market. I am both proud and honored to receive this prestigious award from the National Rifle Association and look forward to continuing to work with them in the future," said Reese.
■ ■ ■
Previous American Hunter Golden Bullseye Award Winners:
• American Hunter's 2019 Golden Bullseye Award Winners
• American Hunter's 2018 Golden Bullseye Award Winners
• American Hunter's 2017 Golden Bullseye Award Winners
• American Hunter's 2016 Golden Bullseye Award Winners
• American Hunter's 2015 Golden Bullseye Award Winners
• American Hunter's 2014 Golden Bullseye Award Winners
• American Hunter's 2013 Golden Bullseye Award Winners
• American Hunter's 2012 Golden Bullseye Award Winners
• American Hunter's 2011 Golden Bullseye Award Winners
• American Hunter's 2010 Golden Bullseye Award Winners