by
posted on January 6, 2021
Support NRA American Hunter
DONATE
American Hunter, the authority on hunting arms and adventure and an official journal of the National Rifle Association, announces the winners of its 2021 Golden Bullseye Awards.
Now in their 19th year, the NRA Publications Golden Bullseye Awards acknowledge the finest products available in the shooting sports. The winners are selected by a seven-member committee consisting of editors, graphic designers and veteran NRA Publications staff, representing more than a century of collective experience in the shooting and hunting industry.
"An uncertain 2020 saw the ranks of America's millions of hunters swell unlike they have in many years," said Editor in Chief J. Scott Olmsted. "As we welcomed to the field hunters new and old, companies in the firearm and outdoor trade industry continued to provide innovation, quality and value to us all. American Hunter is proud to honor these companies' dedication to our pastime with 2021 Golden Bullseyes."
To qualify for consideration for a Golden Bullseye Award, a product must have been:
• Recently introduced and available to consumers prior to the selection of the Golden Bullseye Awards;
• Used/tested by a staff member or regular contributor to the magazine and/or affiliated media;
• Reliable in the field, meeting or exceeding the evaluator's expectations;
• Innovative in design and function;
• Readily perceived as a value to the purchaser;
• Styled in a manner befitting the shooting and hunting industry and, perhaps more importantly, its enthusiasts.
Whereas the Golden Bullseye Award acknowledges the finest products available in the shooting sports, the Golden Bullseye Pioneer Award specifically honors outstanding personal achievement. The Pioneer Award spotlights the exemplary achievement and cumulative body of work of an individual, or members of a family, team or partnership, responsible for the development and introduction of shooting equipment that has made a profound, positive and enduring impact on the way Americans shoot and hunt.
The winners of American Hunter's 2021 Golden Bullseye Awards are:
Rifle of the Year: Springfield Model 2020 Waypoint


"Hunters can take heart Springfield has introduced something explicitly for them: the Model 2020 Waypoint bolt-action hunting rifle. It is offered in two stock configurations, two finishes and the customer's choice of carbon fiber or stainless steel barrels in four popular hunting calibers—and it's a doozy. The heart of the rifle is a proprietary, Model 700-style round, stainless steel receiver made in Geneseo, Ill., by Springfield. It is a dual-lug design including dual cocking cams; an integrally machined recoil lug; a low-profile bolt stop; a fluted, nitride-coated bolt with a throw of 90 degrees; an oversized, removable bolt handle; and a factory-installed Picatinny rail including two recoil pins ready to accept a riflescope. ... I like the lines of this rifle, and I certainly like its performance on the range."
—J. Scott Olmsted, Editor in Chief
• Hardware: Springfield Model 2020 Waypoint 
• #SundayGunday: Springfield Model 2020 Waypoint 
MSRP: $1,699-$2,399; springfield-armory.com
---
Shotgun of the Year: Savage Renegauge


"The Renegauge balances well and possesses lively shouldering and swing dynamics, and I'm not alone in thinking so. In the months after my hunt, two fellow NRA Publications editors, both relatively new to shotgunning, got to take a crack at sporting clays with the Renegauge, while another from the opposite end of the experience spectrum hunted sea ducks from small boats rolling in heavy surf. All agreed the handling was smooth and intuitive, that hits came readily and exceeded their expectations, no doubt aided by the surprising lack of recoil. In fact, some of our editors came away convinced it was the softest-shooting 12-gauge they'd ever fired."
—John Zent, Editorial Director
• Savage Renegauge Shotgun: Heavy-Duty Wingshooter
• Going Renegauge on Early-Season Ducks
• #SundayGunday: Savage Renegauge 

MSRP: $1,449-$1,549; savagearms.com
---
Muzzleloader of the Year: Traditions NitroFire/Federal Premium FireStick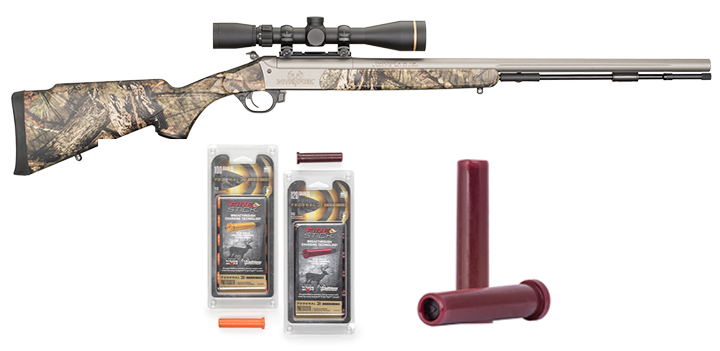 "Engineers at Federal Premium designed the FireStick, a polymer-encapsulated propellant charge that loads from the breech of an inline muzzleloader. Traditions Performance Firearms worked with Federal Premium to engineer the NitroFire inline muzzleloader to accept the new FireStick. … Rather than seating a powder charge behind the bullet, the FireStick charge, available in 100- and 120-grain offerings, is loaded into the breech and sits directly below the bullet with the break-action closed. There is no breech plug, as the FireStick replaces the need for containing propellant below the bullet, or for an insertion point for a primer. Instead, the primer is seated in the base of the FireStick prior to being loaded into the breech. Powered by the new clean, efficient and even-burning Hodgdon Triple 8 propellant, the FireStick is a fast, safe and incredibly accurate way to charge a muzzleloader.
Other than being an incredibly accurate, quick-loading and easy-to-use rifle, the most significant benefit of the new Traditions NitroFire/Federal FireStick combination is the safety of the user. The NitroFire offers enhanced features like the Dual Safety System—consisting of a  cross-block trigger safety and an internal hammer-block safety—and the new Elite XT Trigger system, which  incorporates a rebounding hammer and a captive half-cock and allows the action to be opened to load or unload the muzzleloader with the cross-bolt safety still engaged.
The benefits of this design are obvious: The NitroFire and FireStick system keeps ignition consistent by protecting the powder, even during storage; the loading process is easy, and the primer can be left in the FireStick or removed without compromising the charge; the NitroFire and FireStick do not restrict the choice of bullets and 209 muzzleloader primers, meaning hunters and shooters can stick with proven favorites."
—Brad Fenson, American Hunter contributor
• Hardware: Traditions NitroFire and Federal Premium FireStick
• Video: Traditions NitroFire Muzzleloader
• New for 2020: Federal Premium FireStick 

MSRP: $549-$1,220, NitroFire; $27.99, FireStick (per 10 count pack); traditionsfirearms.com; federalpremium.com
---
Hunting Handgun of the Year: Kimber KHX Custom (OI) 10mm Auto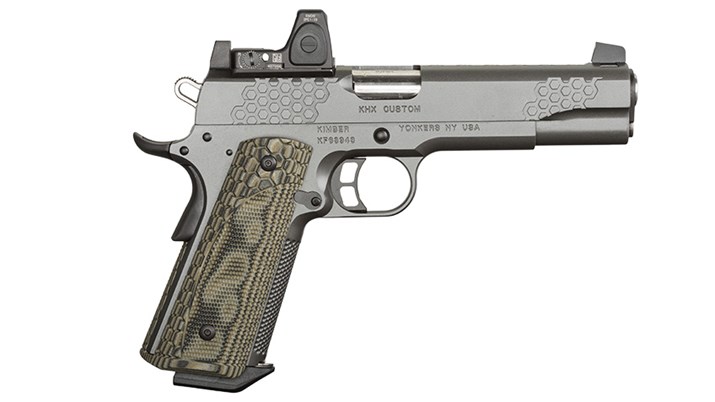 "Kimber is one of the big dogs in 1911 handguns, and when the company mated its 5-inch 1911 with a Trijicon RMR red-dot sight, the resulting KHX Custom (OI) (optics installed), while likely designed for self-defense, is also an excellent hunting handgun when chambered in 10mm Auto. It's very accurate and easy to shoot. The trigger, which is extremely important to precision shot placement, breaks very clean and very smooth. … The 10mm is changing that paradigm and semi-autos are gaining popularity. This Kimber KHX Custom (OI) is riding that trend and is ready to roll out of the box. Just add ammo."
—Bryce M. Towsley, Field Editor
• Hardware: Kimber KHX Custom (OI) 10mm Auto
• #SundayGunday: Kimber KHX Custom (OI)

MSRP: $1,998; kimberamerica.com
---
Ammunition Product of the Year: 27 Nosler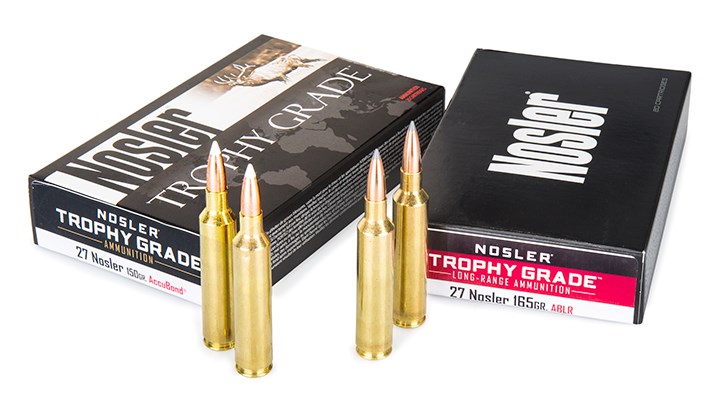 "Fifth in the series of Nosler cartridges based on the .404 Jeffery, the all-new 27 Nosler dares to touch on the hallowed ground occupied by the near-century-old .270 Winchester. ... The company has equipped its 27 with a 1:8.5-inch twist rate—as opposed to the 1:10-inch twist of the earlier .270 cartridges—which will best handle the 150- and 165-grain bullets. The advertised muzzle velocities of 3250 fps and 3158 fps, respectively, better the velocities of either of the .270 magnums by at least 100 fps with the 150-grain bullet, and that new 165-grain AccuBond Long Range is in uncharted waters. Using a 35-degree shoulder for solid headspacing and a case measuring 2.590 inches, the 27 Nosler fits perfectly in a standard long-action magazine—it shares the same 3.340-inch overall length as the .30-06 Springfield. 
The 27 Nosler's trajectory is going to be a hit in the hunting fields. Using a 200-yard zero, the two bullets will maintain a trajectory within an inch of each other, striking 5.5 inches low at 300 yards, 15.8 inches low at 400 yards and 31.5 inches low at 500 yards. Looking at muzzle energy, the 150-grain load generates 3,517 ft.-lbs. and the 165-grain load 3,653 ft.-lbs. Taking it out to the 500-yard mark, the 150-grain load has 1,768 ft.-lbs., and the 165-grain load retains 2,123 ft.-lbs., where it's still cruising along at over 2400 fps. 
It is certainly a contender for the "all-around" cartridge; I feel it is suitable for anything shy of the great bears or bison in North America."
—Philip Massaro, American Hunter contributor
• Hardware: 27 Nosler
• New for 2020: 27 Nosler

MSRP: $81.50-$84.75 (per 20-rnd. box); nosler.com
---
Optic of the Year: Trijicon Huron Riflescope

"The Huron line was designed to provide a value-priced optic for deer hunters who desire the premium glass, durability and performance Trijicon is known for, without the added cost of illumination. The range of magnification and 30mm tube provides an excellent field of view and quick target acquisition. The same rugged and durable construction in existing Trijicon optics is shared in the Huron line, including premium anti-scratch glass. The clarity and brightness of Trijicon optics are well established—there is a reason every U.S. Marine has a Trijicon optic. The same glass used in the Advanced Combat Optical Gunsight (ACOG) is also integrated into the new Huron models.
The characteristics of premium glass, lightweight design and value price all stand out. When Trijicon produced its first non-illuminated reticle, the company dropped the price, but nothing else. With both turret and reticle shooting systems in place for downrange accuracy, hunters will know with confidence where their bullet is headed before pulling the trigger."
—Brad Fenson, American Hunter contributor
• Hardware: Trijicon Huron Hunting Riflescope
• Trijicon Announces New Huron Riflescopes 
MSRP: $650-$699; trijicon.com
---
Gear of the Year: Tetra Hearing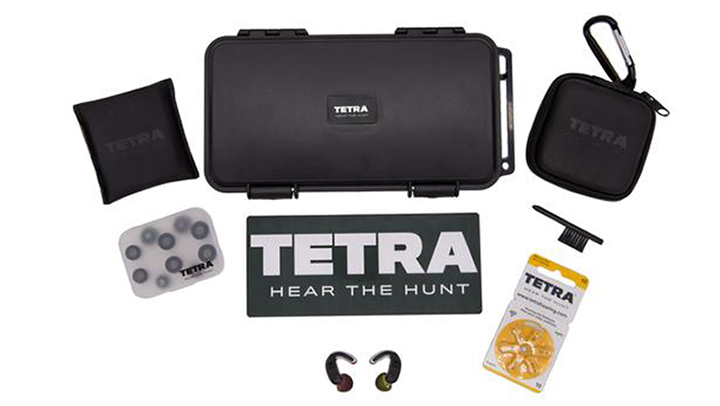 "Tetra Hearing's "Range" and "Waterfowl" AlphaShield models (expected to deal with a high volume of shots) operate on a basic principle: hunters need to be able to hear the sounds unique to their quarry, and to a lesser extent human conversation, but not much else—least of all the ear-splitting barrage of gunfire. To such ends, the audiologists who founded Tetra have conducted extensive research on the specific audial frequency patterns common to an animal and programmed their hearing technology to hone in on these sounds. Using a proprietary process the company terms Specialized Target Optimization, Tetras then recreate these sounds with an identical frequency pattern, simply at a higher or lower volume depending on the initial intensity of the noise. 
Unlike simple muting however, there is no distortion—Tetras don't shift the structure of sound, only its volume. Meanwhile, a separate process termed ClearComm amplifies (to a lesser degree) human conversation, while AlphaShield Compression mutes out gunfire and other harmful, concussive noises. Tetra AlphaShields actually improve hunting abilities, as their precise amplification makes it easier to hear other hunters as well as the ducks' approach, all while keeping ear-saving hearing protection firmly in place."
—David Herman, Digital Associate Editor
• Tetra Hearing: Technology Geared to Hunting
MSRP: $699; tetrahearing.com
---
2021 Golden Bullseye Pioneer Award: Dennis Reese, CEO-Owner, Springfield Armory
Dennis Reese, CEO-Owner, Springfield Armory is the 2021 Golden Bullseye Awards Pioneer recipient. A year ago, Reese was tabbed for this award, but in the wake the cancellation of the NRA Annual Meetings and Exhibits last April, where he would have been formally recognized, it was decided not to select a new Pioneer winner, but instead to accord Reese due recognition in 2021.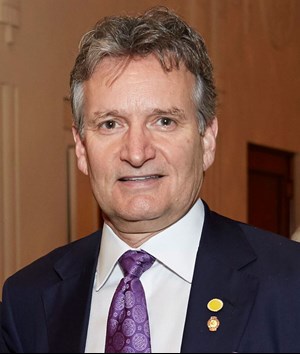 The Pioneer Award spotlights the exemplary achievement and cumulative body of work of an individual, or members of a family, team or partnership, responsible for the development and introduction of shooting equipment that has made a profound, positive and enduring impact on the way Americans shoot and hunt.
Reese has been part of Springfield Armory in Geneseo, Ill., since its founding in 1974. Dennis worked with his father, Robert Reese, in the company's early years and has been an integral part right through to his role as CEO-owner today, 47 years later. Building on his passion for civilian-legal firearms inspired by iconic military classics, Reese has taken a hands-on role from the beginning and steered the course though substantial change.
Springfield Armory's focus on proprietary M1911-A1 pistols, M1 Garand and M1A (a semi-automatic rendition of the U.S. military M14 rifle) for the civilian market has been supplemented by numerous other innovative firearms. Reese has overseen product-line expansion to include: the XD series of polymer-framed pistols (including the popular XD-M and XD-S variations) to the 911 series of pocket pistols to the SAINT series of AR-pattern carbines and pistols. The exciting new Hellcat micro 9mm has rewritten the rules on what shooters can (and should) expect from their CCW pistol, and the company's attention-getting Waypoint 2020 long-range bolt-action sporter is among this year's Golden Bullseye winners. Reese's leadership continues to extend the Springfield Armory footprint and cement it as a go-to brand in personal protection and tactical shooting.
Dennis Reese is a steadfast NRA supporter and advocate for American rights and liberties. "I could not be more honored to be given the National Rifle Association's Golden Bullseye Pioneer Award," he said. "From the earliest days of the company to where it stands today, our relationship with the NRA has been extremely important to me, both personally and professionally. The Association's work to promote our Second Amendment rights is absolutely necessary to ensure those rights, enshrined in the United States' Constitution, are protected. I am proud to join the high achievers who have preceded me as Pioneer award recipients.
"Springfield Armory will continue to do its part in helping protect our right to keep and bear arms, and will work hard to keep bringing exciting and innovative firearms to the consumer market. I am both proud and honored to receive this prestigious award from the National Rifle Association and look forward to continuing to work with them in the future," said Reese.
---
Previous American Hunter Golden Bullseye Award Winners:
• American Hunter's 2020 Golden Bullseye Award Winners
• American Hunter's 2019 Golden Bullseye Award Winners
• American Hunter's 2018 Golden Bullseye Award Winners
• American Hunter's 2017 Golden Bullseye Award Winners
• American Hunter's 2016 Golden Bullseye Award Winners
• American Hunter's 2015 Golden Bullseye Award Winners
• American Hunter's 2014 Golden Bullseye Award Winners
• American Hunter's 2013 Golden Bullseye Award Winners
• American Hunter's 2012 Golden Bullseye Award Winners
• American Hunter's 2011 Golden Bullseye Award Winners
• American Hunter's 2010 Golden Bullseye Award Winners