by
posted on August 23, 2019
Support NRA American Hunter
DONATE
It started with an offhand comment. A group of us from NRA Publications was meeting with personnel from Remington Arms at SHOT Show 2018 to discuss new-product introductions for the coming year, coverage past, present and future, and advertising—same as we do every year not only with Remington but other companies as well. Indeed, this is how folks like us know about new products long before the general public.
Remington personnel kept returning to a couple of pet projects they'd completed the prior year. They were quite proud of one of them, a semi-custom rifle aimed at sheep hunters. I said, "We can do that."

Thus began a year-long project the likes of which I had dreamed of since joining American Hunter in 1998, when it seemed as if knife, pack, clothing and cartridge designs were regularly named after outdoor brands or outdoor writers. However, I don't recall such leverage applied to a firearm—not one instance.
We met again that spring at the NRA Annual Meetings & Exhibits in Dallas to begin deliberations. We aimed for not so much as a niche, a rifle for sheep hunters, but for a wide spectrum, a rifle for everyone reading this. Indeed, the gun would be a rifle; we couldn't think of anything else we'd rather do than design a rifle for big-game hunters.
Naturally, any rifle associated with a brand like American Hunter actually needs to be built in America … and considering our partner in this endeavor, it didn't take long to settle on the Model 700. It was introduced by Remington in 1962 and today, 57 years later, it is perhaps the most popular bolt-action rifle on Earth, used not only by hunters the world over but by police and military personnel, by competitors and by custom gunsmiths as the platform for all manner of creations.
So the nomenclature took care of itself: We would call it the Remington Model 700 American Hunter. (Actually, this took dedicated effort throughout the project. Many folks on "both sides of the aisle kept conjuring names that usually included adjectives like "ultimate." I eschewed them all, reminding everyone of an acronym: KISS. Keep it simple, stupid.)
If it would be a general-purpose big-game rifle it needed to be practical, we insisted. AH staff took careful stock of current trends and assembled a short list of characteristics. The rifle should be chambered in a popular cartridge suitable for taking most big game of North America out to a maximum effective range of 500 yards. Not everyone wants or is comfortable shooting a magnum, after all, but not everyone wants or needs another '06, either. It should be a practical rifle. That is, it should be lightweight, ergonomic and robust. Shortly into deliberations, we settled on a short barrel, the better to carry and swing just about anywhere without interference. We wanted to use a fat bolt handle to ensure a hunter could find it and operate the rifle under stress or when wearing gloves. We thought a one-piece scope base factory-installed would be a nice touch, so all a hunter needed to do upon purchase was find rings to mount his favorite scope. We wanted to use a composite stock and a weatherproof finish on the metalwork. Finally, we didn't want to break the bank. As a rifle for everyman, this needed to remain in somewhat affordable territory.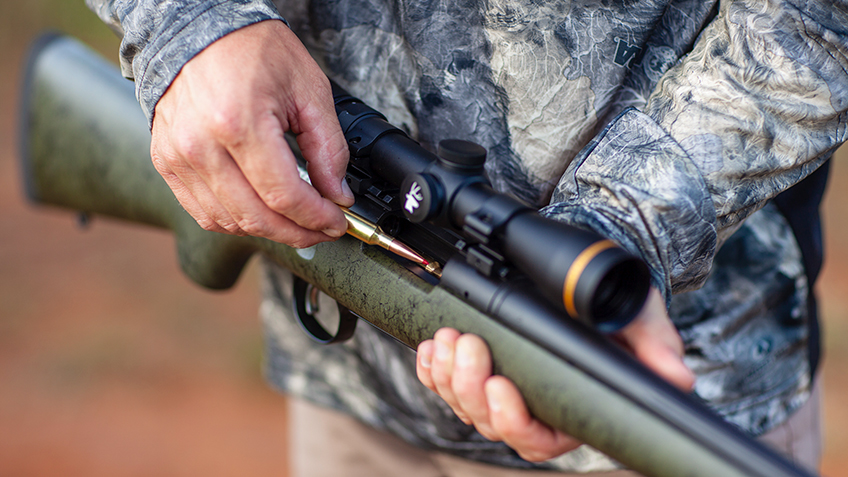 To be honest, these are not the only characteristics we debated. Wood stocks, blued metal, TriNyte coating, long actions—it was all on the table at one point or another. Such is the nature of the process we engaged. I think we got it right.
To do so of course we had to go to Ilion.
Ilion, N.Y., has been the home of Remington ever since company founder Eliphalet Remington made his first barrel there, in the "forge in the gorge," in 1816. The famous Remington Arms factory that now sits at the center of town can trace its heritage to the 1820s. At the time the Erie Canal was being built. Eliphalet convinced the company digging it to run the canal right down the street in front of his factory, so he could carry barrels from shop floor to barge for shipment downstream to customers. The canal now flows about a mile away from the front door. The original channel now sits beneath the employee parking lot. It's used as a proof range to test-fire rifles destined for military and police contracts. Today the oldest extant buildings may be traced to 1915. Yep, this place is old—like the company itself, America's oldest arms maker.
Here we learned a lot of new things. The size of the workforce here and its scope has ebbed and flowed for, literally, centuries. A look through archival materials in a storage room upstairs reveals old black-and-whites of generations past scrutinizing production with what look like no more than eyeball checks. Today, technologies and processes employed here are state of the art.
Everyone who fills a production position on the shop floor, union members all, is dedicated to producing the finest guns possible. Ask around and you'll find some families have worked here for generations. This is not the service industry. This is American manufacturing at its core. These people build a shining example of American craftsmanship one gun at a time. It's hard to leave Ilion without swelling with pride.
After we settled on specs, prototypes were built. Senior product manager Eric Lundgren and I took them to Texas for a "prototype hunt." After all, one can't properly release a new gun to market without properly hunting with it. There we both dropped a couple of fine bucks, and I took another opportunity to spot and stalk a doe. Yep, this'd do. Afterwards, we codified the final specs then waited eagerly for the first production models to roll off the assembly line.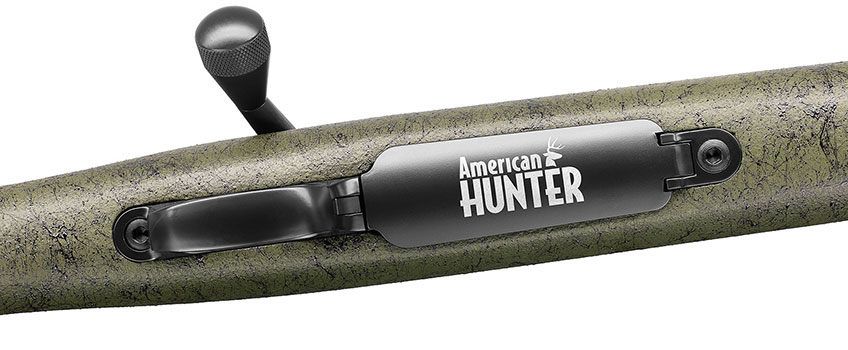 The Remington Model 700 American Hunter is a bolt-action, centerfire rifle chambered in 6.5 Creedmoor, the most popular cartridge in America. Magazine capacity is four rounds. The floorplate features the nameplate of everyone's favorite hunting magazine. The barrel is 20 inches long and made from cold-hammer-forged, chrome-moly steel. The barrel's heavy contour settles nicely on target and stays there. Fluting helps lighten the load a bit. Its 5R rifling is cut with five grooves and a 1:8-inch righthand twist. The muzzle is cut with ⅝ x24 threading for a suppressor and fitted with a cap that fits flush. Atop the receiver can be found two-piece Leupold Mark 4 bases factory-installed. The X Mark Pro trigger is single-stage and adjustable. The composite stock is from Bell & Carlson, and features a cheekpiece, aluminum bedding block and 1-inch Pachmayr Decelerator recoil pad; length of pull is 13.63 inches. Metalwork is finished in black Cerakote; the bolt is jeweled and finished in black oxide. Overall length of this practical big-game rifle is 39.38 inches. Weight is 6.9 pounds. A special serial number range includes a "19AH" prefix—the year of production and the abbreviation of the magazine's nameplate. Manufacturer's suggested retail price is $1,349.
The rifle is on sale now through Remington's dealer network. To find a dealer near you, visit Remington.com then click on the retailer locator button in the upper right corner of the home page. I have been told consumers may expect to find the rifle on sale for less than $1,200.
A few things changed on the way to this point.
For one, the barrel kept shrinking. Since we weren't chambering the rifle in a magnum cartridge, we knew we didn't need a 26-inch barrel. But even in a standard caliber none of us wanted to use a 24-inch barrel. We thought maybe 22 inches would do. But once we settled on 6.5 Creedmoor, we lopped off a couple of more inches and didn't miss a beat. We shot several loads through this gun prior to launching coverage of it in the magazine and online, and discovered the average muzzle velocity lost with use of a 20-inch barrel is only 65 fps.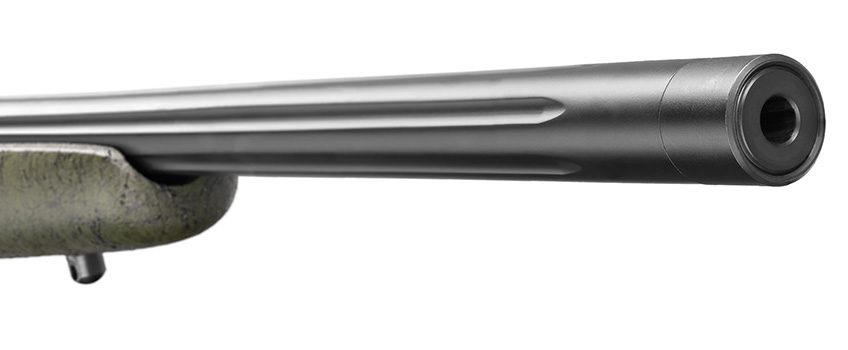 Initially, I figured a Remington factory composite stock would be suitable, so the Bell & Carlson stock herein is an upgrade. It is hand-laid with fiberglass, aramid fiber and graphite. This construction keeps overall weight less than 7 pounds. The open curve of the pistol grip creates good response from one's strong hand. The comb height and the cheekpiece make it a snap to find proper eye relief behind the scope.
We debated use of an aftermarket trigger (there are many) but in the end were quite happy to fit this rifle with the latest version of Remington's X Mark Pro. The fire control now has a more precise factory-set trigger weight—3.25-3.75 pounds—and improved user adjustability.
On the Texas whitetail hunt it became apparent the one-piece scope base just wouldn't do as it made it difficult to load the little 6.5 Creedmoor cartridges speedily. The Leupold Mark 4 bases now found on the rifle are premium upgrades. Our friends at Leupold & Stevens supplied us with a VX-3i 2.5X-8X-36mm with a Duplex reticle. It's one of my favorite scopes in the company's catalog. It's short, light and perfectly able as an aiming device to help a hunter hit the mark at 500 yards and beyond. Also, importantly, as a 1-inch scope it just looks right on an American bolt action. That's the AH buck head logo on the windage turret, which we asked Leupold to engrave for us.
Ever since its introduction in 1962, Remington has made minor changes to the way it machines and finishes the receiver of the Model 700 to improve function and manufacture. But anyone, especially engineers, knows something can always be improved. So as this project got underway, the company asked whether there is a better way to make the rifle—whether there is, frankly, a better way to make all gun parts. Then after deciding it could and should improve manufacture, the company invested heavily in new machinery and new processes.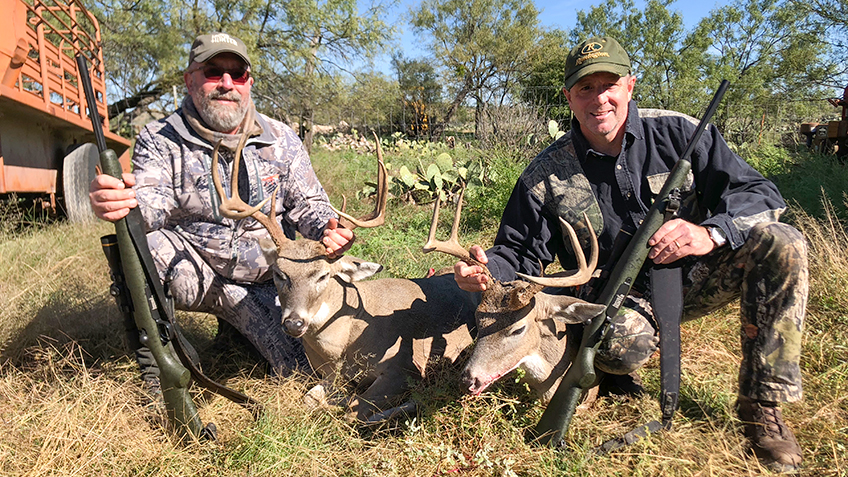 The receiver's face, its lugs and its threads that accept the barrel are machined to custom level tolerances. The rear faces of the bolt's twin lugs are further machined to be true and smooth, a step usually employed by custom gunsmiths when blueprinting an action. The angle on the bolt that initiates primary extraction is tweaked to provide more force to withdraw a case from the chamber. Standard 6-48 screws in the tap holes atop the receiver, where scope bases are installed, are eschewed in lieu of 8-40 screws for more strength and thread contact.
Lundgren tells me one fellow in Ilion who has been with the company 25 years says these are the best barrels he's ever seen leave the factory. They are going through a new process akin to what is used to manufacture barrels for the M24 Army sniper rifle. Multiple operations now occur on the same tool to eliminate tolerance stacks that have in the past caused issues. Inside and outside diameters are perfectly concentric. The barrel threads and crown are machined in one step, which results in a high degree of precision. Remington engineers say this is time-consuming but the result is a much smoother bore and chamber—and a bore that is nearly perfectly aligned with the centerline of the receiver.
The barrel's 5R rifling places grooves opposite lands around the bore rather than in opposition to one another. The design reduces deformation of the bullet as it travels the length of the barrel to improve accuracy and decrease fouling. Another factor that decreases fouling: The corners between the lands and grooves are less sharp than conventional rifling.
The new receivers and barrels on this rifle are likely the best ever made by Remington, the products of custom-grade refinements at production-level costs. The Model 700 American Hunter is the first gun to be made with these refinements but it won't be the last. Any hunter who wishes to be among the first to experience the benefits of these processes, however, should visit his or her favorite Remington dealer. Good hunting.
---
To learn more about the rifle, be sure to watch all six episodes of the "Remington Model 700 American Hunter Rifle Project" by clicking here.