Support NRA American Hunter
DONATE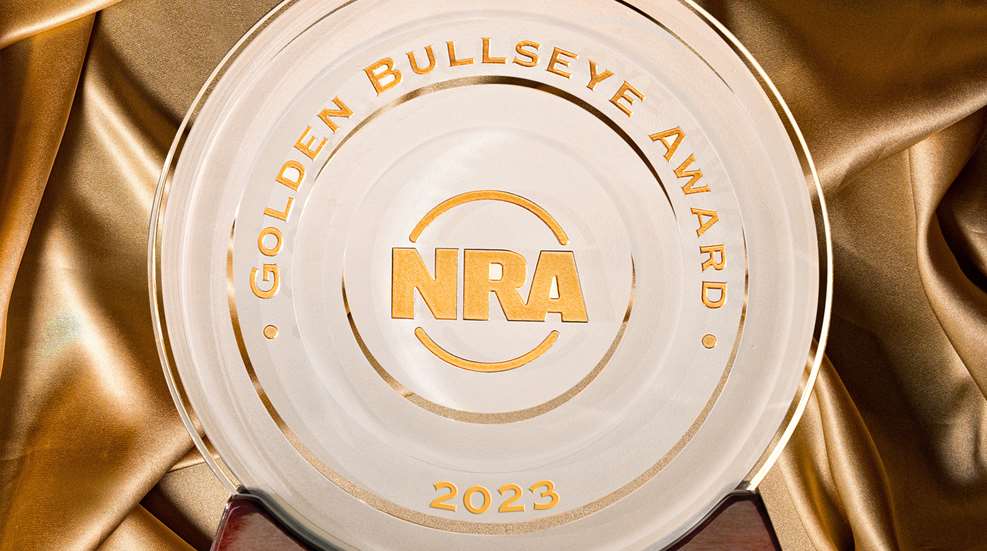 Welcome to our annual award program that honors exceptional innovation, manufacturing and hunter value.
The awards are selected by the editorial staffs of four of NRA Publications' properties through a rigorous evaluation process, and they are each reviewed by NRA Publications' management. "A big thank you to the NRA Publications editorial staff who literally tested hundreds of new products before making their 2023 Golden Bullseye selections," said NRA Publications Executive Director Doug Hamlin. "The NRA Golden Bullseye Awards epitomize what NRA members seek in their shooting and hunting equipment—outstanding performance, innovation and value. These are the best new products, truly worthy of NRA Member's attention, and I extend my heartfelt congratulations to all this year's winners."
Golden Bullseye winners are selected by an expert board representing more than a century of collective experience in the shooting, hunting and outdoor arena. To qualify for consideration, a product must have been:
• Recently introduced and available for purchase;
• Used/tested by staff or a regular contributor;
• Reliable in the field, meeting or exceeding the evaluator's expectations;
• Innovative in design and function;
• Readily perceived as a value to the consumer;
• Styled in a manner befitting the shooting and hunting industry and, perhaps more importantly, its enthusiasts.
These awards and more by NRA Official Journals, including a personal presentation to our 2023 Golden Bullseye Pioneer Award winner, Bill Wilson, will be unveiled on April 14 at an exclusive event at the NRA Annual Meetings & Exhibits in Indianapolis.
The winners of American Hunter's 2023 Golden Bullseye Awards are:

Rifle of the Year: Nosler Model 21
"We have an accurate rifle which handles wonderfully and has all the features needed to handle just about any hunting situation. … Feeding, extraction and ejection were all flawless, the rifle was an absolute pleasure to use in a bunch of different hunting situations, and I think it's a good-looking rifle. It is impervious to weather, and carried very well around the hills and valleys of Molokai, handling precision shots out to 250 yards and rushed shots from an improvised rest inside 100 yards. If the Nosler cartridges tickle your fancy–and what's not to like?–give the Nosler Model 21 a good, long look; the rifle feels like an old friend right out of the box."
—Philip Massaro, Field Editor
• Hardware: Nosler Model 21
• #SundayGunday: Nosler Model 21
MSRP: $2,895; nosler.com
---

Shotgun of the Year: Mossberg 940 Pro Waterfowl
"In 2020 Mossberg unveiled its 940 JM Pro, a semi-auto competition shotgun designed by likely the best all-around shooter in history, Jerry Miculek. It's a gun conceived to compete with the best gas-action semi-autos available, yet thanks to Mossberg's well-oiled production line and sheer sales volume, the 940 is priced significantly less. … While the new 940 Pro Waterfowl has received a facelift to be sure, the new gun did not simply receive aesthetic upgrades. The real story is its internals that were redesigned to run more efficiently with a wider range of ammo. … Considering all the 940 Waterfowl's features combined with its reliability and its price of just under a grand, I no longer think of Mossberg as just a maker of affordable pumps."
—Jeff Johnston, American Hunter contributor
• Hardware: Mossberg 940 Pro Waterfowl
• #SundayGunday: Mossberg 940 Pro Waterfowl
MSRP: $1,161; mossberg.com
---

Handgun of the Year: Savage 110 PCS
"The Savage 110 PCS proved to be an outstanding performer and changed the way I think about hunting pistols. I found it remarkable that Savage was able to bring its legendary precision to a firearm that is this compact and easy to haul. The package makes for the perfect all-terrain firearm, and would be particularly useful when hunting from a tight ground blind, especially if you have some company along with you. If you are looking to take a little weight and bulk off your back, be sure to check out the Savage 110 PCS before next season."
—Frank Melloni, American Hunter contributor
MSRP: $999; savagearms.com
---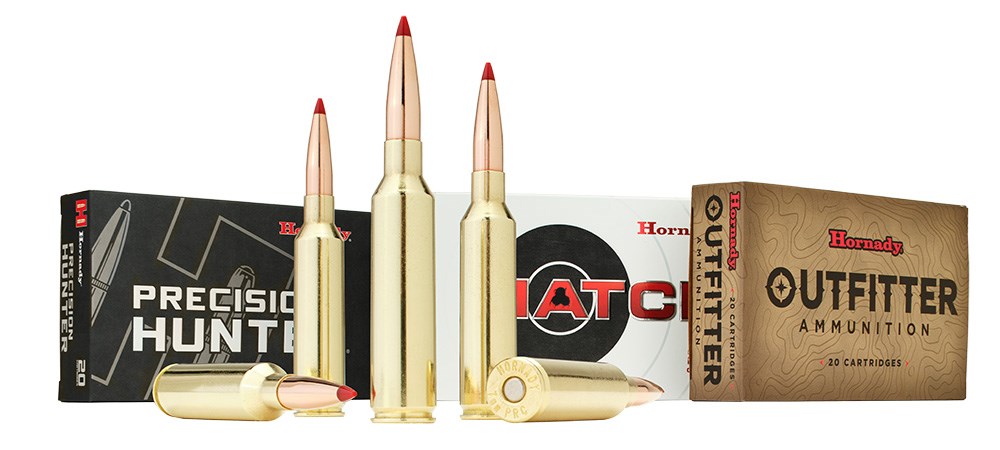 Ammo of the Year: Hornady 7mm PRC
"The 7mm PRC is the third in Hornady's line of Precision Rifle Cartridges, coming after the 6.5 PRC and .300 PRC. Where the 6.5 PRC is designed to fit in a short-action receiver, and the .300 PRC needs a magnum-length receiver, the 7mm PRC uses a standard long-receiver. Like its two older siblings, this is a rimless cartridge without a belt, using the 30-degree shoulder for headspacing. The case has a rim diameter of .532 inch—the same as the Holland & Holland family of belted magnums—and minimal body taper, to give plenty of case capacity. However, keeping in the theme of the other PRC cartridges and many newer case designs, the case length measures just 2.280 inches, in order to leave plenty of room outside the case for a long, sleek bullet of high ballistic coefficient (BC) to give the best long-range performance. … I personally feel the 7mm PRC is the best of the family, as it offers the familiar performance of the great 7mm bullets, in a package best suited for the longer shots."
—Philip Massaro, Field Editor
• Hardware: Hornady 7mm PRC
• Behind the Bullet: 7mm PRC
• Twist Rate: How Hornady's 7mm PRC Fared in Africa
MSRP: $59.99; hornady.com
---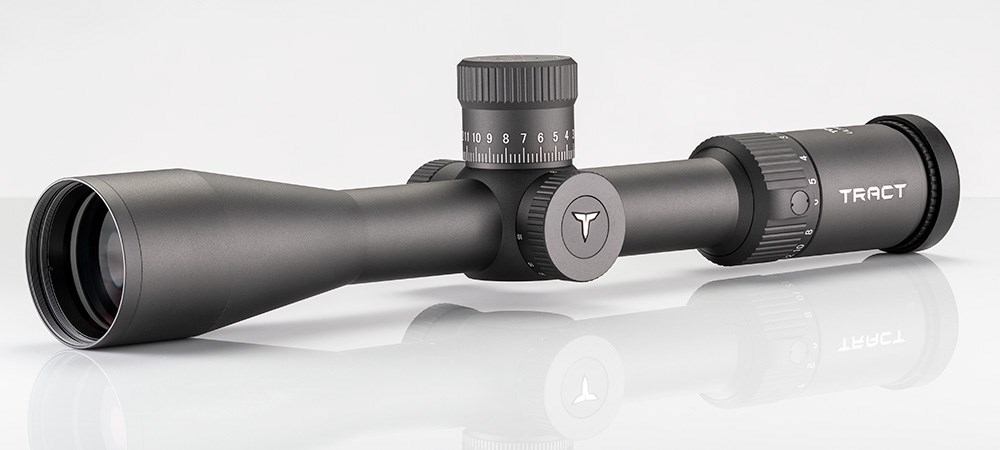 Optic of the Year: Tract Toric UHD 30mm FFP Riflescope
"The Toric UHD 30mm 2.5-15X44 First Focal Plane MOA Hunting Rifle Scope is a hunting scope masquerading as a long-range target scope or vice versa. A good description might well be a 'cross-over' scope that is at home in both worlds. … This scope provides the long-range hunter with the optimal magnification range so that he or she can handle any shot from up close to 'way the hell out there.' … This scope offers two methods to make a long-range shot. First, by dialing up the elevation. There are 100 inches of total elevation adjustment, enough to handle any ethical hunting distance. The second is by using the reticle with 1 MOA hash mark spacing. You can match your exact load using Tract's Impact Ballistics program, available online or via the mobile app. … Tract's Fully Multi-Coated, Ultra High Definition optical system utilizes an extra-low dispersion (ED) lens to eliminate color fringing as well as highly prized Schott HT (high transmission) glass to provide superior light transmission and bright, clear images even in low-light hunting conditions. All glass is fully multi-coated, and the reticles are etched into the glass. Bottom line? This scope is as bright and clear as anything you have ever used. … I plan to use this rig for long-range target shooting and maybe to put a little venison in the freezer. I have no doubt that I have the best optic to cross over and do both."
—Bryce M. Towsley, Field Editor
• Hardware: Tract Toric UHD 30mm FFP Hunting Rifle Scope
MSRP: $994; tractoptics.com
---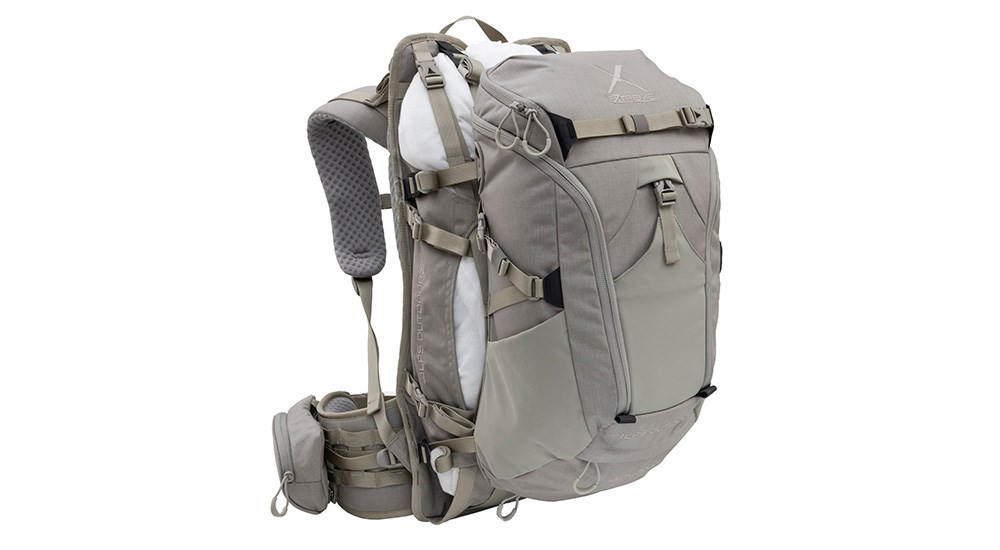 Gear of the Year: ALPS OutdoorZ Elite Frame and Pack System
"The Elite system is reengineered around a high-performance thermoplastic composite frame to weigh only 3 pounds, 10 ounces so it's 30 percent lighter but also 30 percent stronger. With it you can bring home the bacon any day of the week, or you can venture into the backcountry for a week in search of the bacon—your choice. Alone the Elite Frame is a freight hauler. It features a 3D air mesh suspension system with a contoured, anti-slip lumbar pad; removable shoulder straps with six-position torso adjustment; a waist belt with a MOLLE system and removable pouches; an integrated lashing system; and load lifters and anti-sway belt straps. Need more capability? Attach the Elite 1800 (1,800 cubic inches) or Elite 3800 (3,800 cubic inches) pack made of 500D cordura to carry your home into the backcountry. Either is hydration-compatible, offers a spacious main compartment, compression pockets, a drop-down rifle/bow pocket and a rain cover."
—American Hunter Staff
• Must-Have Hunting Packs for 2023
MSRP: $249.99-$449.99; alpsoutdoorz.com
---

2023 Golden Bullseye Pioneer Award: Bill Wilson, founder and President, Wilson Combat
Bill Wilson, founder and President of Wilson Combat, is the 2023 Golden Bullseye Pioneer Award recipient. The Pioneer Award spotlights the exemplary achievement and cumulative body of work of an individual, or members of a family, team or partnership, responsible for the development and introduction of shooting equipment that has made a profound, positive and enduring impact on the way Americans shoot and hunt.
"I have known Bill personally for more than 30 years," said NRA Publications Executive Director Doug Hamlin, "and his standard for producing world class custom firearms is unparalleled."
Since 1977, Wilson Combat has been an innovator and leader in the field of high-performance 1911 custom pistols, handgun accessories, AR-15 pattern rifles and countless other firearm products. The company has gone from being a modest 1911 customizer to a state-of-the-art firearm design and manufacturing facility with more than 200 employees and multiple brands under its umbrella.
In addition to Wilson Combat, Wilson also owns and manages firearm-accessory maker Chip McCormick Custom, high-performance bullet manufacturer Lehigh Defense and most recently acquired the assets of Melvin Forbes' New Ultralight Arms. Wilson also became the guiding force behind the International Defensive Pistol Association (IDPA), a competitive shooting association dedicated to the oversight of defensive shooting competition using practical handguns that currently boasts more than 25,000 members in more than 70 countries.
Bill Wilson's legacy has raised the bar of high-performance, practical firearms worldwide. In his visible role as a competitor, hunter, author, gunsmith, manufacturer and developer of some of the most innovative arms and accessories, Wilson has always been a staunch advocate of the National Rifle Association and its focus on preserving the inalienable right of the people to keep and bear arms. "Our gun rights are cherished and important civil liberties," Wilson said. "I am extremely humbled to be honored by the NRA with this award. No organization has done more for the American gun owner than the NRA and I am proud to stand with them in their fight to preserve our right to keep and bear arms."​