by
posted on November 6, 2019
Support NRA American Hunter
DONATE
Innovation is quite often born out of failure—a good or product lets its owner down, leading said spurned consumer determinedly setting out to build something better. It's a story that's been told many times over throughout American history, particularly in the firearms industry. The story at the heart of Nosler brand is no different (and we'll get to it in just a minute). One of a great many outdoor industry companies to call Oregon home—alongside Leupold & Stevens, Benchmade, Gerber, Crimson Trace and Danner, among others—Nosler has never strayed from its mission to develop the very finest components and ammunition by hunters, for hunters. That said, here are 10 fun facts from the company's history that you might not know.
1. We'll kick things off with the little foundation story we hinted at. Back in 1946, while hunting in British Columbia, John Nosler hammered a mud-caked moose with his .300 H&H. Thing is, the big ol' bull took off running and was never recovered. En route home, John started thinking about how he might build a better bullet—one that hunters could count on to perform every time. Over the next year, he experimented with a few designs before settling on a unique, dual-core bullet that, in its own right, was the original Partition. The next fall, he killed a moose with that bullet. By 1948, the Nosler Partition Bullet Company had been formed.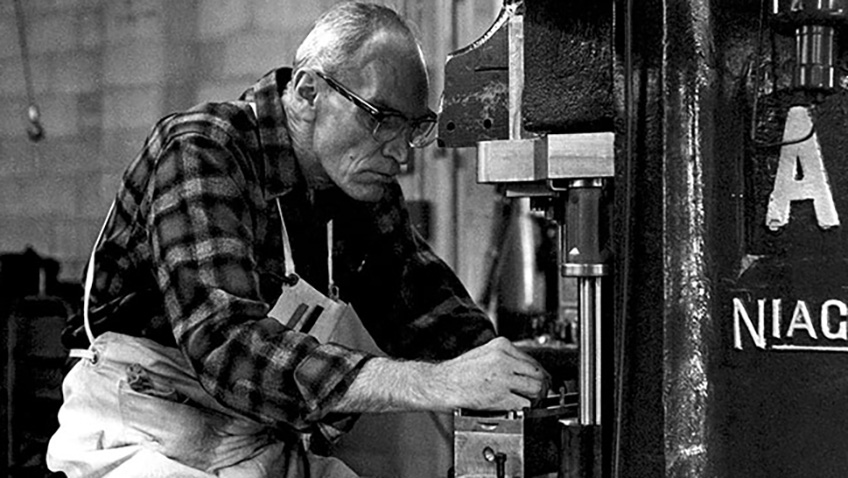 2. That said, John Nosler tried to sell his new idea elsewhere, first. At the time, Nosler owned a trucking company—and was quite happy with it. So he took his new bullet idea first to a new shop called Sierra Bullets, but things didn't work out. He spoke with other companies, too, but likewise, left empty-handed. And so he threw up his hands, sold his trucking company and decided to get into bullet making. It's safe to say that things ultimately worked out.
3. We mentioned that Nosler calls Oregon home, alongside a great many compatriots from the shooting, hunting and outdoor trade industry. And the Beaver State has indeed always been where the Nosler brand has hung its hat. The company was founded in Ashland, Ore., in 1948, before moving to Bend (where it remains to this day) in 1958.
4. Alright, time for a little shameless self-promotion for one of our sister publications, American Rifleman. In November 1949, John Nosler took out his very first ad, and selected The American Rifleman. He used the space to thank loyal customers and to make sure the world knew that his Nosler Partition Jacket Bullet was meant for big game.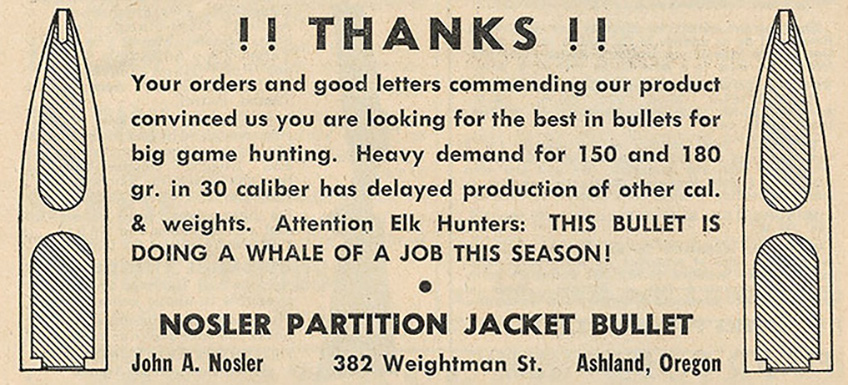 5. In true family business fashion, John's entire family got involved. His wife Louise often packed the 50-round boxes of .30-caliber bullets that John was building, and his son, Ron, managed much of the shipping. The full family involvement continues to this day, as Nosler remains a family-owned and operated company.
6. John Nosler, who passed away in 2010, was award the NRA Publications Golden Bullseye Pioneer Award in 2007. The Pioneer Award honor is annually awarded to legendary innovators and contributors throughout the firearms industry.
7. Finding a plastic tip on a bullet nowadays isn't all that hard; the technology is now commonplace on any bullet that's built to remain accurate at extended ranges. That hot trend, though, started back in 1984 with the Nosler Ballistic Tip. The streamlined polymer tip was designed to resist deformation and initiate expansion upon impact. Two things that hunters found handy in 1984, and find even handier today. Everyone's got their own version, now, but it was Nosler that kicked things off.
8. It is well-known that Nosler entered the rifle game—on a limited front—in 2005, with the introduction of the Nosler Custom Rifle. In 2006, the company introduced a production rifle: the Nosler Model 48 Trophy Grade. Its name isn't coincidental. If you're keeping score at home, you'll realize that the 48 very much stands for 1948, the year of Nosler's founding.

9. Collaboration isn't uncommon in the hunting industry. Still, it probably surprised some to see Nosler and Winchester teaming up in the 1990s, when the two behemoths worked together to launch Combined Technology (CT) bullets. Meant to incorporate advanced features to provide the hunter with a blend of in-flight and terminal performance, they've found a home in a wide range of shooting and hunting applications.
10. Despite Nosler's long history, the company hadn't ever produced a proprietary cartridge—until 2014, when it launched the .26 Nosler. The company hasn't slowed down, having since rolled out the .28 Nosler, .30 Nosler, .33 Nosler and .22 Nosler.
Looking for more of our "10 Things You Didn't Know" series? Click on the links below!
• 10 Things You Didn't Know About Marlin Firearms
• 10 Things You Didn't Know About Winchester Repeating Arms
• 10 Things You Didn't Know About Savage Arms
• 10 Things You Didn't Know About RCBS
• 10 Things You Didn't Know About Browning
• 10 Things You Didn't Know About Fausti
• 10 Things You Didn't Know About Mossberg
• 10 Things You Didn't Know About Trijicon
• 10 Things You Didn't Know About Aguila Ammunition
• 10 Things You Didn't Know About SilencerCo
• 10 Things You Didn't Know About Nikon
• 10 Things You Didn't Know About Hornady
• 10 Things You Didn't Know About Mossy Oak
• 10 Things You Didn't Know About TriStar Arms
• 10 Things You Didn't Know About Can-Am
• 10 Things You Didn't Know About Winchester Ammo
• 10 Things You Didn't Know About Benelli
• 10 Things You Didn't Know About Beretta
• 10 Things You Didn't Know About Remington
• 10 Things You Didn't Know About Ruger
• 10 Things You Didn't Know About Smith & Wesson
• 10 Things You Didn't Know About Weatherby
• 10 Things You Didn't Know About Federal Premium
• 10 Things You Didn't Know About Taurus USA
• 10 Things You Didn't Know About Leupold