by
posted on October 1, 2019
Support NRA American Hunter
DONATE
Few things are as synonymous with each other as the name "Marlin" and lever-action rifle. Drawing closer and closer to its landmark 150th birthday, Marlin Firearms remains one of the preeminent lever-gun manufacturers in the industry—and only recently announced the new Marlin Dark Series. Though a "tactical" lever-action might not necessarily be everyone's cup of tea, Marlin's version arrived with a splash, and reminded everyone that the world's most iconic lever-gun company is still very much here.

With the company's sesquicentennial rapidly approaching, we decided it was high-time to add them to our "10 Things" series. So, without further ado, here are 10 things you might not have known about Marlin Firearms.
1. It's no secret that many of the long-running American firearms manufacturers have ancestral roots tied to other brands within the industry. Marlin is no different. Founder John Mahlon Marlin got his start working at the Colt plant in Hartford, Conn., during the American Civil War. He set out on his own in 1863.
2. When John got his start, mind you, he was building in his New Haven, Conn., facility. It wasn't until 1872 that he expanded to other types of firearms and branded his operation the Marlin Fire Arms Company. John would remain at the head of the company until his death in 1901.
3. Those legendary lever-action repeating rifles that we've been talking about? They weren't there in 1863, or during Marlin's first revamp in 1872. Instead, John Marlin focused on single-shot firearms. It wasn't until 1881 that Marlin sold its first lever-action repeating rifle.

4. Like most firearms manufacturers, Marlin was pressed into wartime service. As John Walter noted in his book, The Guns That Won the West: Firearms on the American Frontier, 1848-1898, during World War I, the company became one of the largest machine gun producers in the world for the United States and its Allies. Marlin built the M1895 Colt-Browning machine gun.
5. Beyond that, Marlin also built a variant of the M1895 Colt-Browning that became known as the "Marlin gun." It was optimized for use while mounted to an airplane.
6. World War II was no different—during the era, Marlin received contracts for High Standard/UDM 42 9mm Parabellum caliber submachine guns, as well as barrels and other parts for the M1 Garand rifle and M1 carbine.
7. Though it's not at all uncommon to see riflescopes on lever guns in 2019, it was an absolute rarity—bordering on blasphemy—to put a scope on your lever gun during the first half of Marlin's history. That said, it was the Marlin line's use of a side ejection—which made it easier to mount scopes and other optics to the rifle—that helped the company pick up further market share as American hunters more firmly embraced optics during the second half of the 20th century.
8. The very first Marlin to feature that side-ejection feature was the Model 1889—it was the very first lever-action repeater to feature a side eject, period. Marlin's engineers admittedly had other benefits in mind when they designed the rifle.
9. Crazy as though it might have once sounded, suppressors are finding homes on lever-action rifles now, too. The aforementioned Marlin Dark Series even comes threaded for suppressor use. "Tactical" lever guns aren't necessarily new (they've been circulating for a few years now), but they're definitely new to Marlin. That said, they're getting rave reviews—like this one from AmericanRifleman.org.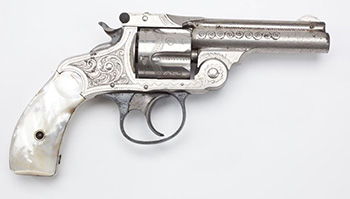 10. Like we said at the beginning, Marlin built more than just rifles during its earliest days. Revolvers were among some of John Marlin's earliest designs. One of the prettiest—and the very final model to be produced by the company—was the Marlin Model 1887. About 15,000 were manufactured. You can learn more about it at the NRA Museum.
Looking for more of our "10 Things You Didn't Know" series? Click on the links below!
• 10 Things You Didn't Know About Winchester Repeating Arms
• 10 Things You Didn't Know About Savage Arms
• 10 Things You Didn't Know About RCBS
• 10 Things You Didn't Know About Browning
• 10 Things You Didn't Know About Fausti
• 10 Things You Didn't Know About Mossberg
• 10 Things You Didn't Know About Trijicon
• 10 Things You Didn't Know About Aguila Ammunition
• 10 Things You Didn't Know About SilencerCo
• 10 Things You Didn't Know About Nikon
• 10 Things You Didn't Know About Hornady
• 10 Things You Didn't Know About Mossy Oak
• 10 Things You Didn't Know About TriStar Arms
• 10 Things You Didn't Know About Can-Am
• 10 Things You Didn't Know About Winchester Ammo
• 10 Things You Didn't Know About Benelli
• 10 Things You Didn't Know About Beretta
• 10 Things You Didn't Know About Remington
• 10 Things You Didn't Know About Ruger
• 10 Things You Didn't Know About Smith & Wesson
• 10 Things You Didn't Know About Weatherby
• 10 Things You Didn't Know About Federal Premium
• 10 Things You Didn't Know About Taurus USA
• 10 Things You Didn't Know About Leupold