by
posted on August 11, 2016
Support NRA American Hunter
DONATE
Michigan-based optics maker Trijicon is best known for its ACOG, the stubby scope used by hundreds of thousands of our servicemen and women over the last two decades—and for good reason. The ACOG is one tough optic, and has proven itself in countless firefights. In fact, sometime next year ACOG No. 1 Million will be produced.
But what a lot of people don't realize is that Trijicon is also a large and steadily-growing player in the hunting world. From riflescopes to binoculars, to spotting scopes, pistol sights and the Trijicon ACOG Crossbow scope, Trijicon products are finding their ways afield in growing numbers.
With that in mind, here are 10 things you didn't know about Trijicon.
1. The first ACOG, the TA01 4x32 Advanced Combat Optical Gunsight, was introduced in 1987 and was included in the U.S. Army Advanced Combat Rifle program.
2. The U.S Special Forces selected the Dual Illuminated 4x32 BAC ACOG for their M4 carbines eight years later, the first official optic enhancement of the M16 family by the U.S. Military.
3. Said Gen James N. Mattis, Commanding General of the 1st Marine Division during Operation Iraqi Freedom: "The ACOG mounted on the M-16 service rifle has proven to be the biggest improvement in lethality for the Marine infantryman since the introduction of the M1 Garand in World War II." The M1 Garand, of course, was the first semi-automatic rifle ever used in combat.
4. Trijicon jumped into the hunting market in 1998 when it launched the Trijicon AccuPoint 3-9x40 dual-illuminated riflescope, featuring BAC rapid target acquisition. Last year, Trijcon introduced the AccuPower, a battery-powered version of the AccuPoint, to much acclaim.
5. The AccuPoint was the first hunting optic to use a geometrically shaped fiber optic aiming point. Each AccuPoint triangle post reticle is shaped by hand.
6. Trijicon will use 75,000 feet of fiber optics this year.
7. Every new product Trijicon released get assigned a verse from the Bible that gets laser etched on every optic.
8. Trijicon released the first tritium-illuminated iron sights for handguns, the Bright & Tough Night Sights in 1985. It is still made today, along with several other handgun sights.
9. Trijicon even makes a front sight for shotguns, the TrijiDot, a fiber optic that fits most popular pump and semi-auto shotguns, as well as an optic for crossbows, the ACOG Crossbow Scope.
10. A long time ago in a galaxy far, far away, Trijicon's first product, the OEG red dot sight, was used in the very first Star Wars film. Rebel forces had the OEG's mounted on their weapons. Don't believe me? Check out the photo below.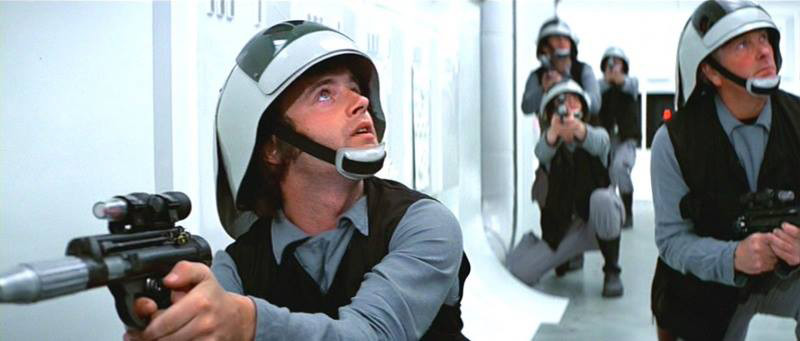 Looking for past installments of our "10 Things You Didn't Know" series? Hit the links below!
• 10 Things You Didn't Know About Aguila Ammunition
• 10 Things You Didn't Know About SilencerCo
• 10 Things You Didn't Know About Nikon
• 10 Things You Didn't Know About Hornady
• 10 Things You Didn't Know About Mossy Oak
• 10 Things You Didn't Know About TriStar Arms
• 10 Things You Didn't Know About Can-Am
• 10 Things You Didn't Know About Winchester Ammo
• 10 Things You Didn't Know About Benelli
• 10 Things You Didn't Know About Beretta
• 10 Things You Didn't Know About Remington
• 10 Things You Didn't Know About Ruger
• 10 Things You Didn't Know About Smith & Wesson
• 10 Things You Didn't Know About Weatherby
• 10 Things You Didn't Know About Federal Premium
• 10 Things You Didn't Know About Taurus USA
• 10 Things You Didn't Know About Leupold