Support NRA American Hunter
DONATE
Few companies have had as profound an impact on the American hunting and shooting industry as Browning—in no small part thanks to the genius of its famous founder. If you've hunted with a firearm or served in the United States Armed Forces, you've been, in some way, impacted by the legacy of one John Moses Browning. With that in mind, here are 10 things you might not have known about the history of John and Browning Arms as a whole.
1. It should surprise no one that the famed John Moses Browning grew up working as a gunsmith—beginning at the tender age of 7, as an assistant in a shop owned by his father, Jonathan. For years, the family sold and repaired firearms for the surrounding community. It wasn't until 1878, at the age of 23, that John Browning—with the encouragement of his father—began work on the single-shot rifle that'd be his first original, patented design. The elder Browning died shortly thereafter in 1879, before his son's ingenious falling block rifle became the Winchester 1885.

2. Though that famous design was John's first patented firearm, it was far from the first he'd built himself. He was prone to tinkering with whatever he could get in his hands on in his father's shop, and in 1869, at the age of 13, he assembled a slide rifle out of spare parts for his brother's birthday. I don't know what you were doing at 13, but I know I certainly wasn't building my own firearms from whatever happened to be laying around.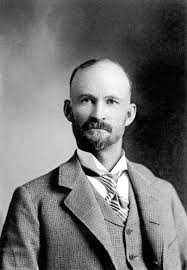 3. John M. Browning, as most folks know, spent his first years in the greater firearms industry designing new firearms and selling them to existing companies, most notably Winchester. He may have continued to do so, too, if not for a dispute over money. In the late 1800s, Browning was working on perfecting a new, long-recoil operated semi-automatic shotgun design. When he presented the design to the Winchester brass, he asked to renegotiate his relationship with the company and establish a continuous royalty fee based on the sales of his designs. Winchester rebuffed the idea, so Browning took his shotgun elsewhere. Remington said no, too, forcing Browning to go overseas. He eventually cut a deal with Fabrique Nationale de Herstal of Belgium (FN), which agreed to manufacture the shotgun (the first mass-produced semi-automatic model on the market) and named it the Browning Auto-5.
4. John Browning changed war as the world knew it with the advent of the legendary BAR (Browning Automatic Rifle), which was patented in 1917. Commissioned in part to break the stalemate that trench warfare had created in Europe, the BAR took three months to design, and by then the family was so invested in the rifle that John's son, Lt. Val Browning, personally trained American troops in its use prior to its deployment in what was then known as The Great War.
5. A true genius and one of the industry's most celebrated designers, John Browning contributed work to a bevy of companies, including Winchester, Colt, Remington, Savage, Stevens and FN. The modern Browning Arms Company itself wasn't even founded until 1927, a year after John's death. Perhaps in a fitting fashion, John passed away while visiting the Belgium-based FN factory in 1926.
6. According to company officials, nine of John Browning's designs are still being manufactured today: the M85, M86, M92, M94, 1911, Hi-Power, SA-22 (pictured below) and BAR. Four of them live on in direct adaptations of John's work: the Citori, 1911-22, 1911-380 and A5.

7. The fourth and final Browning family member to have had a significant historical impact on the company's firearms was Bruce Browning. Most notably, Bruce was the driving force behind bringing the BAR to the civilian market in the form of the BAR Sporting Model, which launched in 1967. In the decades since its arrival, the sporting edition of the BAR has evolved.  Rifles produced before 1976 are usually called Type 1 rifles. Those manufactured between 1976 and 1992 are often called Type 2 rifles, but remain very similar to the original models. 1993 marked the introduction of the Mark II versions, which are still in production today. More recently, the company launched the BAR MK3, which can be seen in the photo embedded below.

8. People really, really love Browning's iconic Buckmark logo. If you live in a rural community, you've almost assuredly seen it plastered on t-shirts, hats, car windows, the side of buildings and, occasionally, tattooed somewhere on your pal's body. The Browning love was so strong that the company now runs an annual "Show Us Your Buckmark" contest that encourages fans to submit photos of their own custom Buckmarked handiwork. Handmade air cannons, boomerangs and mosaics have been among the finer entries. I also have it on good authority from the folks in Utah that fans also routinely share photos of their Buckmark tats—which are sometimes in questionable locations on the body. Glad I'm not on that review committee, for sure.

9. That Buckmark, by the way, probably isn't as old as you may think. The now famous trademark was first used in the 1978 Browning Centennial catalog. It was originally rejected, because company leaders at the time thought it was too hunting-specific, given the strong ties Browning had to the entirety of the sporting goods world at the time. Browning, at different points in its history, has tried its hand at manufacturing such products as bicycles, tennis rackets, golf clubs and motor boats.
10. As is custom in any marketplace, ownership and production rights in the firearms industry tend to bounce around a bit as different companies rise and fall. Still, one can't help but find the irony in the fact that Browning is now in charge of producing rifles and shotguns under the Winchester Repeating Arms banner. It took more than a century, but history did eventually bring the two venerable names back together under one roof.
Looking for past installments of our "10 Things You Didn't Know" series? Hit the links below!
• 10 Things You Didn't Know About Fausti
• 10 Things You Didn't Know About Mossberg
• 10 Things You Didn't Know About Trijicon
• 10 Things You Didn't Know About Aguila Ammunition
• 10 Things You Didn't Know About SilencerCo
• 10 Things You Didn't Know About Nikon
• 10 Things You Didn't Know About Hornady
• 10 Things You Didn't Know About Mossy Oak
• 10 Things You Didn't Know About TriStar Arms
• 10 Things You Didn't Know About Can-Am
• 10 Things You Didn't Know About Winchester Ammo
• 10 Things You Didn't Know About Benelli
• 10 Things You Didn't Know About Beretta
• 10 Things You Didn't Know About Remington
• 10 Things You Didn't Know About Ruger
• 10 Things You Didn't Know About Smith & Wesson
• 10 Things You Didn't Know About Weatherby
• 10 Things You Didn't Know About Federal Premium
• 10 Things You Didn't Know About Taurus USA
• 10 Things You Didn't Know About Leupold