by
posted on January 29, 2020
Support NRA American Hunter
DONATE
Capitalizing on the successes of the GMX (Gilding Metal eXpanding) and MonoFlex bullets, Hornady has announced the line of Handgun Hunter ammunition, perfect for those who prefer a handgun to procure their venison and game meat.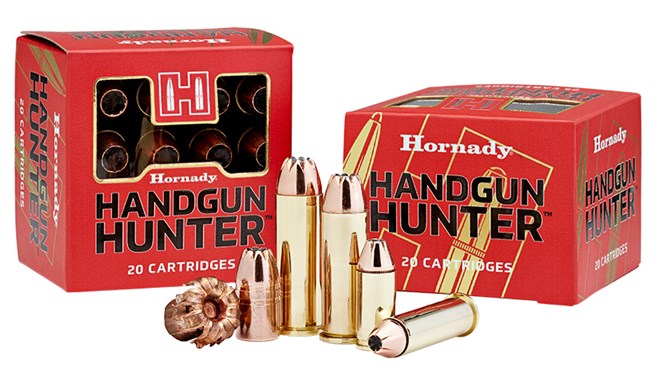 The Handgun Hunter series uses a monolithic copper alloy—legal in all states—and a deep hollow-point filled with a pliable elastomer material. Upon impact, that elastomer compresses and causes the side walls of the hollowpoint to move outward, resulting in excellent expansion, yet the monometal construction (that copper alloy lacks a lead core) guarantees good penetration.
Hornady offers the new Handgun Hunter ammo in 9mm Luger (a neat 115-grain +P load); .40 S&W and 10mm Auto (135-grain) for those who prefer to hunt with the autoloaders; and in .357 Magnum (130-grain), .44 Remington Magnum, .454 Casull and .460 S&W (200-grain) for the wheelgun crowd. The .357 Magnum and 9mm Luger comes in 25-round boxes, while the others come in boxes of 20.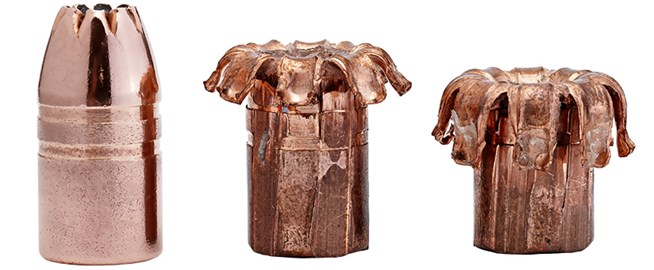 Loaded in premium Hornady cases, and using premium powder and primers, Hornady's new Handgun Hunter ammunition will give the results handgunners have come to look for: reliable expansion across a wide range of velocities, high weight retention and deep penetration. If the folks at Hornady are listening, I hope that 2020 will bring a line extension to include the .45 Colt 200-grain loading, so my favorite Ruger Blackhawk can join the party. 
For more information, visit hornady.com.