by
posted on January 30, 2020
Support NRA American Hunter
DONATE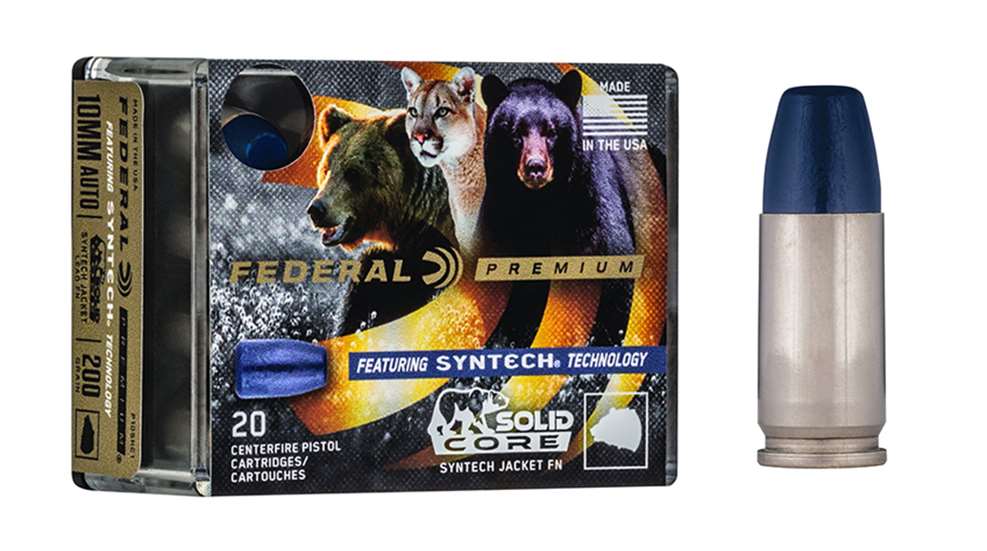 The hardcast lead bullet has long been relied upon for both hunting purposes and for a self-defense choice; they hold together very well, offering reliable penetration on thick hides and tough bones. But hard cast lead requires wax rings or gas checks which can be messy and difficult, and still there is all that fouling to scrub out of the bore.
Federal has solved that issue, and its new Solid Core line offers a viable choice for your sidearm, for the encounter with dangerous game animals.
Extending its Syntech line of ammunition—which uses a proprietary polymer jacket to greatly reduce fouling in the bore, as well as minimize exposure to lead vapors—Federal's new Solid Core uses a hard cast bullet fully wrapped in that polymer jacket, with a flat nose for increased energy transfer.
Designed for those requiring a bullet for self-defense against dangerous game animals—problem bears on a stream while fishing comes immediately to mind—Federal has offered the Solid Core in common defensive calibers. Included are 9mm Luger +P (147-grain Solid Core), 357 Magnum (180-grain Solid Core), 40 S&W and 10mm Auto (200-grain Solid Core), 45 ACP +P (240-grain Solid Core) and 44 Remington Magnum (300-grain Solid Core).
The new Solid Core ammo is sold in 20-round boxes loaded in nickel cases, with MSRPs from $28.99 to $39.99. For more information, visit federalpremium.com.