by
posted on October 28, 2019
Support NRA American Hunter
DONATE
When you're looking for maximum penetration and devastating expansion from a bullet for use on heavy-bodied game, it's hard to beat the performance of a monometal construction. Little surprise, then, that non-lead monometals have become a fan favorite among rifle hunters looking for complete pass throughs on the toughest critters. While there have been fewer offerings for handgun hunters, Hornady's newest ammunition line looks to change that trend.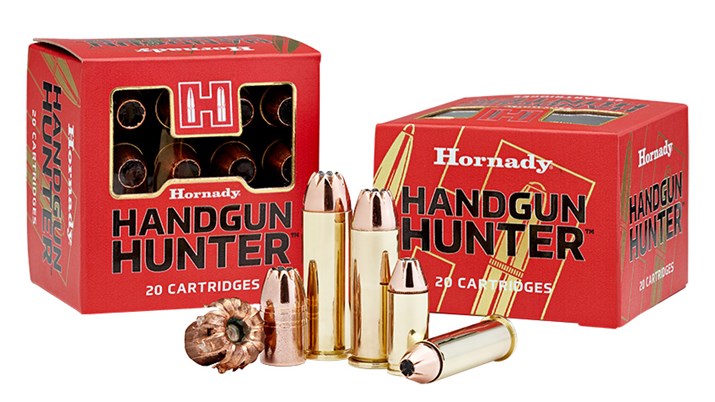 New for the fall of 2019, Hornady's Handgun Hunter load marries a solid mono-metal design with an elastomer-filled cavity, allowing for rapid, reliable expansion at close ranges and the slower velocities typical of handgun calibers. At the same time, the MonoFlex bullet is highly accurate and equally lethal at greater distances. Original offerings include 9mm, .357 Mag., .40 S&W, 10mm Auto, .44 Rem. Mag., .454 Casull, and .460 S&W Mag. 
As Neal Emery, senior communications manager at Hornady, said, the MonoFlex bullet was specifically designed to bring GMX-like performance to the handgun category.
"Until now we haven't done a hard copper alloy bullet with high weight retention for handgun hunting, but there's an obvious need for an incredibly durable projectile that expands rapidly and stays together," Emery said. "Whether you're hiking and need mountain lion protection or you want a sturdy bullet that will penetrate deeply on elk or bear, the MonoFlex bullet is built for the task."
It's one thing to build a rugged bullet, but it's another to build a super-tough bullet that also provides reliable expansion. Unlike lead core bullets, special considerations have to be made for solid copper alloy projectiles to aid in expansion. If not, the result is FMJ-like performance with small wound channels and limited trauma.

To solve that problem, Hornady designed the MonoFlex bullet with a large cavity and filled it with an elastomer material. When the bullet impacts, the elastomer material has a twofold purpose: it prevents the large hollow point cavity from clogging and, thanks to surface pressure, pushes outward evenly in all directions to promote expansion. A fairly thick copper alloy jacket ensures the bullet stays together even through tough shoulder blades and massive bodied animals.
Field Tested, Hunter Approved
It's one thing to perform in the lab and another in the real world. To see how the Handgun Hunter load would fair in the field, I paired the 200-grain .44 Mag. load with a Smith & Wesson Performance Center Model 629 Hunter for a black bear hunt in Wyoming.
Anticipating a shot within 50 yards, I went with a Trijicon SRO with 2.5 MOA red dot and zeroed the handgun at 25 yards. Featuring a 7.5-inch barrel and featherlight trigger, the S&W helps get the most out of the Handgun Hunter load. Using a tripod as a rest for sight in, the handgun and load produced several shots within 1 inch or so at 25 yards, giving ultimate confidence for the main event.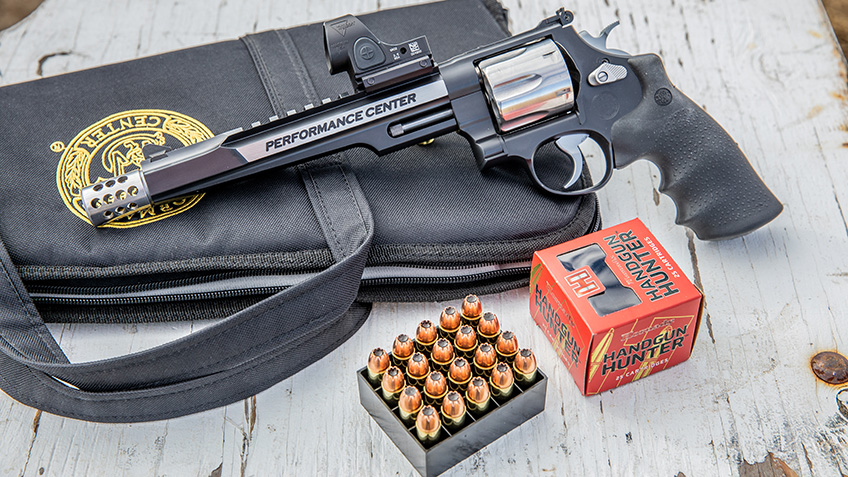 Hunting with Kody and Jordan Glause of Heart Spear Outfitters out of Casper, Wyo., we made our way to the bear stand in hopes of getting the party started. As Kody and I crept toward the stand on the first evening, we spotted a sow and two cubs under the treestand. A promising way to start the afternoon sit, but not what we were looking for. After shooing the trio away, I climbed into the treestand and anticipated a long, lonely evening by myself. To my pleasant surprise, only an hour went by before I spotted, just behind my left shoulder, another bear sneaking slowly into the bait.
At just 15 yards, I pulled the hammer back and steadied myself for the shot. One deep breath, a slight press of the trigger, and the .44 Mag. roared against the backdrop of a quiet evening wood. The bear whirled, circled, then crept slowly into the trees. Catching a glimpse of the mass of black fur crumpled against a downed stump, I descended the stand and followed the massive blood trail. Ten yards away the sow stood and staggered, which is when I fired the final shot, straight through the shoulder and vitals.
How did those two 200-grain MonoFlex bullets perform? The massive, short-lived bloodtrail told half the story, while two gaping exit wounds told the other half. Both shots took place at short distance, but delivered exceptional expansion on clean pass throughs. The verdict from one bear hunt was that the Handgun Hunter load did exactly what Emery said it would.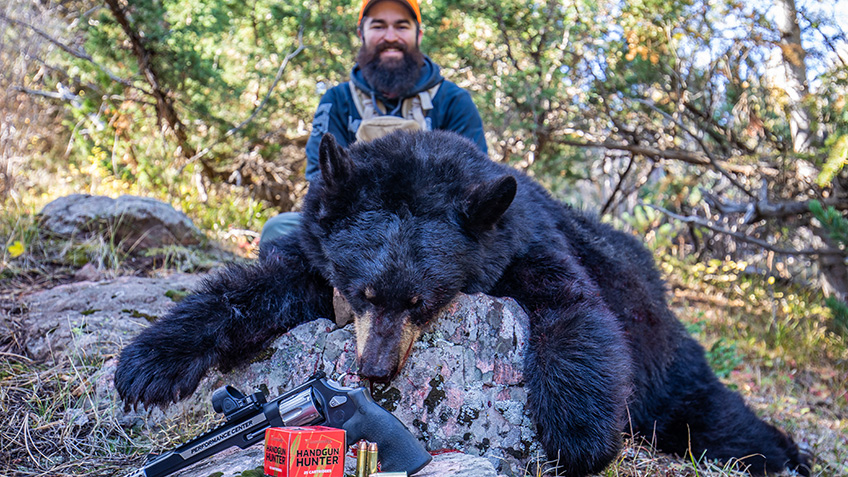 "The MonoFlex bullet will certainly be at home with the medium-size game hunting crowd, from whitetail to elk," Emery said. "While it isn't a hard-cast penetrator-type bullet, it's definitely an excellent choice for tough animals like bears and will hold together nicely when put up against shoulder blades and thick bones."
In terms of hunting applications, the Handgun Hunter load is easily tough enough to stop a bear or big bodied elk and would do serious damage on hogs or deer. Likewise, the solid projectile construction makes it a viable option for dangerous game defense when you're traipsing through the woods. For hunters looking for deep penetration and devastating expansion, it's tough to beat the new Handgun Hunter load from Hornady.