Support NRA American Hunter
DONATE
Taquitos are a mixture of ground or shredded meat, cheese, spices and herbs rolled in a tortilla. The Spanish translation for a taquito means "small taco." These crispy indulgences are also referred to as a rolled taco flute or flauta. The taco flutes are simple to make, and are fantastic when made from the meat of wild turkey legs. The golden fried treats can be rolled with corn or flour tortillas. However, traditional taquitos use corn tortillas.
You can cook taquitos by frying them in oil or baking them in the oven. Air fryers are a quick and efficient way of crisping the taquitos fast.
Whenever a wild turkey comes home, the legs are the first to get used. Use a crockpot or Instant pot to simmer the legs long and slow until tender. The meat can then be stripped from the bones, yielding about two cups.  
There are seldom leftovers, but taquitos freeze well, so make lots. If you have never made taquitos, you will likely try to overstuff them. More is not better, and a little goes a long way. The taquito should be the size and shape of a cigar when ready for frying.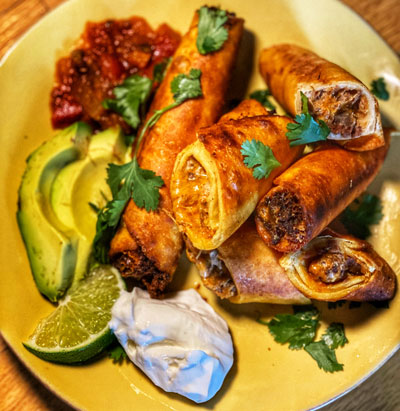 Ingredients:
2 cups of cooked, shredded, wild-turkey leg meat
1 teaspoon of ground cumin
1 teaspoon of ground chili powder
1 teaspoon of salt
1 teaspoon of garlic powder
1 teaspoon of paprika (sweet or hot)
3 teaspoon of fresh lime juice (about half of a large lime)
4 ounces of cream cheese
¼ cup of sour cream
1 ½ cups of shredded cheese (cheddar or blend of Mexican cheeses)
18-20 corn or flour tortillas (6 inches or 8 inches)
Enough vegetable oil to fry taquitos in 1 inch of oil in a frying pan
Taquito Paste
To seal the taquitos, combine ¼ cup of all-purpose flour with 2 tablespoons of cold water to make a paste. The paste is sparingly added to the edge of the tortilla in the final stages of rolling.
Optional Toppings
Shredded lettuce
Salsa or diced tomato
Guacamole or avocado
Cilantro
Sour cream
Hot sauce
Directions
In a Camp Chef cast-iron frying pan, heat cooking oil over medium-high heat. The ideal temperature is 350℉ if using a thermometer.
Combine the shredded turkey meat with spices, lime juice, cream cheese, sour cream and shredded cheese.
Prepare tortillas by heating them in the microwave between two damp paper towels for about 45 seconds. Warm tortillas are pliable and easy to roll up.
Spoon 2 to 3 tablespoons of the turkey mixture onto the tortilla and spread it thinly across the center. Roll the tortilla tightly and brush on some paste to seal. Set the taquito aside, seam side down. Continue rolling tortillas until all the filling is gone. A batch of turkey leg meat mixture will make about 20 taquitos.
Carefully place tortillas in the hot oil, seam side down, until the pan is full. Fry for about two minutes per side until the tortilla is golden brown. Continue frying in batches until all taquitos are cooked. Remove the tortillas from the oil and drain them on a paper towel before serving.
Serve hot with toppings, if desired.
*If baking your taquitos, brush the tortilla with a bit of oil before placing it on a baking sheet. Place into a hot oven at 400°F for 15 to 20 minutes.