by
posted on September 30, 2016
Support NRA American Hunter
DONATE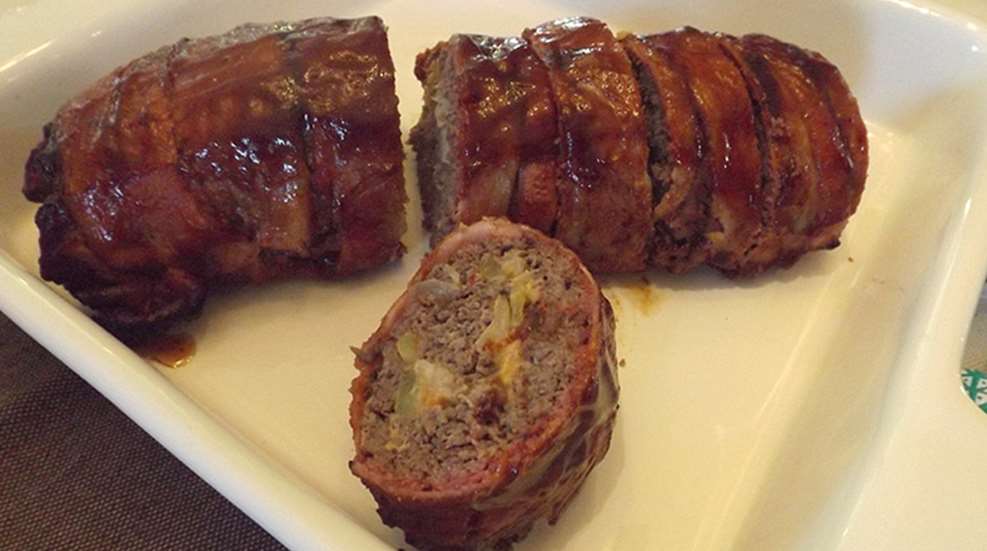 Have you ever made one of those recipes where you tried it for the first time and immediately said, "That's the bomb!" The first time I made this rolled burger dish I knew I'd be making it again, and when I made it for family and friends they felt the same way. 
This dish is super easy to make and has everything a standard burger would have in it, and on it, all rolled up into one. It is basically a stuffed log of hamburger rolled in bacon and ready for the grill.
Ingredients
• 2 lbs. ground venison
• ½ pound sliced bacon
• ½ cup barbecue sauce
• ½ cup diced onion
• ½ cup diced dill pickles
• 2 Tbsp. whole grain mustard
• 1 tsp. Hi Mountain Garlic Pepper Rub (substitute ½ tsp. garlic powder and ½ tsp. black pepper)
• 1 tsp salt
• 1 egg
Mix dry spices and egg into the meat with a fork or by hand. Take a sheet of plastic wrap about 24 inches long and lay it out on your cutting board or working area. Place meat mixture onto the plastic wrap and roll it out or work it by hand until you have a rectangle of meat about ¾-inch thick. Make sure it is even without any holes in it. Brush the layer of meat with the whole grain mustard. Sprinkle the diced onion and dill pickles evenly over the meat and mustard.
Use the plastic wrap to help roll the rectangle into a log, forming a spiral roll the diameter of a regular hamburger, 3½ to 4 inches. Wrap the entire roll with full-length pieces of bacon, which will overlap on the bottom of the roll.
Place the bacon-wrapped burger roll on a piece of parchment paper if putting in the oven. Bake at 350 degrees Fahrenheit for 40 minutes. Bacon should be crisp and brown when you take it out of the oven. It is ready to cut into servings the size of a burger to be served as is, or on a bun.