by
posted on May 16, 2023
Support NRA American Hunter
DONATE
Wild turkey can be succulent, tender, moist, and delicious. Pair that with French cuisine that combines butter and white wine to make a beurre blanc sauce, and you have a match made in gastronomy heaven.
Slow-cooking the meat in stock helps make it tender. Using the stock, wine and heavy cream, a smooth and tasty sauce is created with the turkey and mushrooms, adding depth of flavor and texture. Simmering the sauce and allowing it to cook down several times before adding more liquid is vital for consistency and amped up flavor.
This recipe is easy to make, but it takes time and patience to cook down and add the cream.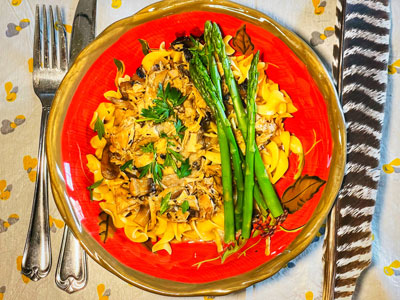 Ingredients
2 turkey breasts
2 tablespoons of olive oil
1 quart of chicken stock
2 bay leaves
¼ cup of butter
4 shallots, diced
2 cloves of garlic, minced
1 pound of white mushrooms, sliced
1 pound of cremini mushrooms, sliced
2 cups of white wine
2 cups of heavy cream
Salt
Pepper
Directions
Season the turkey with salt and pepper. Heat the olive oil in a medium stock pot. Brown the turkey breasts and cover them with chicken stock and add bay leaves. Bring to a boil, and reduce to a simmer for 45 minutes. Keep the turkey covered with liquid and add water if required.
Remove the turkey breasts from the stock and let them cool. Reserve the stock but discard the bay leaves. Cut the turkey into ½-inch cubes and set aside.
Melt the butter in a large pot over medium heat. Add the shallots and cook on low until translucent. Add the garlic and mushrooms. Stir regularly until the mushrooms start to cook down.
Add four cups of reserved stock, and bring to a rolling simmer for 20 minutes with the lid off the pot. The stock should reduce and thicken. If not, simmer for another 15 minutes.
Add the salt, pepper and white wine, and simmer for 20 to 30 minutes until the liquid reduces.
Reduce the heat and slowly stir in the cream ¼-cup at a time. If the turkey and mushrooms are too hot, the fat in the cream will cook and separate. Slowly add all the cream until it forms a smooth sauce. Bring back to a slow simmer and allow the sauce to thicken.
Serve the turkey and mushrooms in the butter and white-wine sauce over egg noodles or mashed potatoes.