by
posted on September 28, 2019
Support NRA American Hunter
DONATE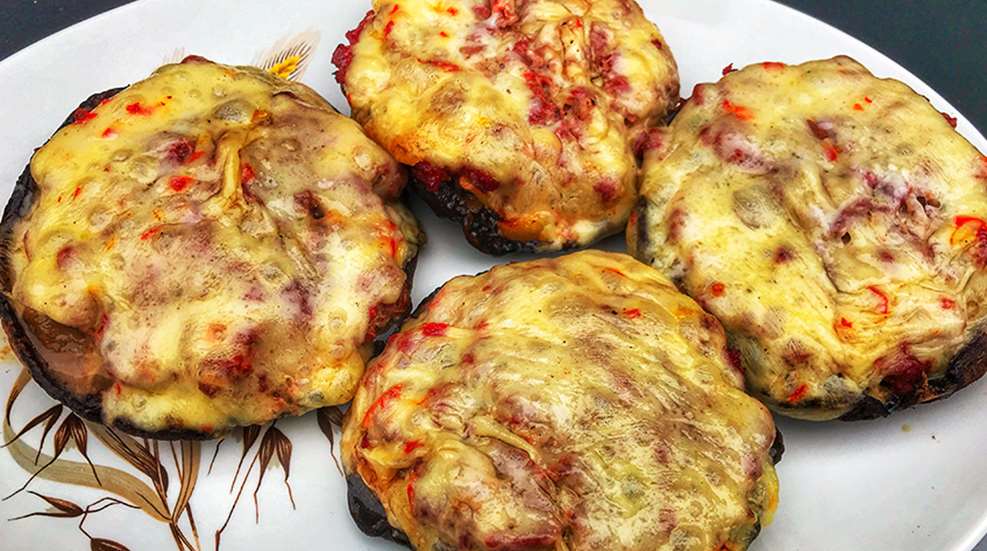 If you're always looking for something new to prepare with ground venison, try deconstructing a mushroom cheeseburger down to the basics. Portobello mushrooms can grow large and are ideal for stuffing with meat and cheese. The earthy tones of the portobello make a great base for a burger that can be eaten as a stand-alone dish or served in your favorite burger bun.
A layer of bacon and caramelized onion customize the deconstructed burger that will cook and maintain moisture thanks to the mushroom. The portobello will surprise you with a firm, meaty texture that holds up well to heat.
This dish makes an excellent hors d'oeuvre or main course. If you're looking to show off your wild game culinary skills, this recipe should be added to your arsenal.
Ingredients
• 4 slices bacon, chopped
• 1 yellow onion, sliced
• 1 lb. elk burger
• 4-5 large portobello mushrooms
• salt and pepper, to taste
• 2 cloves garlic, crushed
• ½ teaspoon Hi Mountain Hickory Burger Seasoning
• 3 tablespoons barbecue sauce (Bearded Butcher BBQ Sauce works great)
• 1 egg
• 4-5 slices pepper jack cheese
• olive oil
Directions
1. Dice bacon and fry over medium heat. As the fat renders from the bacon, add the onion slices and sauté until the onion starts to caramelize.
2. Remove stems from large portobello mushrooms and discard. Brush the top of the mushroom caps with olive oil. Place bacon and onion mixture evenly in mushroom caps.
3. Mix elk burger, salt, pepper, garlic, hickory salt, barbecue sauce and egg. Distribute the meat mixture into the mushroom caps evenly. The mixture should fill the mushrooms to the edges of the cap.
4. Grill the mushrooms at 300°F for 20 minutes. Add a slice of cheese to the top and grill for another 10 minutes.
5. Remove the stuffed mushrooms from the grill and let rest for 5 to 10 minutes before eating.
*Smoke Optional
You can also use a Camp Chef pellet smoker to add another layer of flavor to the mushrooms. Set to Hi Smoke for 15 minutes, then turn up the smoker to 300°F for another 15 minutes. Add the cheese to the mushroom caps and continue smoking until cheese is melted and turning brown.