by
posted on February 12, 2022
Support NRA American Hunter
DONATE
Everyone loves new and fancy kitchen gadgets. When I was a kid, mom got a new electric frying pan, rivaling air fryers and Instant Pots today. I am unsure where she got the recipe, but we regularly had a dish best described as browned meat strips with tomatoes. There were not many spices, but the dish had a ton of flavor.
I don't have an electric frying pan, but I love using cast iron options for cooking our daily meals. Recalling the meat and tomato medley, I tried to recreate it as a quick dinner option. It was a trip down memory lane that we are sure to do again soon.
Who doesn't have memories as a child of unique dishes shared at the family table? Goulash, casseroles and other concoctions that make us chuckle today are great recipes to relive with family and friends.
Medley Ingredients
• 1½ lbs. round elk steak
• 1 28-oz. can diced tomatoes
• 1 lb. cherry tomatoes, halved
• 1 green pepper, cut into 1-inch squares
• 1 red pepper, cut into 1-inch squares
• 1 yellow onion, diced ½-inch
• 2 stalks celery, sliced diagonally
• 2 garlic cloves, pressed
• salt and pepper
Marinade Ingredients
• 2 Tbsp soy sauce
• 1 tsp cornstarch
• 1 tsp red wine vinegar
• 2 Tbsp sugar
• 2 Tbsp cooking oil
Sauce Ingredients
• 2 tsp cornstarch
• 2 Tbsp soy sauce
• 1 Tbsp tomato paste
• 1 tsp Worcestershire sauce
• ¼ cup chicken broth (water)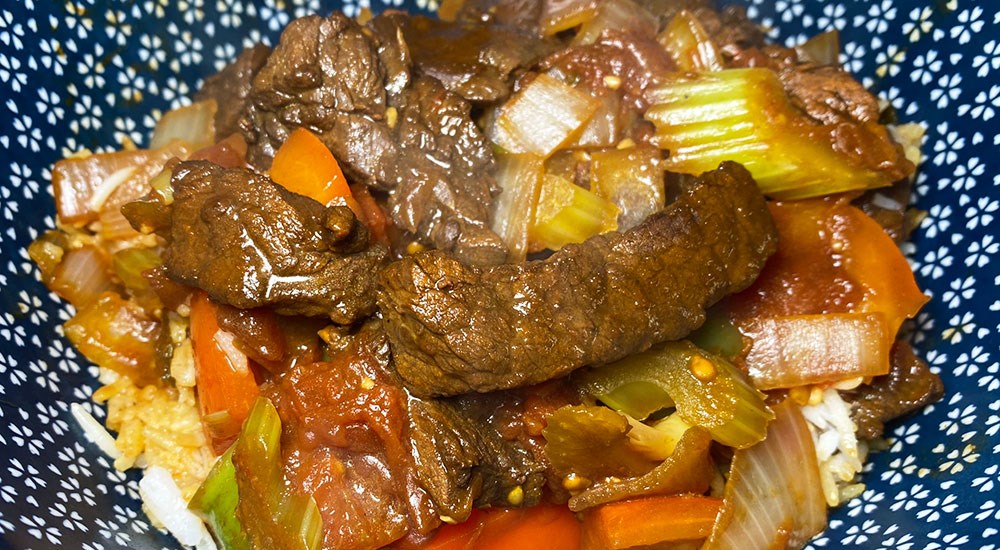 Directions
1. Slice the meat into thin strips about ¼-inch wide. Mix the marinade ingredients and pour over the meat and stir to coat. Set aside to marinate for 30 minutes at room temperature.
2. In a Camp Chef cast-iron Dutch oven, brown the meat for two to three minutes. Remove, place in a bowl and set aside.

3. Add canola oil to the Dutch oven, heat over medium-high and add the vegetable medley. Stir and cook for four minutes.

4. Mix the ingredients for the sauce and slowly add the vegetable medley. Bring the ingredients to a simmer, and add the elk to the mix. Bring the ingredients back to a rolling simmer and allow the sauce to thicken. Serve over rice.
For more delicious wild-game recipes, click here.