by
posted on September 7, 2019
Support NRA American Hunter
DONATE
A host of new cooking gadgets hit the market every year, and people line up to buy them. Somewhere, cupboards are bulging with special presses, ovens, pots, knives and who knows what else.
Have you ever heard of sous vide? It is a French-style of cooking that has been made accessible in recent years, where the average person can afford one of the immersion heaters that circulates water and keeps it at a constant temperature. Sous-vide cooking has been around since the late 1960s, and the French term translates to "under vacuum." The term refers to a sealed bag to hold the meat, vegetables or other food that is best when cooked to a specific temperature.
Do you like medium-rare steak? Using the sous vide method, you can cook your steak to the perfect temperature, then brown it in a cast iron skillet or on the grill before serving. It takes the guesswork out of cooking steaks, but offers much more. When you grill meat, moisture escapes, causing it to dry. A well-done steak is often like shoe leather, as it's been dried out beyond repair. The sous vide cooking method works to hold all the moisture in the meat and contain it within a sealed bag.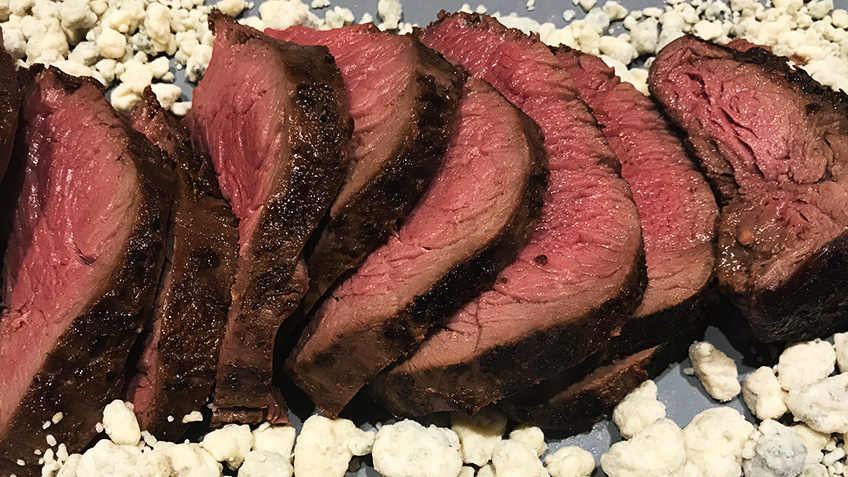 You don't need to have a vacuum sealer to use the sous vide method, as zipper bags work just as well. The best way to seal them is to submerge them in water to the zipper line of the bag. The water will displace any air and allow you to seal the bag without an air bubble or chamber trapped inside.
A second feature that improves flavor in any meat cooked in sous vide is that you can add spices, herbs, butter and other enhancers to the bags before sealing, allowing the meat to cook and infuse the different tastes directly during the cooking process. Once you start using a sous vide, you'll want to experiment with different herbs and spices, and different cuts of meat. The tenderness of the meat will surprise first-time users.
Ingredients
• 1 elk tenderloin
• ground black pepper and salt, to taste
• 2 cloves garlic, pressed
• 2 sprigs fresh rosemary
• 1 teaspoon Hi Mountain Steak Rub, or similar
• 1 tablespoon butter
• 4 tablespoons olive oil, divided
Directions
1. Sprinkle the tenderloin with salt, pepper, and steak rub. Gently rub the pressed garlic into the meat.
2. Place the tenderloin in a zipper bag or vacuum sealer bag and place a sprig of rosemary on each side. Drizzle the meat with melted butter and olive oil before sealing the bag, so there is no air in them (air in the bag will cause it to float when in the water bath).
3. Use a large pot or plastic sous-vide cooking station and fill it with enough water to cover the bag of meat and the water circulation valve on the sous-vide unit. Insert the sous-vide wand and set the temperature to 130°F, with a cooking time of one hour.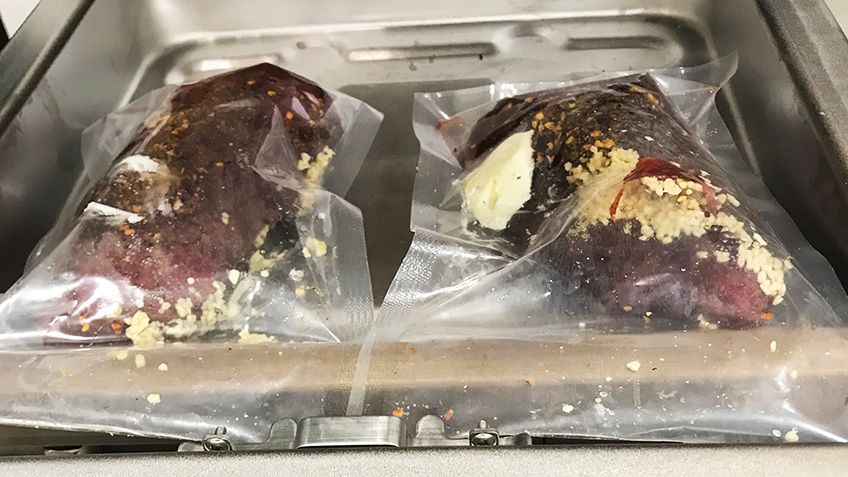 4. After one hour, heat two tablespoons of oil in a Camp Chef cast iron fry pan. Remove the tenderloin from the sous-vide pot and the bag. Do not pat dry. Leave the oil and butter on the surface of the meat but remove the rosemary. Place the tenderloin into the hot oil to brown quickly. Cook for 1 to 2 minutes per side and remove the loin to rest under foil for a couple of minutes.
5. Slice the loin into medallions and serve.
Notes:
• Sous vide cooking is a means of using a temperature regulated water bath to cook meat or bring it up to a specific temperature. No moisture can escape from meat in a sealed bag, meaning it has tremendous flavor and does not lose any moisture during the cooking process.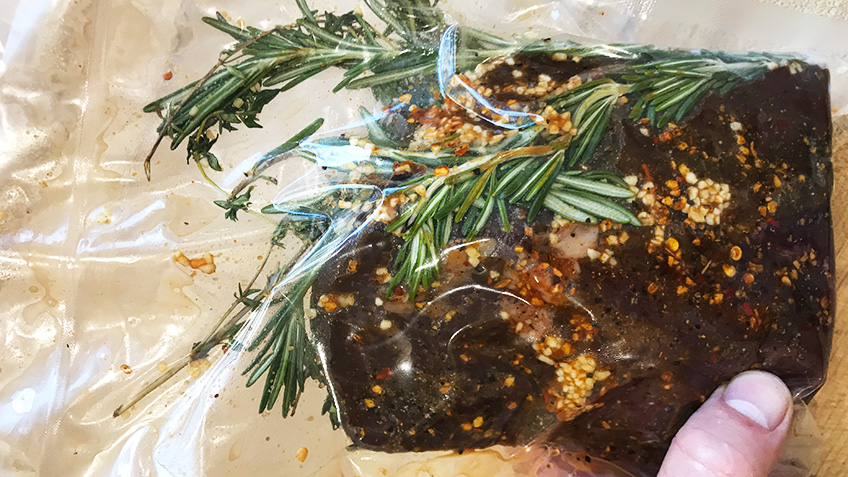 • Air in your zipper or vacuum sealer bag means it will float. To maintain even heat in the meat and ensure it is cooked to the perfect temperature, they need to be submerged when cooking. If required, use a metal paperclip to hold the bag in place within your cooking vessel.
Basic Temperature Guidelines for the Wild-Game Chef
• Rare 125°F
• Medium-rare 130°F
• Medium 140°F
If you have someone that insists on eating well-done wild game, a sous vide will likely cook the best steak they have ever eaten. Although it will not be as tender as a medium-rare steak, it will still have significantly more moisture than when cooked on the grill.
Cooking Times—More Isn't Always Better
Bringing any wild game up to the correct temperature and holding it there for a period of time helps to break down fiber and cook out any collagen and fats. An hour seems to be the perfect time for cooking steaks. A roast can be cooked for an hour or two, but the meat breaks down fast when cooking times are extended. There could be a case for meat that is too tender, as it lacks texture and starts to feel more like gum or soft toffee. You can experiment with different meats and find the perfect texture for your family and friends.
*Any readers interested in a vacuum or chamber sealer, or the bags used in the units, can get 25% off at westonsupply.com by entering BFENSON19 at checkout. Use the code when purchasing any of your meat processing needs on the website.