by
posted on October 6, 2018
Support NRA American Hunter
DONATE
It's hard to beat an authentic fajita for a fast and flavorful meal. Skirt steak was traditionally used for the meat in a fajita, but waterfowl hunters will love using goose breasts to make this tortilla-wrapped meal. Cook breasts whole to ensure they remain moist and don't overcook. Feel free to add red or green peppers to your caramelized onions.
It's important to marinate the meat for at least four hours, and 12 hours would be ideal. There are often grumblings that snow geese are not palatable, but this recipe will give you a reason to hunt the plentiful, white arctic geese.
The freshness of a good fajita is rounded with traditional Pico de Gallo, which is like fresh salsa, and super easy to make.
Ingredients
• 6 goose breasts
• 4 limes, juiced
• 3 tablespoons fresh cilantro, minced
• 2 green onions, diced
• 2 garlic cloves, minced
• 2 teaspoons vegetable oil
• 1 teaspoon ground coriander
• 1 teaspoon smoked paprika
• ½ teaspoon cumin
• ½ teaspoon red pepper flakes
• 2 large white onions sliced
• 2 tablespoons lard or vegetable oil
• 10 flour tortillas
• Salt and pepper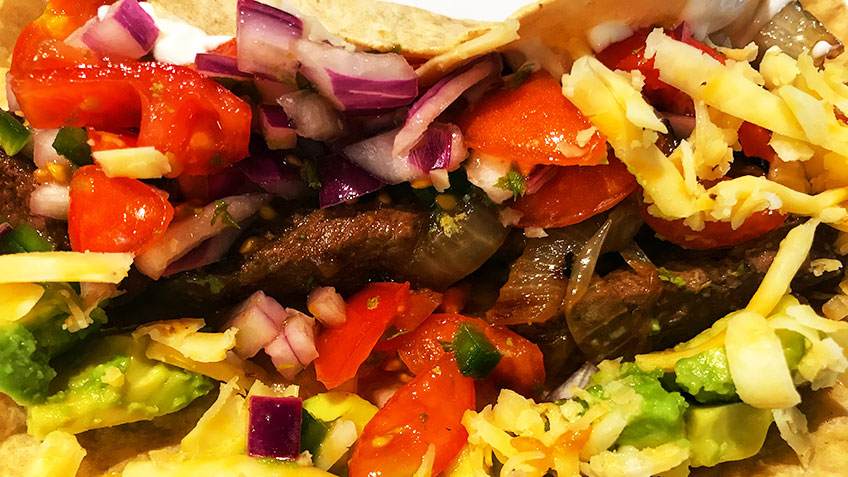 Directions
1. Whisk together the lime juice, cilantro, green onions, garlic, oil, coriander, smoked paprika, cumin and red pepper flakes. Pour the marinade over the goose breasts, cover and refrigerate for 4 to 12 hours, tossing a few times.
2. Remove the goose breasts from the marinade and put on the hot grill at 400°F, cooking to medium rare.
3. Heat lard or oil in a large skillet and add the onions. Cook for about 20 to 25 minutes, until caramelized. The onion slices will be soft and look almost burned on the ends.
4. Soften tortilla shells by steaming in a hot pan with a bit of water, or if you have a gas stove, use tongs to brown your flour tortillas right over the open flame, flipping a couple of times quickly. If all else fails, just warm tortillas in the microwave.
5. Remove goose breasts from grill and cut into ¼-inch strips.
6. Heat a Camp Chef cast-iron fry pan over medium-high heat and add the caramelized onions to the hot pan, then place the goose meat on the onions.
7. Serve in the warmed tortillas, and feel free to add black beans, fresh guacamole, sour cream, shredded cheddar cheese and fresh Pico de Gallo (recipe below).
---
Pico de Gallo
Ingredients
• 1 medium red onion
• 2 Roma tomatoes
• 2 tablespoons fresh cilantro leaves
• 2 jalapeño peppers
• 1 lime
• Salt
Directions
1. Dice up equal quantities of onion and tomato. Roughly chop the cilantro.
2. Slice two jalapeños in half and remove the seeds, then dice finely.
3. Combine the onion, tomato, cilantro and jalapeños in a bowl. Squeeze the juice from the lime over top, sprinkle with salt and stir together until combined.