by
posted on July 20, 2021
Support NRA American Hunter
DONATE
This might be hard to believe given today's arsenal of riflescopes, but small is beautiful. Hunters know this, or at least hunters who've gone the long miles do.
Whether you backpack a week for Dall's rams, track whitetails through snowy north woods, trudge deep into Rocky Mountain elk wilderness or prowl desert grasslands for pronghorns, every ounce a scope doesn't weigh matters.
The new Leupold VX-3HD 4.5-14x40 Side Focus CDS-ZL isn't what I consider a lightweight, but at 15.6 ounces and 12.6 inches, it's one of the lightest and shortest on the market with this zoom range and these features, all of which complement a general-purpose big-game rifle.


This particular new VX-3HD departs from the VX-3's I've been shooting for the past 30 years or so in main tube size. Jumping from 1 inch to 30mm usually adds an ounce. Figure another ounce for the side focus (parallax control) and there's your 2-ounce increase over my old VX-3 4.5x-14x-40mm. Is the performance of this new HD worth the 2 ounces? I think so. Add in the advantages of its CDS ZeroLock elevation turret and the quick throw lever on the power ring, and I'm feeling downright trendy.
Some shooters might look askance at the minimal, 3X zoom range of this instrument. That would be a mistake. While zooming from 1.1X to 30X might seem like the ultimate in versatility, the brutal truth is that almost no one in the Milky Way galaxy has ever needed to engage targets at 1.1X one day and 30X or even 20X the next. Or even the next summer. And few or no rifles benefit from such extreme range either, certainly not for hunting. If you're hoping to engage a leaping deer or charging buffalo at 1.1X, chances are you aren't carrying a rifle capable of sub-MOA precision at 500 yards. And if you're operating an extreme-range rifle that's printing ½ MOA at 1,000 yards, you've probably never dialed its scope lower than 15X. It's time to get over those 8X zoom ratios.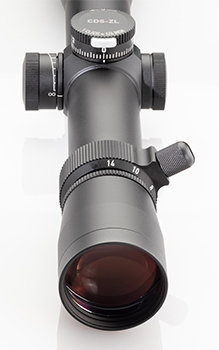 Based on more than 50 years of hunting on six continents for everything from the smallest ground squirrels to the largest deer, antelope, bovines and hippos, I can count on a snake's toes the number of times I needed more than 14X to target my prey. And I think I could tally the need for more than 10X on an ostrich's toes.
My point is, if you're looking for a scope to direct traffic atop your coyote rifle, deer rifle, moose rifle, bear rifle—anything short of an elephant rifle—this 4.5x-14x-40mm should suffice. Some hunters might find 4.5X a bit tight for brush whitetails and alder-thicket brown bears, but otherwise you're good to go. 
As for that puny little 40mm objective lens, fear not. At 8X the exit pupil is 5mm. That's more than bright enough to clearly see black cross wires against a grizzly's hide at last shooting light (probably a black bear's, too).
A fit, young human's pupils might dilate to 7mm, but by age 50 or so, many of us are peaking at 5mm or less. Besides, Leupold advertises this scope as having its Elite Optical System, which is an ad writer's way of saying all lenses are multi-coated with anti-reflection coatings, the single most effective way to maximize useable scope brightness. In addition, lens edges are blackened to prevent extraneous light leaks that might otherwise introduce flare. I glassed a number of black subjects at 14X on a cloudy day and saw the reticle sharp and clear every time. Exit pupil diameter at 14X is just 2.8mm, but during daylight hours the human pupil shrinks to about 2.5mm anyway. That's why we wear sunglasses to reduce the light reaching our retinas.
One new feature my older VX-3's don't have is the scratch-resistant external coating on this new VX-3HD. You really start to appreciate that after a few seasons of hard use. Like previous VX-3's, the 3HD is guaranteed water-, fog- and shock-proof. Over some 35 years of use and abuse, no Leupold scope of mine has ever leaked, not even the one I put a dent in while arresting my fall to the rocks.
Mechanically I found this scope solid, firm and precise. The power ring and zoom dial moved smoothly with significant but not unwieldy stiffness. The CDS elevation turret clicked audibly and crisply in ¼ MOA chunks that were as easy to count by ear and feel as by eye. There was no tendency to overrun, no discernible backlash. The lock button popped in and out smartly. Adjustments were spot on and came back to zero every time. This might change with wear over years, but all mechanical devices wear.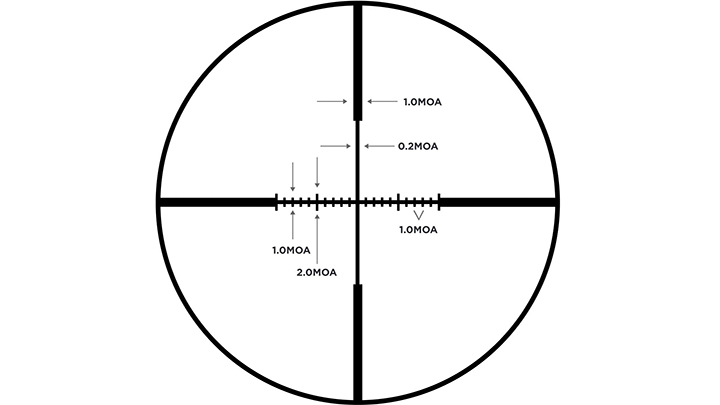 The capped windage dial was smaller, thinner and harder to grasp and turn, but it isn't set up for on-the-fly compensation dialing anyway. Instead, windage corrections can be handled with the MOA windage hash marks on the duplex reticle's horizontal bar. There are no confusing sub-reticles on the vertical reticle because they aren't needed. The CDS dial takes care of long-range drop compensation. If you're not familiar with CDS, it is Leupold's Custom Dial System in which you provide the trajectory data for your load/bullet and Leupold builds you a custom dial. The standard dial that ships with the scope includes ¼ MOA clicks covering 15 MOA. That'll take you to 800 yards with a .648 BC bullet at 2900 fps MV if you zero at 280 yards. (maximum point blank range, 8-inch target zone.)
All things considered, this VX-3HD CDS-ZL gives you more than your 2 ounces' worth. If you're an old-school (or at least older) hunter who's settled in with your old scope, you might want to entertain a roving eye in the scope realm. Don't worry about hurting your old scope's feelings.
Technical Specifications
• Type: variable-power riflescope
• Magnification: 4.5X-14X (tested), multiple magnification ranges available
• Objective Lens Diameter: 40mm
• Eye Relief: 4.4" (4.5X), 3.6" (14X)
• Exit Pupil: 8.9mm (4.5X), 2.85mm (14X)
• Field of View @ 100 Yds: 19.9' (4.5X), 7.4' (14X)
• Reticle: second focal plane; Wind-Plex
• Adjustments: .25 MOA
• Coatings: fully multi-coated; Leupold Elite Optical System
• Dimensions: tube diameter 30mm; length 12.67"; weight 15.6 ozs.
• Construction: one-piece aluminum tube; HD glass; matte black finish
• Accessories: CDS-ZL elevation turret, side parallax adjustment, front and rear rubber lens caps, removable magnification lever
• MSRP: $749.99; leupold.com