by
posted on August 11, 2022
Support NRA American Hunter
DONATE
There's no denying the fact that our shooting gear—rifles, ammunition and optics—has progressed considerably over the last quarter century. Shooters are routinely hitting the mark at distances once thought nearly impossible, or at least reserved for military snipers. Hunting at long ranges has also gained quite a popular following, and while this might not be the time and place to debate the ethics of shooting at unwounded game animals at truly long ranges, there are those species which demand the ability to make the shot at longer ranges.
In the end, I prefer to enforce my own personal limits when it comes to shooting unwounded game, become the best shooter I can be through frequent practice, and ultimately, continue to train with competent instructors. But I also want the best gear I can afford, and so that I, as the shooter, can be the weak link in the chain.
The projectile is the only part of the equation which touches the game animal, but it takes an accurate rifle to deliver that bullet, and as the adage goes: "You can't hit what you can't see." Once I'm confident in a rifle/cartridge/bullet combination, I always try to buy the best optics I can afford, especially for my long-range rifles. I want my scopes to have a sensible magnification range, so that if a close shot presents itself, I'm not looking at a blurry patch of fur; at the same time, I need enough magnification to see the target clearly as far out as I am comfortable shooting.
Depending on the hunting scenario—choices for prairie dogs may differ from mule deer or antelope—I will want a different weight and/or length of scope, so there may not be one simple answer. Are you a first focal plane fan or do you prefer the second focal plane's simplicity? Do you dial for holdover or do you prefer a compensated reticle? Let's take a look at some choices which have worked very well for me.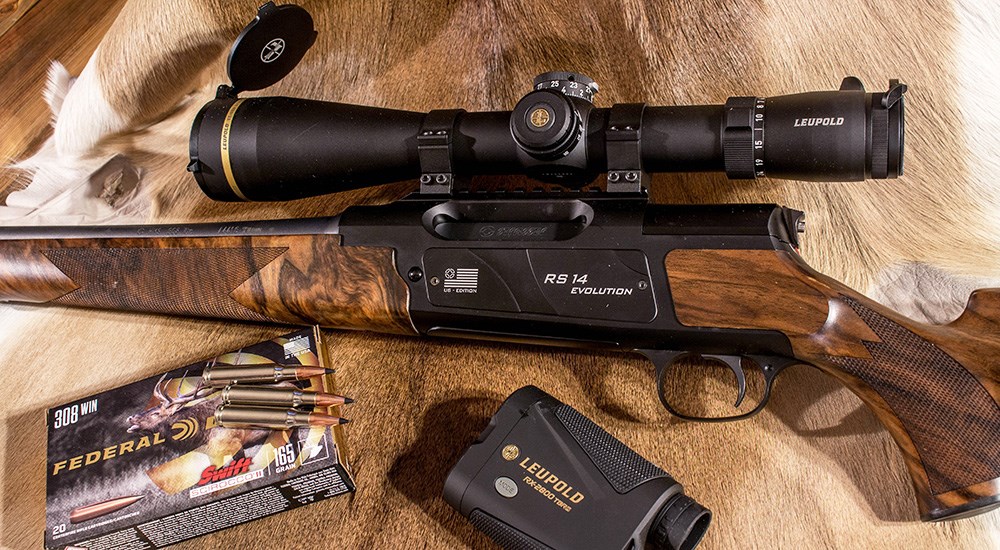 1. Leupold VX-6HD 4-24x52mm
I absolutely love the VX-5HD and VX-6HD lines from Leupold, as they are bold, rugged, reliable and offer one of the most clear and crisp images of any scope in their price bracket. The largest of the VX-6HD line is the new 4-24x52mm, making a great choice as a scope for double duty: both target shooting and hunting alike. With its 34mm main tube, the 4-24x52mm offers 75 MOA of elevation and windage adjustment, and the TMOA reticle offers the ability to holdover for elevation and adjust for wind on the crosshair as well.

The scope is equipped with the CDS-ZL2 elevation turret—which can be customized to have the turret marked in yardage, if you provide the load specifications to Leupold—and both the elevation and windage turrets have the ZeroLock which gives the shooter a quick visual assurance that they have been returned to zero. The reticle is illuminated—turned on/off and adjusted via a button on the left-side focus knob—and the whole unit weighs 25.4 ounces. Keep the scope on 4x for carrying, or for sitting on a deer stand, but crank that mother to 24x to count the fleas on a coyote's rump and then end the fawn eater's career. It's rugged enough for the sheep mountains, and handles 2,000-yard steel equally well. Its 52mm objective lens helps give a bright image, and whatever magic Leupold is using to develop their lens coatings is transmitting all sorts of light. I'd put the VX-6HD line against just about any other brand or model, and be happy with my choice. MSRP: $2,099.99; leupold.com.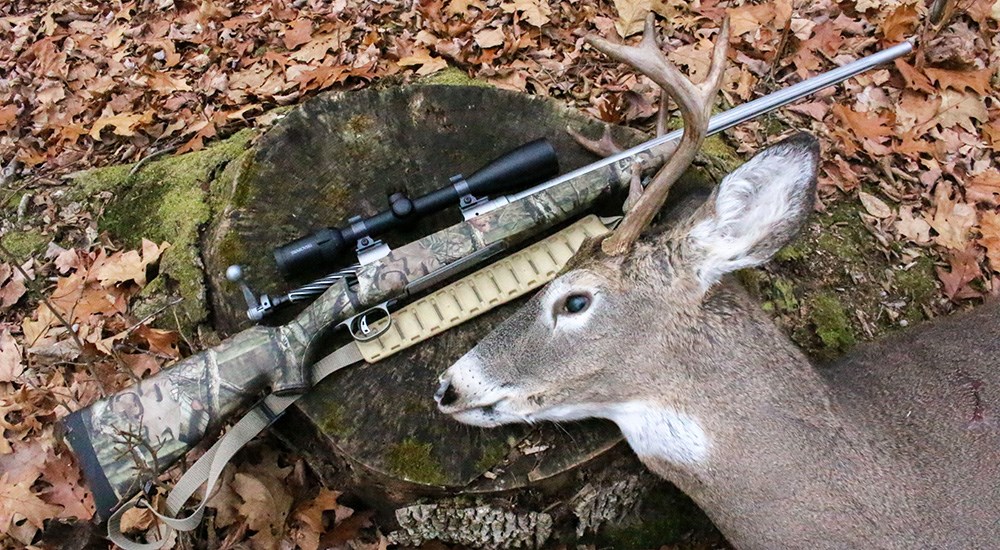 2. Swarovski Z5 3.5-18x44mm
The folks at Swarovski have a well-earned reputation for crystal-clear lenses, and though some of their models have gotten larger and heavier, that image is often well worth it. For a simple and effective hunting scope—which delivers the goods out to any sane hunting range—I like the Z5 3.5-18x44mm. Though it has a 1-inch tube (some feel this is archaic), I have used this scope atop my 6.5-284 Norma to punch steel out to 1,500 yards, and the BRX reticle can make the hunter forget about dialing.

With a bottom end of 3.5x, I have used this scope for deer hunting in the thick New York woods, and at higher magnification in the senderos of Texas; it checks a whole lot of boxes. The adjustments are capped, but that reticle will get you out past 500 yards (beyond my personal limit for big game), and the scope can be mounted nice and low to the bore. If you want the European optic experience, this is a good scope to look at, and look through. MSRP: $1,432;  swarovskioptik.com.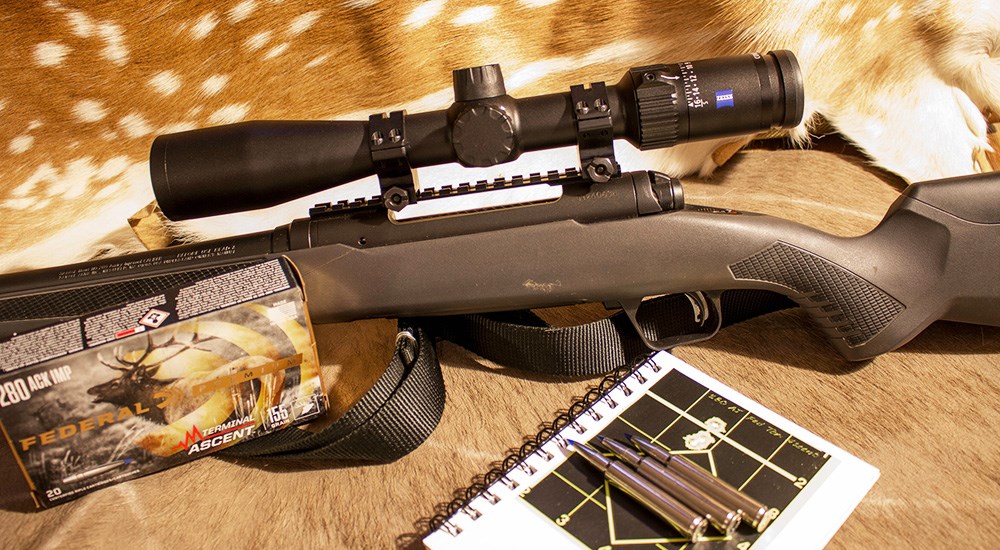 3. Zeiss Conquest V4 4-16x44mm
Zeiss is another famous name, with roots going back to the mid 1800s. Ernest Hemingway wrote about his "Zeiss field glasses" back in 1933 while on safari in Tanganyika (now Tanzania), and the company's products maintain a positive reputation. The re-vamped Conquest line has wonderfully clear glass, and is as tough as nails. I got to play with one of the early models—the 4-16x44mm version—and it was impressive.

The second focal plane reticle—Zeiss calls it No. 68—has a simple 'Christmas tree' set up, with the center cross illuminated at 10 different levels. With 20-MOA of hashmarks on the reticle, in 1-MOA increments, the No. 68 reticle is simple to use. As a result of this reticle being offered, the adjustments are capped, so the hunter may rely upon the reticle for holdover and wind adjustments. The reticle must be used at maximum magnification in order to subtend the proper amount of angle, though at half-power you can double the values and make it work. With a 4-16x power range, the Conquest V4 can handle all sorts of hunting situations. MSRP: $1,099.99; zeiss.com.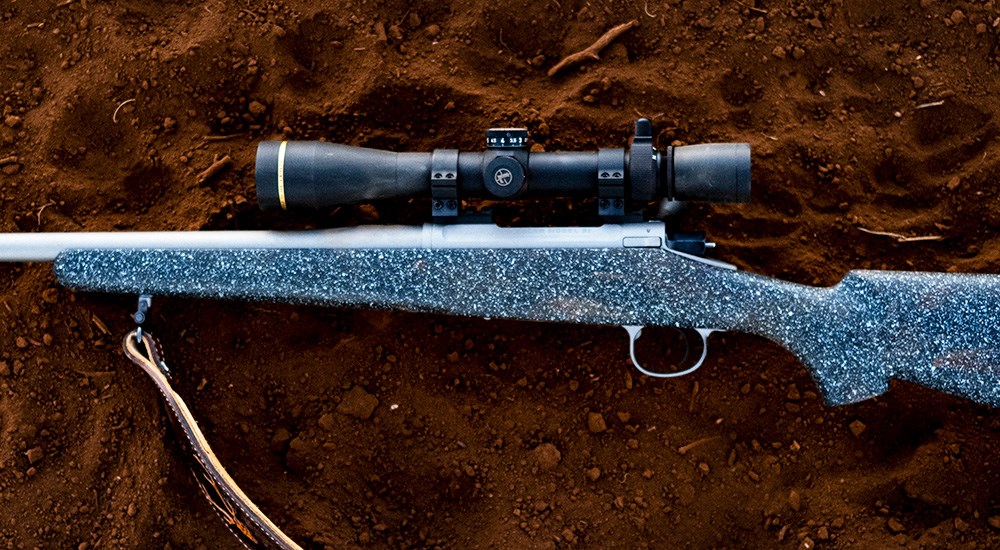 4. Leupold VX-3HD 4.5-14x40mm
Probably the lightest and most affordable of the scopes I like for long range, the new VX-3HD 4.5-14x40mm gives a whole lot of performance for the price. With a one-inch tube and a simple Duplex reticle, the scope is much like any conventional choice, except that the 14x top end is enough to make sane hunting shots, and that the CDS-ZL turret can be an absolute game changer, should you have one preferred load, and order the turret marked in yardage from Leupold. Think about it: you've got a .30-06 with a (fill in the blank) premium 165-grain bullet, and a turret marked in yardage for your load.

Range the caribou, elk, sheep, aoudad, whatever, dial that number, and break the trigger cleanly. At 4.5X, the scope can be used for "woods shots," but the top end is enough to make long shots, and the glass in the VX-3HD is far above its price point. If you're on a budget, and are in the market for a scope which will give a lifetime of service in a lightweight (it weighs a mere 13.3 ounces) package, mounted low to the bore, look no further than the VX3-HD 4.4-14x40mm. MSRP: $599.99; leupold.com.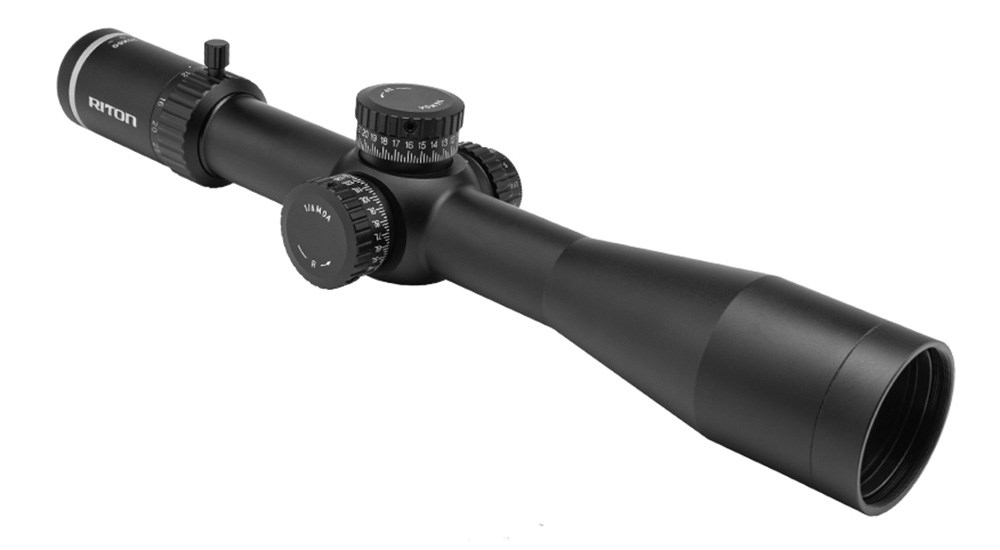 5. Riton 5 Conquer 5-25x50mm
Arizona's Riton Optics prides itself on long-range optics, and its 5 Conquer 5-25x50mm is a solid choice for shooting for distance. Despite the weight of the scope—the 5 Conquer weighs in at 34 ounces—it makes a great choice for long range shots on furbearers, prairie dogs or for hunting deer from a stand where a rested shot is offered. With a 34mm main tube and 70 MOA of elevation adjustment, the 5 Conquer has the goods to reach out and touch someone.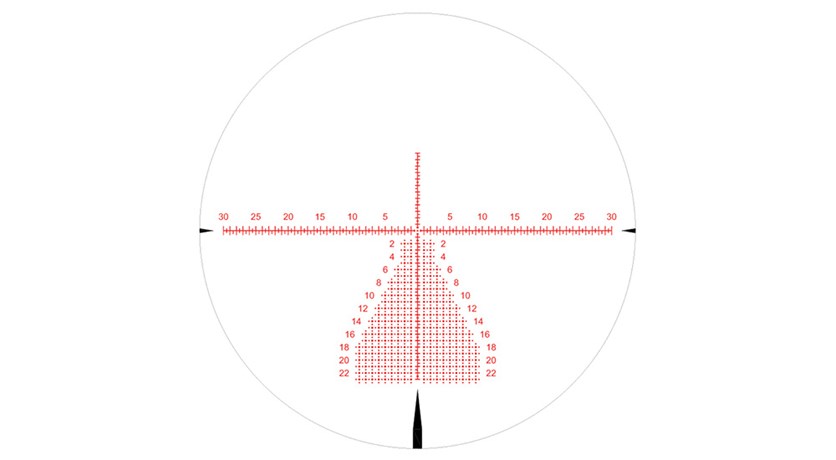 The proprietary BAF Illuminated reticle offers a tree-style pattern, but filled in with a grid. At higher magnification, the grid allows the shooter to accurately adjust for elevation and windage, but being a first-focal plane reticle, it can be brought down in magnification to a simple crosshair. Riton's glass is crisp, and the ¼-MOA turrets are equipped with zero stops, to help the shooter assure they've returned to a proper zero. A removable throw lever is included, and Riton also throws in aluminum lens covers. MSRP: $969.99; ritonoptics.com.