by
posted on April 14, 2020
Support NRA American Hunter
DONATE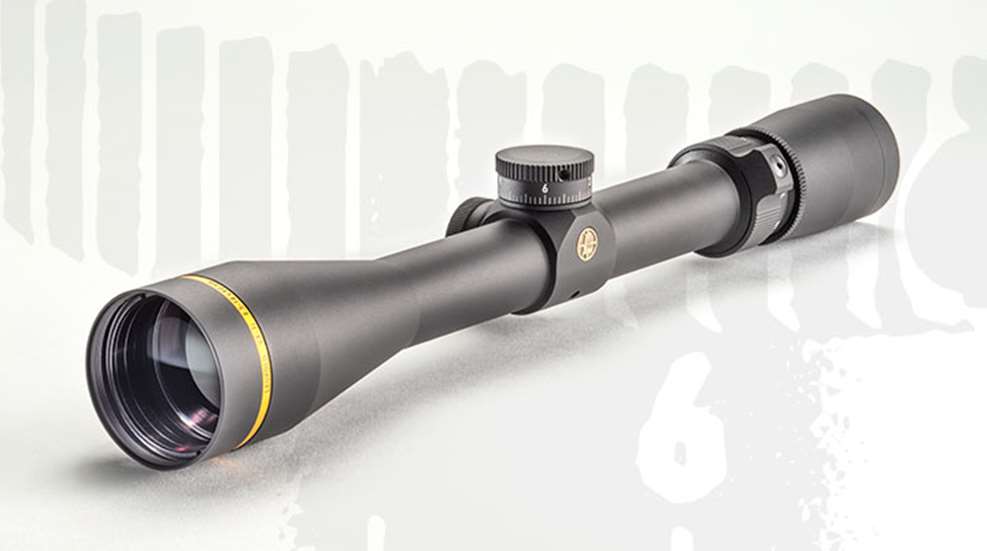 Leupold & Stevens Inc. has a long history of providing American hunters with high-quality, dependable, American-made optics.
Introduced in 2016, Leupold's popular VX-3i riflescope line has proven capable of delivering superior performance in low-light conditions in a durable, lightweight design at a price that, considering its capabilities in the field, even frugal hunters have come to appreciate.

This year, Leupold has upgraded four models in the VX-3i line to include the company's CDS-ZL (Custom Dial System-ZeroLock) dial for the first time, a premium feature previously only offered on the VX-5HD and VX-6HD in Leupold's "Gold Ring" riflescope lines. Available in magnification ranges of 3.5x-10x or 4.5x-14x with two maintube options, 1-inch or 30mm, and two objective lens options, 40mm or 50mm, hunters from East to West should be able to find an option befitting their hunting needs. On an elk hunt last fall, the 4.5x-14x-40mm seemed the ideal choice; 14x to handle Western long shots, and a wide-view 4.5x for any bull that decided to appear a bit closer.
First and foremost, like previous VX-3i models, brightness and clarity in the new VX-3i CDS-ZL is nothing short of incredible. It features the company's Twilight Max Light Management System, which Leupold says intensifies ambient light in low-light environments and drastically reduces the washed-out image that can occur with direct sunlight. To put these claims to the test, not only did I hunt with the VX-3i from dawn until dusk for four days, taking a hard-earned shot 10 minutes before the end of legal shooting time, once back home, I compared the VX-3i side-by-side to four high-end optics in a similar crucial, last-light scenario. Set up with a 250-yard target (the neighbor's house), I picked out several small details to examine through each scope—bricks and a screen-covered window with thin, white pane dividers.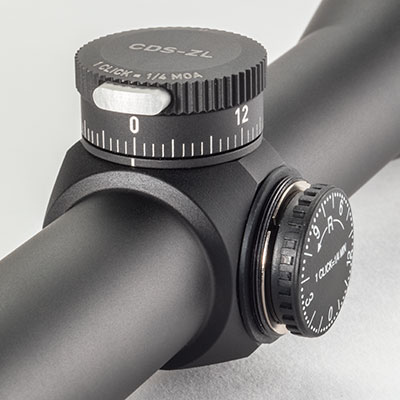 With about 45 minutes left before dark, I began my viewing, taking note of detail loss about every five minutes. Twenty minutes past legal shooting light, the VX-3i remained neck and neck with a high-end European optic that is more than double its price, while the other two competitors had gone dark. With the Leupold, I could still clearly see the Duplex reticle against several dark objects, and the sight picture was crisp and clear from edge to edge throughout my glassing session. Though the pricy Euro optic did take over during the last 10 minutes, it was well past any legal shooting time by then and, it's worth noting, compared to every scope I tested, achieving and maintaining an ideal sight picture was consistently easier with the VX-3i.
As for ruggedness, all VX-3i models are 100 percent waterproof and are purged with a proprietary argon/krypton gas blend to prevent fogging and resist thermal shock. External lenses are treated with Leupold's DiamondCoat 2 ion-assist lens coating; think of it as a screen-protector to prevent scratching. And of course, Leupold backs these optics with a Full Lifetime guarantee.
Aside from great glass, the real beauty of the new VX-3i is in the CDS-ZL dial; it literally takes the "equation" out of the hold-over equation, and the ZeroLock feature allows the user to return to a set zero without having to memorize the number of clicks already made on the dial or count the "lines" commonly found on such turrets. To return to zero after you've dialed for a holdover, simply rotate the dial clockwise until it stops and locks. You are now back at your chosen zero, ready to go with a clean slate for the next opportunity.
Included with the scope comes a standard CDS-ZL dial with ¼-MOA adjustments, allowing you to shoot right from the start. But the real seller is the included coupon for one free custom CDS-ZL dial tailored to your specific load ballistics, as well as the average elevation and temperature you will be hunting in. Choose your load, send in your data (bullet weight, muzzle velocity, zero range, etc.), and Leupold will custom build you a CDS-ZL dial with range increments etched to match your setup exactly. See that big whitetail across the field at 320 yards? Dial one click past 3. If he walks and stops broadside to sniff a doe at 150 yards, turn that dial to read 1.5, hold dead-on and shoot. If you've zeroed your rifle correctly, you'll score a hit.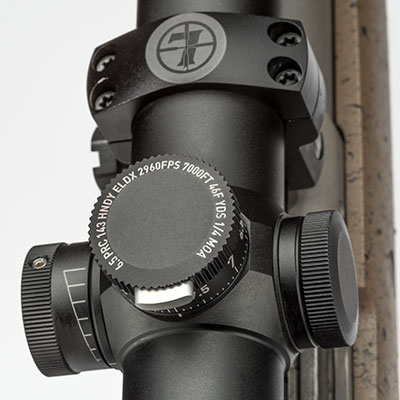 On my New Mexico elk hunt, I was using Hornady's 6.5 PRC 143-grain ELD-X Precision Hunter ammo with a ballistic coefficient of .625 and a muzzle velocity of 2960 fps. The area I was hunting had an average elevation of 7,000 feet and average temperature of 46 degrees. I sent that information to Leupold, including my preferred zero range, which I kept at the standard 100 yards. Leupold returned to me a laser-engraved CDS-ZL dial, built to my provided specifications. Already zeroed at 100 yards using the original included MOA CDS-ZL dial, all I had to do was swap the turrets (a simple operation using a small Allen wrench that took no more than five minutes), and I had a rifle/optic combo that, if I did my part, provided precise aiming out to 700 yards (well past my personal max range for game, but certainly inside my steel-plate zone). It's literally that simple. No need to calculate trajectories, no need to double check your dope; trust your turret and shoot.
Concerned about generalities with such specific elevation and temperature data going into the CDS-ZL dial? Don't be. Leupold built in a 2,000 foot/20-degree window on each side of the elevation and temperature you provide. For example, if you make a dial for 5,000 feet with an average temperature of 40 degrees, your dial will be accurate down to 3,000 feet/20 degrees and up to 7,000 feet/60 degrees.
I must admit that I was initially apprehensive about the idea of fiddling with a dial in the critical moments before taking a shot. I had my dope and holdovers memorized anyway, assuming I probably wouldn't have time to utilize the dial, but that couldn't have been further from the truth. Even after running almost 2 miles and sprinting 100 yards straight up the side of a ridge, I was able to get my rifle on sticks, range a nice 6x6 on the other side of the canyon at 350 yards, quickly dial to 3.5, hold dead-on and squeeze the trigger in under 10 seconds. The bull dropped within 30 yards. Having confidence in my equipment made all the difference.
Additional CDS-ZL dials can be purchased for $80, which I consider a reasonable price considering how easy it is to switch them out and the benefits gained. I will likely purchase a couple dials; one built for my whitetail ammo to use in my home state of Virginia, and one to use out West where elevations are higher and I'm typically shooting a heavier bullet. With quick-detach scope mounts, I may get a few more for completely different rifles. I'll still have to re-zero with every load and rifle, but after that, it'll be range, dial, aim, shoot. 
Technical Specifications
• Type: variable-power riflescope
• Magnification: 3.5X-10X, 4.5X-14X (tested)
• Objective Lens Diameter: 40mm (tested), 50mm
• Eye Relief: 4.4" (4.5X), 3.6" (14X)
• Exit Pupil: 8.9mm (4.5X), 2.9mm (14X)
• Field of View: 19.9" (4.5X), 7.4" (14X)
• Reticle: second focal plane; Duplex (tested), Wind-Plex
• Adjustments: .25 MOA
• Coatings: fully multi-coated; Twilight Max Light Management System, DiamondCoat 2
• Dimensions: tube diameter 1" (tested), 30mm; length 12.7"; weight 13.5 ozs.
• Construction: one-piece anodized aluminum tube; argon/krypton-filled; waterproof, fogproof, shockproof
• Accessories: custom CDS-ZL dial, neoprene scope cover
• MSRP: $649.99-$974.99; leupold.com