by
posted on October 14, 2014
Support NRA American Hunter
DONATE
Despite the superb quality of its binoculars and innovative laser rangefinders, Leica has struggled to gain a foothold in the riflescope market—until now. With the advent of its ERi line, this German maker of fine optical instruments has engaged the high-end scope competition no holds barred. The latest ERi model I tested earns high marks for precise mechanical and optical quality, but struggles for a passing grade in documentation.
Bluntly, this scope is too Euro-centric, and the instructions provided with it are too limited and confusing, for this red-white-and-blue shooter. But before I complain further, let's recognize the excellent qualities of this 30mm-maintube scope. It's made in Portugal, but, like most German scopes, the ERi exhibits impeccable quality. Resolution and contrast are stunning, even at 10X, and light transmission is rated at 90 percent. The knurled, rubberized power ring dials from 2.5X to 10X in half a trip around the eyepiece collar. The ring is tight so it won't "self-adjust," yet its movement is silky smooth, just as it should be.
The end of the eyepiece ring screws in and out to adjust diopter. It, too, rotates smoothly, but it could be a touch stiffer for my tastes. The windage cap and the dial that adjusts the intensity of the illuminated reticle are rubberized and ribbed, but the elevation turret is a more traditional knurled aluminum. A unique locking ring fitted to the elevation turret prevents inadvertent bumping. Nice touch, Leica.
After it's freed by a quarter turn of the locking ring, the turret dials easily with such sharp, precise clicks that you could make adjustments by feel alone. More often you'll read the dial numbers through a small window in the locking ring. I found this helpful in reducing the clutter (or c0nfusion) presented by turrets encircled by hash marks and large numbers. The modest window frames the lines and numbers that matter.
The turret has a zero stop, and it also stops just before reaching one complete turn, so you can't get "lost." From the resettable "0" mark, one near-revolution covers about 32 MOA, more than sufficient to get a bullet having a high ballistic coefficient and a muzzle velocity of 2900 fps or faster on target past 1,000 yards.
For additional reach, Leica recommends shimming the rear base, but there's another option: the company's Integrated Ballistic System (IBS) reticle. This is a typical dual-step reticle with six vertical hash marks on both sides of the horizontal line for windage holds, and an alternating mix of seven dots and hash lines on the lower vertical line. With the above bullet/velocity, combining the IBS reticle with the turret should enable targeting well beyond 1,000 yards.
The illuminated reticle does a great job of not overpowering one's night vision. In a dark room I was unable to see the illuminated red center dot at the first of nine settings. I could barely detect it at setting No. 2. Setting No. 3 looked nearly ideal for nocturnal hog shooting. Outdoors in full sunlight, I couldn't see the lighted reticle against mid-tone and brighter targets, but could clearly see it when aiming into dark shadows. Perfect. The illumination knob must be turned back to zero to switch it off, but there are safeguards. If left on and motionless for three minutes, it will automatically shut down. Motion will turn it on again. If tilted more than about 70 degrees up or down (like when a rifle is stood on its butt in a corner), an internal switch cuts off power.
At the range I mounted the scope on a Mossberg 4x4 in .270 Win. screwed to a Boyds' Classic aftermarket stock to test turret adjustment accuracy. Later I put it on a Blaser R8 in .308 Win. to test the IBS reticle. With both guns the scope dialed and returned to zero perfectly. Targeting with the elevation and windage hash lines on the reticle was also dead-on, but that brings me to my complaints.
The ERi adjustments are in centimeters at 100 meters, not MOA. If you've trained with the miliradian (mil) system, no problem. But if you're a minute-of-angle shooter, it's a mess. One click of the ERi turret equals .3598 inch at 100 yards (about .1 mil). You need roughly three clicks to move bullet impact 1 MOA. But if you need to move 1.5 MOA, you're out of luck, because the turret doesn't do half clicks. Six clicks will even things out at 2 MOA, but on the ERi turret this falls between "0" and "1." Let's see … 10 clicks takes you to the No. 1 demarcation, which yields about a 3.5 MOA shift in impact. What could be simpler? (Yes, that's sarcasm.)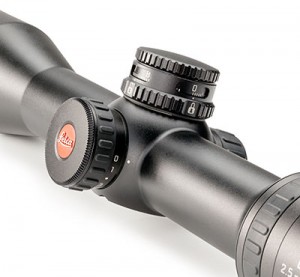 The crisp, bright IBS reticle is also confusing. Etched near the bottom right of the vertical post is "G7 IBS RETICLE 1 MOA." But the only 1 MOA dimension on the entire reticle is its center dot. Spaces between each dot and hash line subtend about 1.8 MOA. According to its confusing website, Leica sells a dozen turret rings with distance markings to match many standard cartridges, so you might be able to skip the mil-to-MOA conversion battle completely.
I was also frustrated by the two instruction booklets (in eight languages) shipped with the scope. Both failed to show the IBS reticle or explain it in any way. After considerable digging through the website, I finally found the IBS G7 calculator. It was worth the search. Enter the zero range, ballistic coefficient and velocity of your bullet, and the calculator builds a chart showing the range for each dot and hash mark when shooting at 0-degree, 15-degree and 30-degree angles. Memorize or tape this chart to your rifle, and you should be ready to use the IBS reticle effectively.
My final complaint is the second focal plane reticle. Although this is the preferred American style, changing magnification changes reticle subtensions since the reticle does not enlarge with the image. A dot that's dead on at 400 yards at 10X might change to dead on at 510 yards at 6X.
As tested, the Leica ERi 2.5X-10X-42mm IBS gets an A for quality. Build it with MOA turrets and an MOA ballistic reticle in the first focal plane, include a complete, more clearly written instruction booklet, and I'll bump that up to an A+.
Technical Specifications:
Type: variable-power riflescope
Magnification: 2.5X-10X
Objective Lens Diameter: 42mm
Eye Relief: 3.94"
Exit Pupil: 16.8mm @ 2.5X, 4.2mm @ 10X
Field of View @ 100 Yds: 43.5' @ 2.5X, 11.7' @ 10X
Reticle: second focal plane, Integrated Ballistic System, illuminated
Adjustments: 1 cm @ 100 m (about .36" @ 100 yds. or 1/3 MOA)
Coatings: fully multi-coated; AquaDura on external lenses
Dimensions: tube diameter 30mm; length 12.5"; weight 18.3 ozs.
Construction: one-piece aluminum tube, nitrogen filled, waterproof to 13'
Battery: CR 2032
Accessories: lens caps, battery, cleaning tissue
MSRP: $1,829