by
posted on July 18, 2016
Support NRA American Hunter
DONATE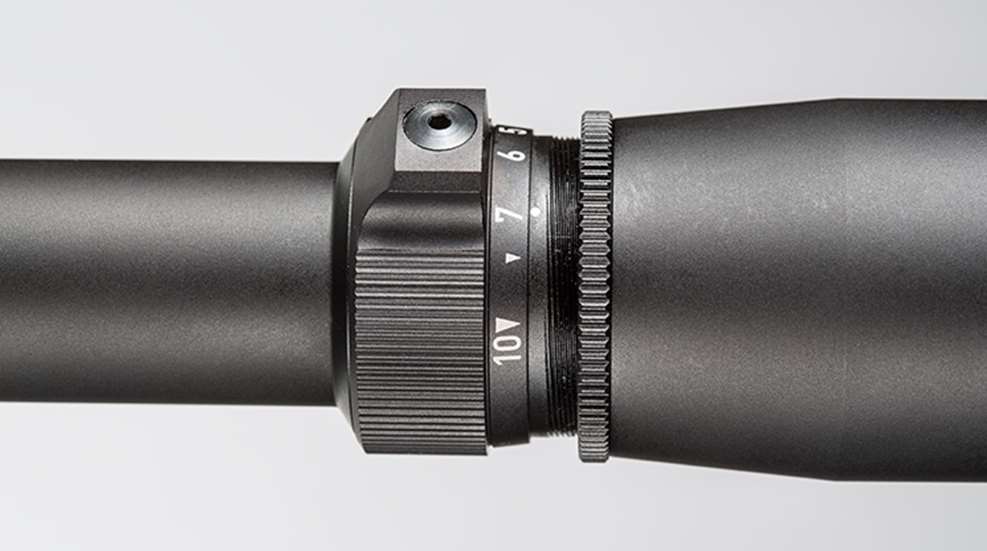 Riflescopes with parallax adjustments, illuminated reticles, 8X zoom ranges and turrets dialing past 1,500 yards are impressive, but do we really need that to still-hunt whitetails in Ohio farmland or chase elk at 8,000 feet in Idaho? An optic like Leupold's new VX-3i 3.5X-10X-40mm with the Boone & Crockett ballistic reticle is likely better suited for most hunters' needs. This 12.6-ounce scope, a reengineered upgrade from the previous VX-3, is bright, sharp, slim and extremely reliable.
If the 40mm objective seems a bit undersized for the 21st century, consider the exit pupils it produces at various powers. Exit pupil (EP) is the diameter of the circle of light you see in the eyepiece with the scope held about 18 inches away from your eyes. It is determined by objective diameter divided by power, so at 10X this scope's EP is 4mm. EP must match or exceed the diameter of your own pupil in order to pass into your retina all the light it can absorb. The human pupil dilates from about 2.5mm in full sunlight up to 7mm in darkness. So, if you put this 10X scope on a pronghorn at 3 p.m. under blue skies, it will project a beam of light onto your pupil that is so wide nearly half of it will reflect off your iris, wasted.
Shortly after sunset your pupils may enlarge to 5mm, maybe even 6mm, to let in more light. Then at 10X the VX-3i will not paint onto your retina all the light you could use. Solution? Dial the power down to 6X. The scope's EP enlarges to 6.7mm.
Don't worry about that traditional 1-inch main tube, either. It won't minimize brightness by the tiniest glimmer. Objective lens diameter and power determine brightness regardless of main-tube diameter. I could clearly see the Boone & Crockett reticle, including the two sub-reticles and tiny, lowest hash bar, against dark red boulders 45 minutes after sunset. A half hour after sunset I could make out the reticle against the black shadow of a shallow cave 80 yards away.
EP diameter isn't the only factor in scope brightness. Anti-reflection lens coatings play a huge role. Leupold applies its Twilight Max Light Management System to the VX-3i. Lenses have been treated with anti-reflection coatings balanced to their refractive indices and to all other lenses in the system to maximize light transmission across the color spectrum. In layman's terms, anti-reflection coatings maximize light transmission while minimizing flare, that annoying haze you see in a cheap scope.
To test all this optical excellence, I compared the new scope to Leupold's previous VX-3 of the same size. With the sun about a half hour above the western horizon, I glassed into the shadows right under it. That put full sun on the objective lenses, yet I saw no flare and just a touch of haze in the older VX-3. The new VX-3i transmitted slightly but noticeably deeper saturation and contrast at 3.5X, 6X and 10X, most apparent when I detected white lettering on a new concrete building 2 miles away. I hadn't noticed it with the old VX-3. That's the kind of contrast that helps you pick antler tines from branches, gray mule deer from gray sagebrush. I also was able to detect a very slight improvement in sharpness with the VX-3i.
Optical quality is just one part of scope performance. There are mechanical jobs, and the VX-3i handled them like a pro. The zoom ring turned smoothly, stopped on a dime and held firmly, an improvement over the old model. A slightly larger thumb projection on the power ring helps with turning. Leupold has resisted the Euro-style, quick-adjust eyepiece diopter for focusing the reticle, which I appreciate. Reticle focus should be a one-time job. I've wasted more time readjusting bumped Euro-style diopter rings than locking a Leupold-style eyepiece.
Turrets snapped into place firmly with tactile and audio confirmation. The clicks aren't as crisp or loud as on many dedicated, long-range scopes, but they're sufficient for effective dialing—especially when the scope is fitted with a CDS dial (available separately).
To check the accuracy of adjustments, I mounted an old-fashioned collimator grid, centered the reticle on it and repeatedly turned both elevation and windage turrets 20 to 30 clicks left, right, up, down and back in varying combinations. The reticle always returned dead center. It remained centered while I twisted the power ring from 3.5X to 10X and back.
Leupold's reputation for toughness should carry through with this scope. Its erector tube is kept in place with two return springs. External lenses are protected with DiamondCoat 2. The scope is purged with argon/krypton gas to keep moisture at bay and resist thermal shock. I tested this by freezing the scope overnight. After 10 minutes at room temperature, it showed not a trace of internal fogging, so I submerged it in water for 10 more minutes. It emerged fog-free. I dunked it again, turned the power ring, screwed the eyepiece bell in and out a few times, then removed both turret caps. No bubbles. A visual inspection with flashlight illumination through the objective lens showed no sign of moisture.
Leupold has been building a reputation for practical, durable hunters' scopes for decades, and the VX-3i appears to fit the mold. The 3.5X-10X-40mm version is darn near the ideal, do-everything scope.
Technical Specifications:
• Type: variable-power riflescope
• Magnification: 3.5X-10X
• Objective Lens Diameter: 40mm
• Eye Relief: 4.4" (3.5X), 3.6" (10X)
• Exit Pupil: 11.4mm (3.5X), 4mm (10X)
• Field of View @ 100 Yds: 29.8' (3.5X), 11' (10X)
• Reticle: second focal plane; Duplex, Boone & Crockett (tested)
• Adjustments: .25 MOA
• Coatings: fully multi-coated; Twilight Max Light Management System, DiamondCoat 2
• Dimensions: tube diameter 1"; length 12.6"; weight 12.6 ozs.
• Construction: one-piece anodized aluminum tube; argon/krypton-filled; waterproof, fog-proof, shockproof
• Accessories: neoprene scope cover, coupon for free CDS dial
• MSRP: $649.99