by
posted on October 1, 2017
Support NRA American Hunter
DONATE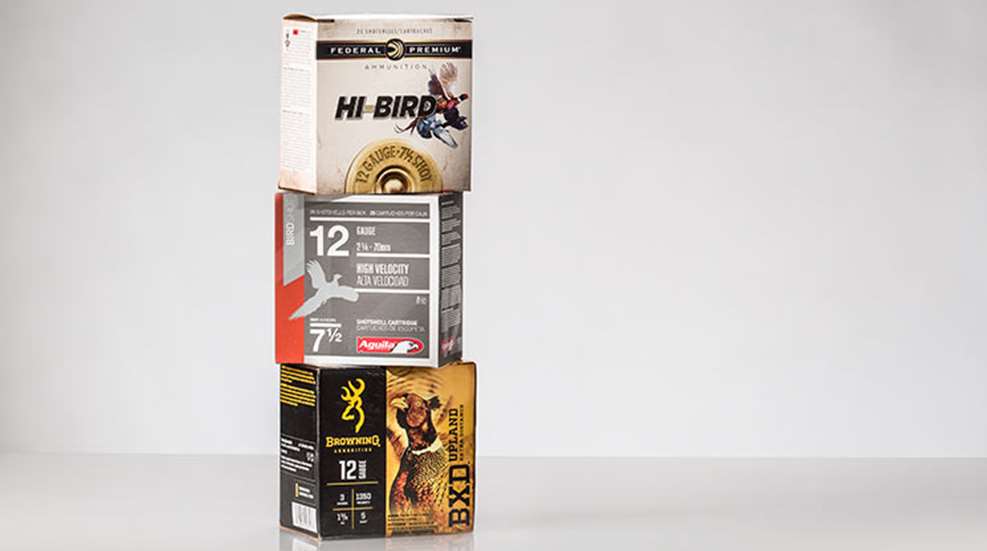 Some wingshooters this season will rely on whatever shotshell load they consider "ol' faithful," while others will turn to new high-velocity offerings that promise tighter patterns at greater distances. The traditionalists may say you don't need to reach out that far if you know what you're doing, but I like to let high-flying birds know it wasn't the sun that brought them down. And hey, the last time I checked, high-velocity loads kill close birds, too. Here are three worth considering before you put a lead on your first pheasant this fall.
Federal Premium Hi-Bird
New for 2017, Federal Premium's Hi-Bird line leaves little doubt as to its purpose: extending your maximum range to bring those high-flying birds down to Earth. The crux of Hi-Bird's design rests on its two-piece wad. It features what Federal calls SoftCell technology, which compresses slightly as the shell fires. It lessens shot deformation, which leads to more consistent patterns. Lead is a soft metal, and it's inevitable that some lead pellets in every shotshell ultimately wind up being "crushed" upon ignition, which reduces downrange energy and leads to flyers that foul up patterns. The SoftCell wad's "cushion" effect is meant to counteract that.
The technology also helps reduce perceived recoil—and that's darn convenient when you're swinging to knock down a second bird. It's patented, and has long been included in Federal's popular Gold Medal competition shotshells. Altering the wad is one method to help preserve long-range patterns without drastically raising a hunter's price per shell. Plating the shot can be more efficient, but comes at a cost.
Five Hi-Bird offerings are currently available, all of the 12-gauge variety and all in 2¾-inch shells. Having a factory-advertised velocity of 1330 fps, the 1¼-ounce loads are available in No. 6 and 7½ shot. The 1⅛-ounce loads are available in No. 6, 7½ and 8 shot, and have an advertised velocity of 1275 fps. The Hi-Bird line represents a bargain that is hard to argue with—especially if you're expecting a few high-volume shoots this season. MSRP: $12.95 per 25-rnd. box.
Aguila High Velocity
If you've not seen much from Aguila Ammunition, particularly in the shotshell realm, that's because the Mexico-based company has only started to become a force on American shelves during the past few years. Aguila is Latin America's foremost ammunition manufacturer and is most known for its rimfire line. That said, the company also makes a fine selection of shotshells, including its High Velocity upland load.
Aguila makes lead shot in its own shot tower, and in fact produces every component of its shotshells in-house, right on down to the primers. The vertical method of production ensures consistency throughout Aguila's shotshell line. Remington fans should recognize the Power Piston wad design found in Aguila's shells—the company's original ammo plant was established in collaboration with Big Green back in 1961, and some production methods have carried over. If it isn't broke, don't fix it, right?
I saw Aguila's wares knock down dozens of pheasant, Gambel's quail and doves on a wingshooting adventure near Mexicali last fall. The clean-shooting shells produced nary a hiccup in our scatterguns over three days of the kind of high-volume shooting for which Latin America is known.
Our outfitter, a veteran upland hunter and guide, swore by Aguila even before our arrival. That's high praise, considering the bevy of products a man in his position has the opportunity to shoot.
Aguila has an especially large selection of High Velocity shotshells; 12-gauge offerings are available with No. 2, 4, 6, 7½, 8 and 9 shot. All are 2¾-inch shells and have a 1¼-ounce payload with an advertised muzzle velocity of 1330 fps. High Velocity 20-gauge loads are also available. MSRP: $9.98 per 25-rnd. box.
Browning BXD Upland Extra Distance
When Browning entered the ammunition market, it did so with gusto—covering the centerfire, rimfire and shotshell markets all at once. For upland hunters that means getting to know the company's BXD Extra Distance load, which is advertised as a premium product. Like Aguila, Browning uses a shot tower to produce pellets for its BXD Upland line. In order to keep the lead payload from suffering from deformation at high velocities, the pellets are hardened with nickel plating. The tough coating helps maintain roundness—and thus tighter patterns—out to longer ranges. The formula is simple: preserve downrange velocity and energy transfer, and you get shorter shot strings and more pellets on target.
Browning pairs its nickel-plated shot with what it calls an "aerodynamically stabilized wad" to help keep patterns tight and uniform at extended ranges. This is a load that should really shine when applied to late-season birds and the accompanying weather conditions.
I put the black-hulled Browning BXD loads to use in South Dakota last season and had little trouble filling my vest with roosters. The entire hunting party left impressed at the effective range, and we saw numerous birds sent to meet their maker with shots that stretched beyond 40 yards.
The BXD Upland Extra Distance line includes a 12-gauge, 3-inch load with 1⅝ ounces of No. 5 shot at 1350 fps, and two 2¾-inch loads with 1⅜ ounces of either No. 5 or 6 shot. Both 2¾-inch loads are advertised with a head-turning muzzle velocity of 1485 fps. BXD Upland Extra Distance is also available in 16- and 20-gauge. MSRP: $19-$24 per 25-rnd. box.