by
posted on January 3, 2017
Support NRA American Hunter
DONATE
Coyotes are smart, wily little buggers, and killing them often requires a hunter to deliver a quick, well-placed and instinctive shot. If you think you're going to be able to draw them in close, those requirements make a shotgun a sound option: Scatterguns are meant for instinctive handling, and they offer a bit of leeway when it comes to a "well-placed" shot. As a result, most shotshell manufacturers produce predator loads, usually loaded with some form of buckshot. Long-range variants often rely on tungsten-based loads and come at high cost. Few of those products, though, can produce the results of the first-ever shotshell addition to Winchester's Varmint X line, which delivers 50-plus-yard lethality with an all-lead load—carrying 11/2 ounces of copper-plated lead BBs, to boot.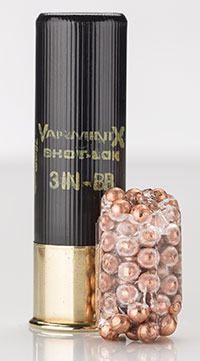 The secret? If you're a turkey hunter, you should already know. If not, I'll briefly enlighten you. The Varmint X shotshell, just like Winchester's Long Beard XR and Rooster XR products, features the company's patented Shot-Lok technology. In short, the Shot-Lok system's key component is a liquid resin that Winchester injects into the payload of its Shot-Lok shells. It dries hard, but is brittle enough to fracture and serve as a micro-buffer upon ignition. What the resin ultimately does is eliminate air space between the lead pellets. As such, they don't smash into one another and deform as the powder ignites, preserving integrity and largely eliminating fliers. It also does wonders for preserving tight patterns at longer ranges.
Why is that important? Because by using Shot-Lok, Winchester is able to produce tungsten-like long-range results using lead loads. That's an enormous achievement, and it bodes well for you, the hunter, because tungsten isn't cheap, nor are the shotshells that come loaded with it. With Shot-Lok, Winchester is able to offer high-performance shotshell products that, though not necessarily budget-priced, are still friendlier on the wallet than tungsten-based products. The company spent years playing with the concept after one of the company's lead design engineers had an "Aha!" moment at a family holiday gathering. He happened to see his grandmother making hard candy from scratch. If you've never made hard candy before, picture this: It begins as liquid, which you manipulate however you'd like, before it hardens into a solid. Years later, we have Shot-Lok, which took home American Hunter's 2016 Golden Bullseye Award for Ammunition Product of the Year.
With the Varmint X shotshell, Winchester chose to go with BB-size pellets. There was resistance to that proposal, at first, because some parties feared the hunting community would be hesitant to consider BB-sized shot a true "long-range" solution. Dissenters quieted down after putting the load to the test. At 40 yards, the Varmint X shotshell is capable of putting close to 70 pellets inside a 20-inch circle. Better, during internal tests, Winchester found that it was getting 7 to 12 inches of penetration in a block of ballistic gel. That's enough to kill even the sturdiest of coyotes. At 60 yards, the average penetration changes little, and results show an average of 40 pellets per 20-inch circle. That's a lot of lead on target, folks.
For now, Varmint X shells are available only in a 3-inch offering with a muzzle velocity of 1300 fps. Winchester estimates that an average of 77 pellets make it into each shell. Don't worry, I'll do the math for you: It means that, at 40 yards, it's possible to put more than 90 percent of your payload into a 20-inch circle. Coyotes don't stand a chance.
I can attest to Varmint X's performance. On a Texas predator hunt last January, a fellow hunter smoked a song dog with Varmint X. Dropped the 'yote like a stone. The hunter was so stunned at the distance that he remained seated until I arrived at his location with my rangefinder. It read 55 yards. Our guide, a veteran coyote slayer of some renown, could offer only shock and awe. If you're looking for a long-range scattergun load for your next predator hunt, Winchester Varmint X absolutely must be in the conversation. Shot-Lok has done it again.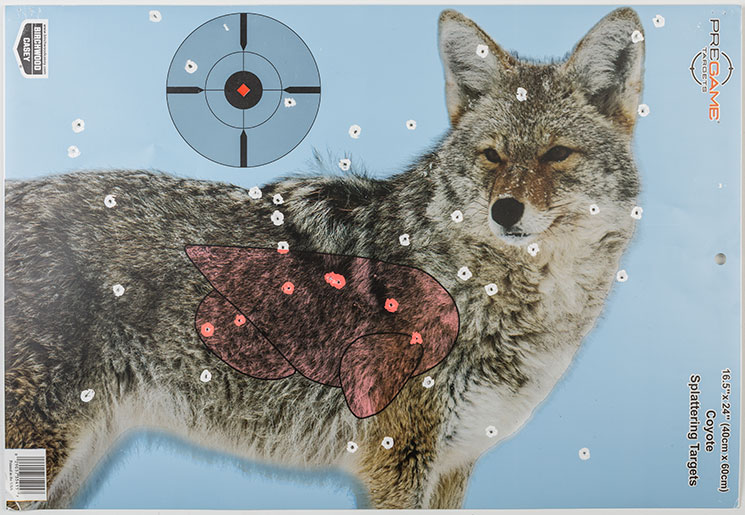 The Shot-Lok resin in Winchester Varmint X shotshells helps prevent the BB-size pellets from deforming for lethal patterns even at 50 yards.
Technical Specifications:
• Type: lead shotshell
• Gauge: 12
• Length: 3"
• Shot Size: BB
• Payload: 1½ ozs.
• Shot Material: copper-plated lead
• Advertised Muzzle Velocity: 1300 fps
• MSRP: $18.99 per 10-rnd. box