by
posted on April 27, 2018
Support NRA American Hunter
DONATE
Now in its 16th year, the NRA Golden Bullseye Awards represent the pinnacle of achievement within the shooting, hunting and outdoor trade.
In 2017, after years of record-breaking sales, many industry observers wondered what ingenious introductions might still be unveiled. After all, any product worthy of our gold standard must meet or exceed American Hunter's expectations of innovation—and they absolutely must provide hunters with value for their money. But once again, we were surprised when we collected nominations and tallied our votes.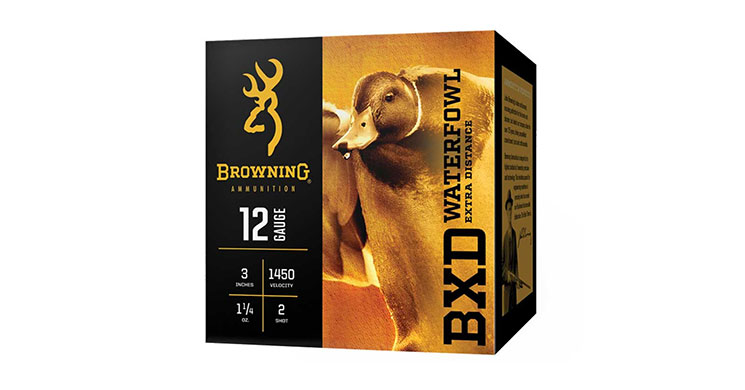 Ammunition Product of the Year: Browning BXD Waterfowl
Shotshell technology has come a long way in the past few years. Case in point: Browning's BXD Waterfowl loads, which pack several premium features into one shell.
BXD's round shot is plated with blue zinc-chromate to reduce inconsistencies and provide a barrier against corrosion. Browning's "aerodynamically stabilized wad" creates denser patterns by keeping shot tightly packed together longer during flight so pellets retain velocity, which translates into more downrange energy. Managing Editor Jon Draper noted BXD hits a "velocity sweet spot" (AmericanHunter.org, November 2017). It was one of the faster loads we tested but didn't produce recoil normally associated with increased velocity. The 12-gauge 3-inch variant runs at an advertised 1450 fps; the 12-gauge 31/2-inch load moves downrange at an advertised 1500 fps; and the 20-gauge 3-inch load travels at an advertised 1300 fps.
"What it ultimately means, and what AH editors can attest to," explained Draper, "is that it kills birds clean, even past 40 yards."
For more information, go to browningammo.com.
Editor's Note: NRA Publications will present the annual Golden Bullseye Awards at an exclusive breakfast during the 2018 NRA Annual Meetings & Exhibits in Dallas, Tx., May 4-6.