by
posted on February 7, 2020
Support NRA American Hunter
DONATE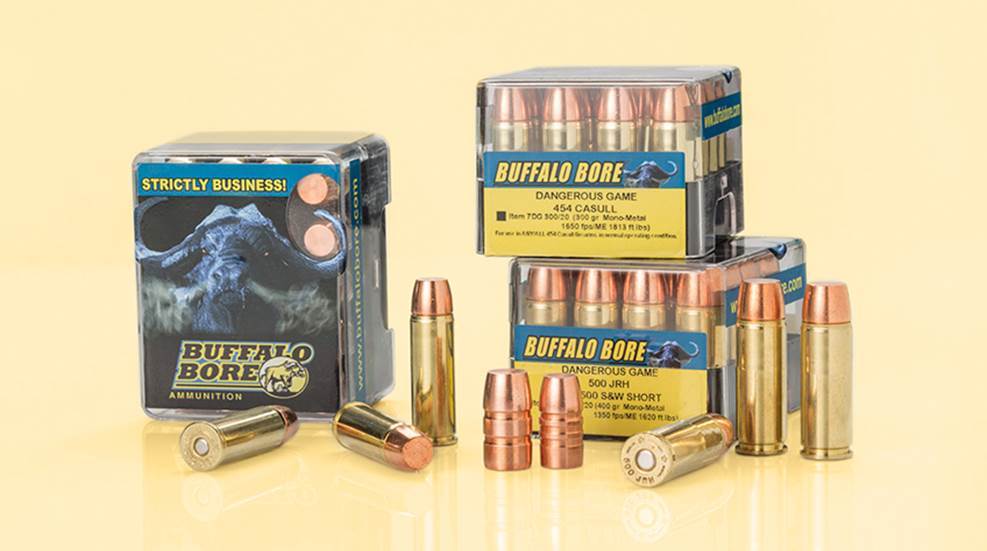 For hunters seeking the ultimate terminal performance on game, ammunition choices are expansive. For those thrill seekers wishing to pit their mettle against dangerous game, the choices are more narrowly represented, with prices to typically match their exclusivity. The field narrows to a sliver for the handgun hunter seeking the ultimate test against animals that are labelled "dangerous" out of a propensity to inflict damage upon those brave or mentally challenged enough to throw their hat in this dicey ring, where the battle isn't concluded by a draw, but by the drawing of a last breath.
With that in mind, Buffalo Bore Ammunition of Salmon, Idaho, developed a line of dangerous game ammo (after much cajoling from yours truly) for revolver cartridges, initially, aptly labelled the Dangerous Game line, featuring monolithic solid bullets. LeHigh Defense was tapped for their line of precision flat-nosed copper handgun bullets. In a matter of months, the resulting love child consists of 10 different calibers: 10mm Auto, .44 Magnum, .45 Colt +P, .454 Casull, .460 S&W Mag., .480 Ruger, .475 Linebaugh, .500 JRH, .500 S&W Magnum and the ubiquitous .45-70 Government, giving lever-action fans a direct path to Africa's Big Five. In development as this goes to print are Dangerous Game loads (also featuring LeHigh copper flat-nosed solids) for the .375 H&H Magnum, .375 Ruger, .416 Remington Magnum, .416 Ruger, .458 Winchester Magnum and the .458 Lott, expanding the lineup to include these popular safari calibers.
A number of years ago, a group of handgun hunters (myself included) began gathering at a hunting preserve in Hondo, Texas, called Action Outdoor Adventures with the sole purpose of testing handgun loads, calibers and bullets on bovine flesh (water buffalo, bison, watusi, etc.). I have tested bullet performance in a number of "accepted" media all the while knowing full well that nothing makes up for real flesh and blood (and don't forget bone) when testing the terminal effectiveness of a given load. We dubbed this annual gathering the "Bovine Bash." Taking it a step further, testing in live 1,000-pound-plus bovines with their correspondingly heavy frames and musculature (and often bad attitudes as we have learned on numerous occasions) is the finest and most definitive testing available, albeit at a price that is significantly higher than, well, let's say wet newsprint testing. All in the name of science …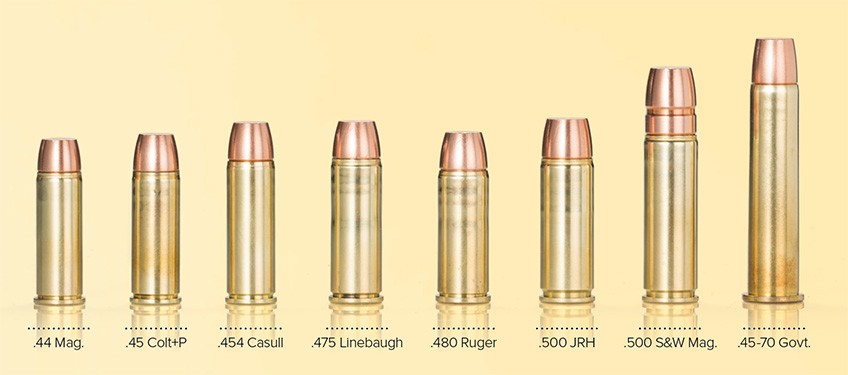 Traditionally, handgun hunters have used flat-nosed hardcast lead-alloy bullets at moderate velocities to dispatch game, even large game. These bullets have a reputation for deep penetration, an obvious advantage when the hunted animal is large. However, there are limitations based on material capability. Hardcast lead cannot be overdriven or the nose shape will become compromised, and in some cases bone impact will do the same, impeding straight-line penetration and damage-producing potential. What we found in testing, in a nutshell, was that even good hardcast bullets are a hit-or-miss proposition with regard to bullet integrity.
Now, the trend over the last ten years or so in big-game rifle hunting circles has been to incorporate flat-nosed profiles into solid bullets in dangerous game calibers to enhance straight-line and deep penetration. This is pretty useful when animals weigh tons and can easily end your mortal existence, a concept that is (as mentioned before) not new to the handgun-hunting world where handgun hunters have been utilizing flat-nosed bullet profiles for decades. The flat portion of the nose, or meplat, creates a permanent wound channel larger than the caliber of the given bullet (as opposed to a round-nose profile which will often produce a lesser diameter wound channel), and it also stabilizes the projectile in flesh, enhancing its ability to track straight.
The solution to the bullet-material question is a bullet of the same type (with respect to nose profile) made from a material impervious to high-impact velocities: copper. Copper, being a lighter material than any given lead alloy or traditional copper/lead bullet construction, makes for a longer yet lighter-weight bullet. The lower sectional density (the ratio of a bullet's weight to its caliber, largely credited with affecting penetration) should be of no concern as these projectiles can be driven to higher velocities without compromising the bullet's integrity, resulting in deeper penetration and more damage to flesh. That is the reason monolithic bullets tend to weigh less than their cup-and-core or partition-style counterparts, even with similar bullet length.
We had the opportunity to test some pre-production ammo last year in .480 Ruger while attending our annual Bovine Bash where a couple of unhappy bovines "volunteered" to catch LeHigh solid bullets with great effect. I also had the opportunity to later test all of the available handgun calibers as well as the .45-70 loads, and all delivered the advertised (or better) velocity and accuracy I have come to expect from Buffalo Bore products.
They cost a little more, but are a pittance compared to the misfortune of watching a five-figure trophy fee disappear into the brush, never to be seen again because you wanted to save a few pennies on bargain-basement bullets. Or worse, that game you're hunting makes the decision to show you unequivocally, and in no uncertain terms, why it belongs in that exclusive club called the "Big Five." There are many places you can save a few dollars here and there—your ammunition isn't one of them. Reliability is the emphasis here, particularly when dangerous game is on the menu. Spare yourself the headache, heartache and potential dismemberment, and opt for terminal goodness in the form of Buffalo Bore's Dangerous Game ammo. Your life is worth the extra cost.
Technical Specifications
• Caliber: 10mm Auto, .44 Mag., .45 Colt +P, .454 Casull, .460 S&W Mag., .475 Linebaugh, .480 Ruger, .500 S&W Mag., .500 JRH, .45-70 Govt.
• Bullet: 190 gr. (10mm Auto), 265 gr. (.44 Mag.), 300 gr. (.45 Colt +P, .454 Casull, .460 S&W Mag.), 330 gr. (.475 Linebaugh, .480 Ruger), 380 gr. (.45-70 Govt.), 400 gr. (.500 S&W Mag., .500 JRH), monolithic solid copper, LeHigh Defense WFN (Wide Flat Nose)
• Ballistic Coefficient: .148 (10mm Auto), .179 (.44 Mag.), .182 (.45 Colt +P, .454 Casull, .460 S&W Mag., .475 Linebaugh, .480 Ruger), .199 (.500 S&W Mag., .500 JRH), .225 (.45-70 Govt.)
• Muzzle Velocity (adv. fps): 1200 (10mm Auto), 1425 (.44 Mag.), 1300 (.45 Colt +P), 1650 (.454 Casull), 1920 (.460 S&W Mag.), 1575 (.475 Linebaugh), 1400 (.480 Ruger), 1850 (.500 S&W Mag.), 1350 (.500 JRH), 2075 (.45-70 Govt.)
• Muzzle Energy (adv. ft.-lbs.): 607 (10mm Auto), 1,195 (.44 Mag.), 1,101 (.45 Colt +P), 1,813 (.454 Casull), 2,455 (.460 S&W Mag.), 1,817 (.475 Linebaugh), 1,436 (.480 Ruger), 3,039 (.500 S&W Mag.), 1,620 (.500 JRH), 3,632 (.45-70 Govt.)
• MSRP: $43.96-$89.10 (per 20-rnd. box); buffalobore.com