by
posted on September 7, 2019
Support NRA American Hunter
DONATE
In today's hunting world, it's all the rage to go as long distance as you can. The appeal, of course, is the challenge: reading the wind, adjusting for distance and elevation, doing all the right math and executing the perfect shot.
There's another way to make something as difficult as hunting more challenging, however, and that's by going close-range with a handgun. There's a handgun for virtually every taste, too: single- and double-action revolvers, break-barrel single-shots, and of course, semi-autos. In terms of accessories, there's plenty of great ways to find success, from red dots to handgun scopes or, if you dare, a wide variety of open sights. Likewise, there's a plethora of handgun hunting ammunition to get the job done on hogs, deer or larger-bodied game like elk and bear.
On the other side of the coin, many hunters rely on a handgun strictly for defensive purposes in dangerous game territory. In that case, manufacturers like Buffalo Bore offer hard-cast solid bullets for stopping a grizzly charge. No matter what your reasons for carrying a handgun afield, here's a look at seven of the best handgun hunting loads on the market today.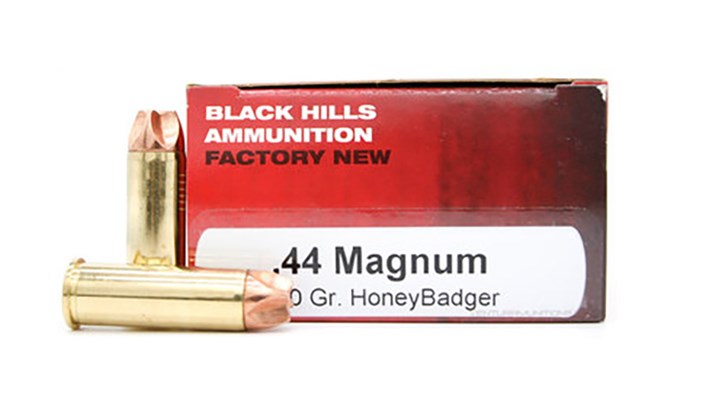 1. Black Hills HoneyBadger
Only a couple years old, the new Black Hills HoneyBadger line has continued to expand and now includes a .44 Magnum variant that is ideal for everything from hogs to big game. Featuring a 160-grain solid projectile from Lehigh Defense, the HoneyBadger creates a massive wound channel without relying on expansion. As a result, there's no hollow point to get clogged. Not only does the bullet perform well in a personal defense scenario, it's also incredibly effective on thick-shouldered game like hogs. The .44 Magnum variant is a good choice for revolver hunters looking to take small to medium-sized game and offers consistent, lethal penetration. MSRP: $80.58 per 50-rnd. box; black-hills.com.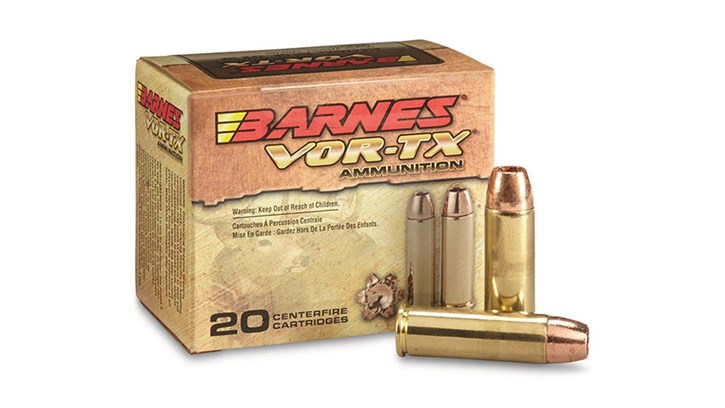 2. Barnes Vor-Tx Handgun
When you think of Barnes Bullets, you think of solid copper bullets that deliver incredible devastation on target and maximum weight retention. The company has seen quite a bit of success now that it offers factory Vor-Tx loads, and it only made sense to expand the rifle ammunition hunting line to include handgun ammo. The Vor-Tx Handgun line utilizes the XPB bullet and includes popular calibers like the .357 S&W Magnum, 10mm Auto, .41 Remington Magnum and .454 Casull. The XPB bullet is designed to penetrate deeply while expanding to double its original diameter, maintaining weight and dumping tremendous energy into the target. As a result, it's a great choice for large-bodied game and thick shoulder blades. MSRP: $23.99-$39.99 per 20-rnd. box; barnesbullets.com.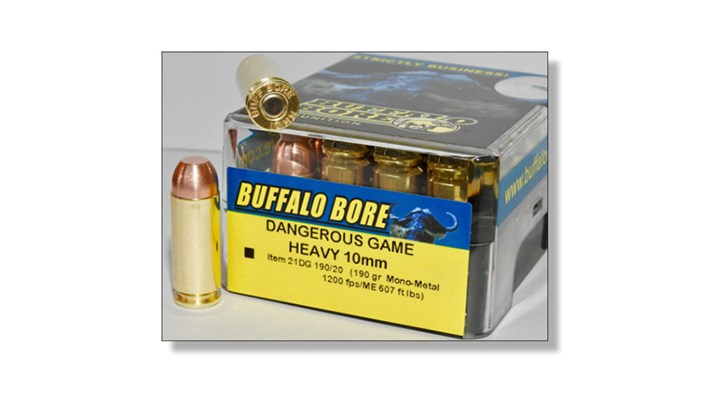 3. Buffalo Bore Dangerous Game
When hunters go looking for a genuine Alaskan bear stopper, they often find their way to Buffalo Bore ammunition. One of the newest offerings from the company is the 10mm Auto Dangerous Game 190-grain load, which delivers a devastating 950 ft.-lbs. at the muzzle. The 190-grain projectile is another Lehigh Defense special, introduced by Buffalo Bore to meet the rising demand among hunters for suitable 10mm dangerous game loads. Unlike other hunting bullets, this load is designed to retain its original shape and weight without expansion, allowing it to penetrate deeply in a straight line through bones, muscle and fluid. Thanks to the inclusion of low-flash powder, this load won't blind you when you've got a charging bear in the fading light of the evening. MSRP: $43.96 per 20-rnd. box; buffalobore.com.
4. Federal Trophy Bonded Bear Claw
One of Federal's newer handgun hunting loads, the Trophy Bonded Bear Claw comes in 10mm Auto and features a tough, bonded bullet construction that delivers in the accuracy department. Boasting high weight retention and deep penetration, the Bear Claw is ideal for bruins, hogs and deer, among others. A nickel-plated case ensures repeatable extraction, while the super-tough bullet design delivers optimum performance against bones and tough tissue like a hog's shoulder blade. The 180-grain bullet leaves the muzzle at roughly 1200 fps and carries an impressive 650 ft.-lbs. of energy, making it ideal for stopping a charge or burying a well-placed round into the boiler room. As the 10mm Auto crowd continues to grow, with a variety of handguns and optics to accompany it, this offering from Federal is sure to grow in favor among hunters, too. MSRP: $34.95 per 20-rnd. box; federalpremium.com.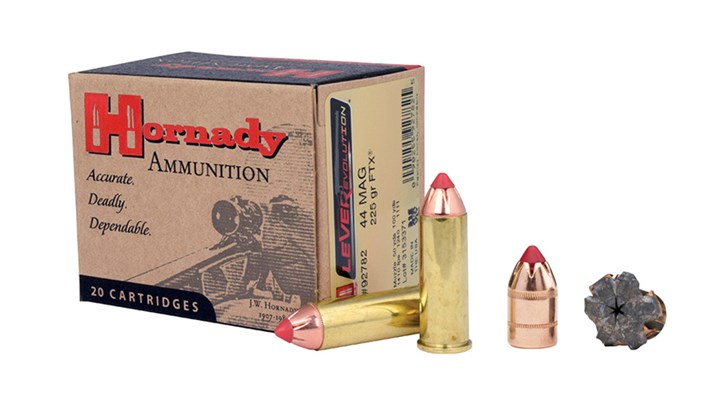 5. Hornady LEVERevolution FTX
Originally designed to increase the performance of lever gun and revolver ammunition by up to 40 percent, Hornady's LEVERevolution offers handgun hunters an innovative load with improved lethality on game. The LEVERevolution utilizes the FTX bullet, which features a tipped design that allows for full function in a tubular magazine and increases accuracy over traditional designs. Upon impact, the soft Flex Tip compresses into the bullet, providing immediate, lethal expansion even at the lower velocities of typical handguns. The LEVERevolution load is available in .357 S&W Magnum, .41 Rem. Mag., .44 Rem. Mag. and .45 Colt. Bullet weights range from 140 to 225 grains, depending on caliber, and are ideal for everything from hogs to deer and bear. MSRP: $21.99-$24.99 per 20-rnd. box (.357 Magnum, 25-rnd. box); hornady.com.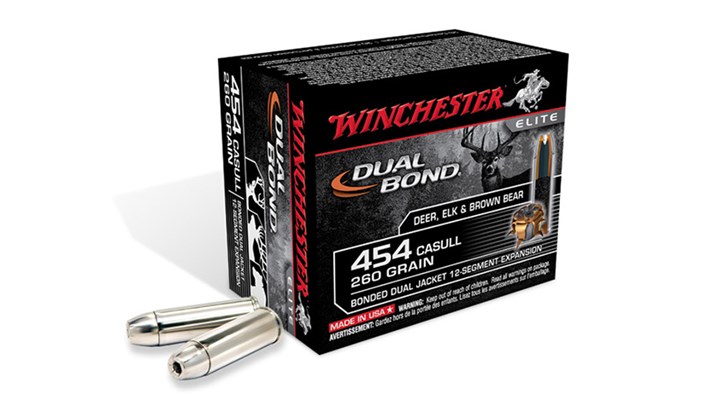 6. Winchester Dual Bond
Featuring what Winchester calls "bullet within a bullet" technology, the Dual Bond load is offered in various cartridges from the .454 Casull to the .500 Smith & Wesson Magnum and is fully capable of downing deer, elk and brown bear. A massive hollow point and cavity promote rapid expansion, and a 12-segment design with a heavy outer jacket ensures deep penetration and a monumental wound channel. The jacket is mechanically bonded to the inner portion of the bullet, which means it'll still cause massive trauma even while passing through bone, thick hides and serious tissue. If you're planning on taking on large-bodied game with a hefty revolver, Winchester's Dual Bond is tough to beat. MSRP: $39.99-$65.99 per 20-rnd. box; winchester.com.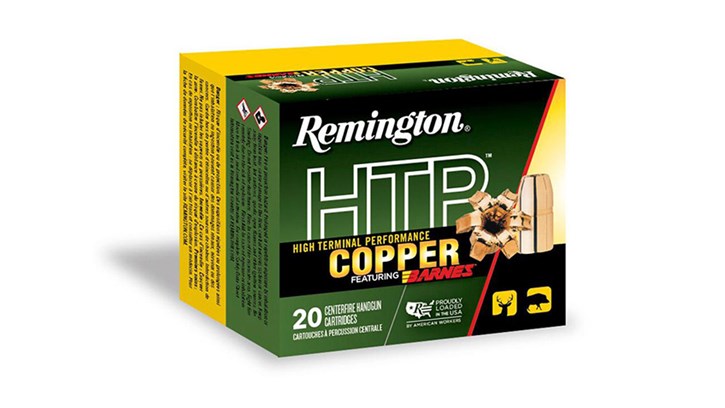 7. Remington HTP Copper Handgun
New for 2019, Remington is now loading the Barnes XPB bullet in its HTP (High Terminal Performance) Copper Handgun line of ammunition. The solid copper construction features six sharp edged cutting petals that expand on target, delivering massive trauma and remarkable penetration on the toughest critters. The unique thing about Barnes' all-copper XPB bullet is that it works well in either a defensive or hunting application, so your everyday carry gun and backcountry bear protection can both feed on the same loads. Remington offers the HTP Copper in .357 S&W Magnum, 10mm Auto, .41 Rem. Mag., .44 Rem. Mag., .45 Colt and .454 Casull, so there's plenty of options for hunters. MSRP: $19.99-$33.99 per 20-rnd. box; remington.com.