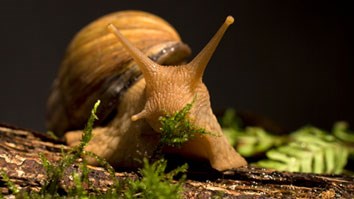 There are plenty of critters out there for hunters and outdoorsmen and women to be wary of, especially at this time of the year, when temperatures are rising—but seriously, a snail? Unfortunately, that could well be the case.
Earlier this week a Houston, Texas, resident reported that she'd spotted a giant African land snail in her backyard, according to a report from KPRC. The African land snail, an invasive species that government officials have long sought to keep out of the country, looks a lot like your run-of-the-mill snail—except that it's, well, a giant. They can grow up to nearly 7.1" in length and be as much as 3.5" wide.
That's one big, ugly garden-pest.
On top of the standard threats presented by invasive species, the African land snail also presents a problem for humans: According to the report, it's been known to carry a parasite called rat lungworm, which is a form of meningitis. Hence, touching one of them is largely discouraged. That's not always easy to explain to a curious kid on a playground, or an absent-minded gardener, however.
The United States Department of Agriculture has launched an investigation into the snail-sighting (I really hope that term doesn't have to become a "thing"). As of now, the reports remain unverified, though the research team has allegedly determined that at least one of the snails that was flagged for investigation was a local breed that had been misidentified.
The snail that started the craze, which was spotted in west Houston, allegedly "got away" before anyone could capture it. Had to have been the slowest escape ever. I never thought I'd be reporting "snail evades capture," but hey, the world's getting wilder everyday.
For now, though, if you see a snail as large as your cat... don't pick it up. That's a standard to live by.