by
posted on April 29, 2016
Support NRA American Hunter
DONATE
The modern firearms industry—perhaps more than any other—is, in a big way, the result of consumer-driven innovation. I say that because so many of the brands and products that you'll find in a gun shop today got their start when an avid hunter or shooter sat down at a work bench a few decades (or in some cases, centuries) ago and thought "I can make this better." Should you find yourself visiting Grand Island, Nebraska, you'd probably happen across one of the finer examples I could offer: Hornady Manufacturing.
It was in the aftermath of World War II that Joyce Hornady sought to produce a better bullet. In the years since, his vision has become one of the most recognized ammunition names on the shelf. As you might imagine, there's plenty more to that story. Here are 10 things you didn't know about Hornady.
10. Joyce Hornady's mantra was "10 bullets through one hole." He began the quest to make such a feat possible following World War II. In an era where shooters and hunters were largely calling upon surplus military ammunition, Joyce sought to craft a bullet that would deliver the accuracy required for target shooting and big game hunting. The Grand Island-based Hornady partnered with a guy from Lincoln, Neb., who you might also recognize: Vernon Speer. Working together, they built a machine that converted spent .22 rimfire cases into bullet jackets, and then into bullets. The business partnership between Joyce and Vernon ultimately dissolved (leading to, of course, the founding of Speer Ammunition).
9. I may be tooting the NRA Publications horn a bit here, but I can't help but note that one of the first ads that Speer-Hornady ran appeared in our sister publication The American Rifleman. The advertisement delivered, too—the fledgling company began receiving orders from throughout the United States.
8. Following the departure of Vernon Speer, Joyce Hornady used a surplus bullet assembly press and a rented garage on 4th Street in Grand Island to begin producing his own .30-caliber bullet. This was in 1949, mind you. To this day, that .30-caliber offering (.30 caliber, 150-grain Spire Point) remains one of the company's most popular bullets.
7. Be it nostalgia, superstition, or both, I'm told the original press remains in use today, some 67 years later. As the folks at Hornady note, it's so old that it's from back when Joyce still had hair.
6. Hornady's sales tripled in the company's second year in business and continued to grow into the 1950s. It allowed Joyce to move the company out of the downtown garage and into its present location, which, among other things, allowed for an indoor range to be installed. That was more of a boon than you might expect—for the entirety of the previous decade or so, Joyce personally tested all of his bullets at the local outdoor shooting range, rain or shine, all year long. That had to make for some tough winter shooting.

5. Of course, in modern times, the company is helmed by Joyce's son and dedicated NRA Board Member, Steve Hornady. Unfortunately, Steve initially had to take over the company in the wake of great tragedy. Joyce Hornady and employees Edward Heers and James Garber were killed in a plane crash while traveling to the then New Orleans-based SHOT Show in 1981. Steve, who normally would have attended the trade show and thus likewise been on the plane, had remained home in Nebraska with his wife, who had recently undergone a kidney replacement.
4. Despite being an avid, impressively well-traveled hunter, at no point in his 73 years of life did Joyce Hornady ever kill a turkey. I have this straight from his family. Those darn birds will make you crazy.
3. So far, I've only talked about bullets, since that's how Hornady got its start. But it was in 1964 that the company began to grow into something more. That year, Joyce started Frontier Ammunition, a line of remanufactured ammunition that utilized surplus military brass and Hornady bullets. During the Vietnam War that surplus brass got scarce, so Hornady began to use newly-manufactured cartridge cases. In 1984, the Hornady began making cartridge cases "in-house." By then, Frontier Ammunition had merged with Hornady Bullets, having been renamed Hornady Custom Ammunition in the process.
2. As you've probably garnered, Hornady remains a family-owned company to this day. Steve's son, Jason, is now the company's Vice President. He joined the ranks in 2006, after serving as an independent sales rep and sales manager in the outdoor industry for 15 years. That may seem odd at first blush, but it's Hornady tradition. All family members are required to work outside the company for at least 10 years before they can interview for an internal position. It's a family company, yes, but one with its own very strict standards.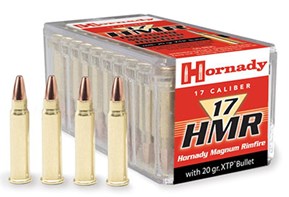 1. Nowadays, the .17 HMR is one of the most popular varmint cartridges available. It was originally released in 2002, and Hornady was its primary developer (it is the .17 Hornady Magnum Rimfire, after all). What's not as well known, though, is that the company nearly scrapped the whole thing. Some folks were arguing that the project just wouldn't be worthwhile. The high-performance .17-caliber bullets it required would make the ammunition relatively expensive, among other things. Fortunately for varmint hunters, the company changed its mind and we were given access to the first true 200-yard rimfire. It's now a staple of the shooting industry.
Looking for past installments of our "10 Things You Didn't Know" series? Hit the links below!
• 10 Things You Didn't Know About Mossy Oak
• 10 Things You Didn't Know About TriStar Arms
• 10 Things You Didn't Know About Can-Am
• 10 Things You Didn't Know About Winchester Ammo
• 10 Things You Didn't Know About Benelli
• 10 Things You Didn't Know About Beretta
• 10 Things You Didn't Know About Remington
• 10 Things You Didn't Know About Ruger
• 10 Things You Didn't Know About Smith & Wesson
• 10 Things You Didn't Know About Weatherby
• 10 Things You Didn't Know About Federal Premium
• 10 Things You Didn't Know About Taurus USA
• 10 Things You Didn't Know About Leupold