by
posted on March 7, 2016
Support NRA American Hunter
DONATE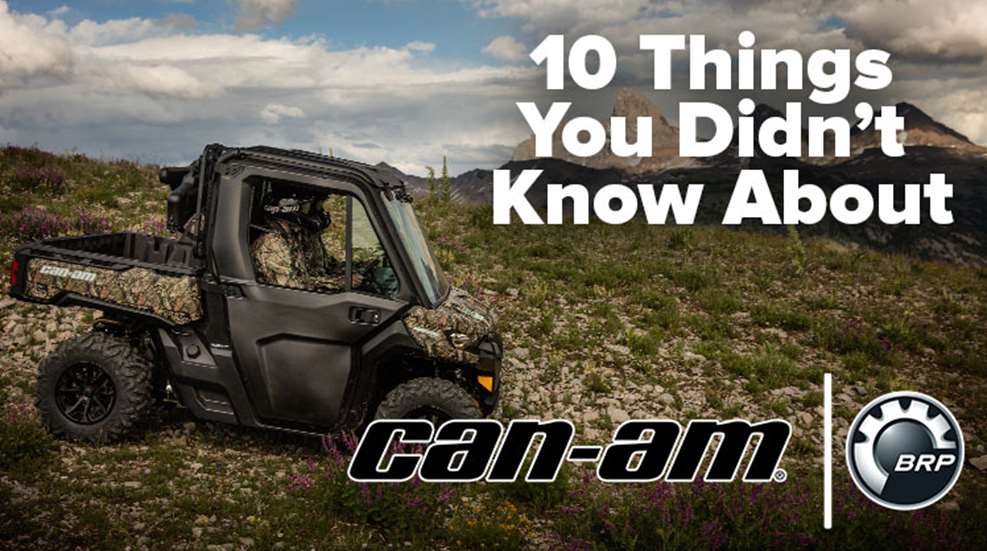 There's no denying that hunters, as a whole, tend to find all-terrain vehicles to just be darn useful. Whether you're using a machine to assist in a hunt, recover downed game or haul materials to and from your latest blind location, an ATV (or any similar vehicle) is a resource that any hunter can appreciate. Odds are, if your hunt camp doesn't already have a ride, then it's on the wish list. Accordingly, nowadays there's no shortage of manufacturers tailoring machines for the hunting community. Among them you'll find the folks at Can-Am, the company that's recently rolled out the Defender line of vehicles that we covered in a print issue of American Hunter.
Not very familiar with Can-Am? Don't worry, that's what I'm here for. With a little help, I've assembled a list of 10 facts that should help get you acquainted with what the company has to offer—and if you're soon to be in the market for an ATV of your own, I'd suggest you pay attention.
10. Let's start with the basics. Can-Am's products are manufactured by BRP (Bombardier Recreational Products). BRP is out of Valcourt, Quebec—so you can trust, at least, that the folks you'll be supporting with your purchase will be as polite as you could want. Jokes aside, BRP is a legit player in the vehicle industry. The company operates in 107 countries, on six continents, and employs more than 7,600 people.
9. I said BRP knows vehicles. Need proof? Among the company's other assets are Sea-Doo, Ski-Doo, Evinrude and Rotax. Even if you haven't heard the name Can-Am, I'd wager you've heard of something BRP owns.
8. Accordingly, Can-Am's vehicles are powered by Rotax engines. The Defender, Can-Am's latest and greatest offering, sports a Rotax that requires no break-in maintenance. Fun fact: Rotax is due to celebrate its 100th anniversary in 2020. They know engines.
7. A quick look into BRP's history: It dates all the way back to 1937, and the outdoorsman has always been the company's focus. Joseph-Armand Bombardier obtained his first patent that year for a tracked vehicle for traveling over snow. It was eventually named the "B7 snowmobile." Yes, BRP invented the snowmobile. Hey, it snows a lot in Canada.
6. Though we're talking mainly about hunting vehicles, I'd be remiss if I didn't mention how the brand in question got its start. The Can-Am name was first worn by a two-wheeled dirt bike in 1972. It was in 2007 that BRP launched its all-terrain vehicle line and re-branded its existing ATV products as Can-Am.
5. Yes, BRP did ATVs before Can-Am. Before bringing all of its ATV brands under the Can-Am umbrella, BRP had the Bombardier Traxter ATV.
4. Granted, Can-Am entered the ATV market in 2007. But it wasn't until 2011 that the company would add a side-by-side—a must for many hunt camps—to its lineup in the Can-Am Commander. And though it was the first, it wouldn't be the last. The Commander line is still around and, yes, it's available in camouflage.
3. While we're on the topic of side-by-sides ... Like I said earlier, for 2016 Can-Am introduced its new Defender side-by-side. You can check out Lazelle Jones' complete review of it right here. The new workhorse was built with farmers and hunters in mind, and marks the company's first full foray into the Utility/Recreation vehicle market, at least as far as side-by-side models are concerned.
2. Can-Am has one of the most complete and diverse lines of mud-specific off-road vehicles in the industry. The full family includes the Maverick X mr, Renegade X mr 1000 and four additional Outlander X mr vehicles. That's plenty of variety if you're looking for a high-quality ride that's already factory-prepped to deal with the muddiest of scenarios. I find that most of my hunting excursions tend to leave me a little dirty, and I'd wager more than a few of our readers can sympathize with that.
1. Like I said, Can-Am has camo models available. And when they picked a pattern, they went straight to the top of the line. The official camouflage concealment worn by the company's ATV and side-by-side vehicles is the new Mossy Oak Break-Up Country. They don't skimp on the details.
Looking for past installments of our "10 Things You Didn't Know" series? Hit the links below!
• 10 Things You Didn't Know About Winchester Ammo
• 10 Things You Didn't Know About Benelli
• 10 Things You Didn't Know About Beretta
• 10 Things You Didn't Know About Remington
• 10 Things You Didn't Know About Ruger
• 10 Things You Didn't Know About Smith & Wesson
• 10 Things You Didn't Know About Weatherby
• 10 Things You Didn't Know About Federal Premium
• 10 Things You Didn't Know About Taurus USA
• 10 Things You Didn't Know About Leupold