by
posted on August 16, 2016
Support NRA American Hunter
DONATE
There is something unique and romantic about the concept of a single-shot rifle. It somehow changes the mindset of the shooter to perhaps focus just a bit more on the shot. Having just one in the gun is almost a 'gentlemanly' statement—it speaks to a level of discipline as a marksman. Now, that's not to say that anyone who uses a repeater is less conscientious, but I will confess to thinking a bit differently when I'm using a semi-automatic or quick-handling pump gun.
The classic Farquharson staking style rifle was very popular in Europe and African hunting at the turn of the 20th century; it had an action designed to handle an exorbitant amount of pressure, and the svelte lines made for a visually appealing package. While the advent of reliable bolt-action and lever-action rifles certainly didn't help the popularity of the single-shots, there has always been a small, yet dedicated following of hunters and shooters who prefer this type of firearm.
The late William B. Ruger was an innovator in the firearms industry, developing a line of firearms that were either totally new designs, or a unique twist on an existing, proven style. When he released the Ruger No. 1, in 1967, the bolt-action rifles were all the rage, and there were those who questioned the logic of putting a falling-block single-shot into production. However, Bill had it right, and the No. 1—which wore its Farquahrson roots on its sleeve—was a huge success. Being a falling block design, there were no limits to the type of cartridge that the rifle could handle; due to the lack of a magazine rimmed, rimless and belted cartridges could be used without limitation. An under lever was used to release the breech block, and the thick piece of steel could handle even the highest pressure cartridges. So, from the speedy varmint cartridge to a stout medium-caliber magnum, up to and including the huge elephant cartridges, you could find a Ruger No. 1 chambered in a cartridge to fit your shooting or hunting needs.
While there are those who would question the sanity of a hunter who would take a Ruger No. 1—or any single-shot rifle—on a dangerous game hunt, it has been done for well over a century, with surprising success. While I feel that there are better choices for that job, I do know that the No. 1 will comfortably handle all other types of hunting, and I've been very surprised at how fast a hunter who is well versed in the ways of a No. 1 can reload their rifle.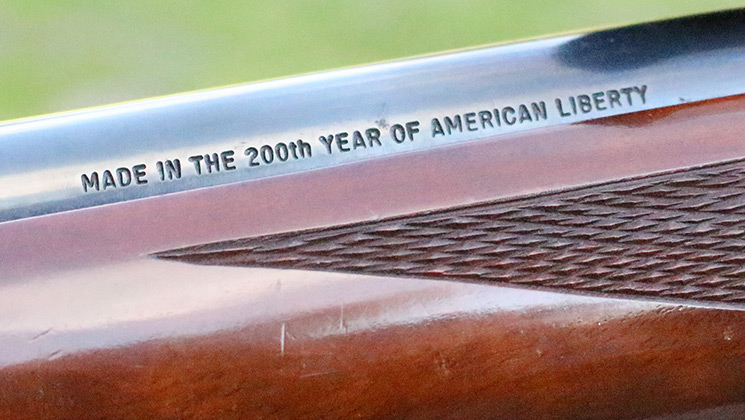 Reading R.L. Wilson's book Ruger & His Guns, you will find some insight to the production of the now-classic falling-block rifle. Mr. Ruger certainly appreciated the compact package that a single-shot rifle made—lacking a receiver, the overall length of the firearm is reduced by roughly 2-1/2 to 3"—and paid homage to the Alexander Henry and Farquharson predecessors of the Victorian era. However, Bill Ruger's hammerless design simplified things by taking one step out of the firing process, and the over-designed extractor/ejector makes sure the shooter isn't scrambling to remove a cartridge, and allows for that quick reload I've mentioned.
Are there any issues with a No. 1? To be honest and fair, I have seen some issues on certain models, where the forend of the stock impinges on the freedom of the barrel, and causes accuracy issues once the barrel gets hot. There is a fix for this, a certain type of rubber-gasket thingy that gives some space between the stock and barrel, and many users have seen a dramatic tightening of group size once this is sorted out. Some No. 1s will show a level of accuracy that isn't up to par with some of our good bolt guns (a two-piece stock can and will have a part to play in this), but I've never seen one that wouldn't give decent hunting accuracy.
I like the No. 1's trigger; most have been clean and crisp and allow for good shooting technique. That compact package makes for a fantastic rifle to carry in the field, both in length and weight. The rifle is truly ambidextrous, in that the safety is tang-mounted, located directly under the thumb irrespective of which side you shoot from, and the loading process is as friendly to righties as it is to lefties. The quarter rib, with integral recesses for scope mounting is compact, yet allows the larger model scopes to be mounted easily, and the shorter ring spacing doesn't handicap a shooter who enjoys the shorter optics.
There are several variants of the No. 1, like the 1A, which is an iron-sighted affair, with the grooved Alexander Henry forend and a 22" barrel, or the 1B, which features a rounded forend and longer 26" barrel, but lacks the iron sights. The 1S medium sporter features the longer 26" barrel for many calibers, and the Henry forend as well as iron sights. The 1H Tropical rifle is chambered for the big game calibers—like .375 H&H Magnum, .416 Rigby, .450/400 3" Nitro Express and .458 Winchester Magnum, among others—with a good, heavy barrel and iron sights to complete the package. The Varmint model—the No. 1V—uses a clean, bull barrel and is chambered in some varmint favorites like .223 Remington, .22/250 Remington, .220 Swift and 6mm Remington, though there were some offered in 7mm Remington Magnum and .300 Winchester Magnum (the latter being a favorite choice of my pal Donald Thorne, Jr.) for a heavy-caliber varminting experience.
Most Ruger No. 1s feature a checkered walnut stock, though I have seen a cool laminate wood/stainless steel model which would make a lot of sense for those who enjoy inclement weather. The Ruger RSI variant uses a full-length Mannlicher stock, mated to a shorter barrel, for those who enjoy that style of rifle.
My own No. 1 is a well-worn, or better yet 'battered' No. 1H Tropical, that started its life as a .375 H&H Magnum, but was rechambered to .378 Weatherby Magnum. It was the personal rifle of my friend, the late PH Jay T. Carlson, and after his untimely passing it came into my possession. It does have a certain level of recoil—some have described it as 'soul-crushing', but it's an accurate rifle, and for Jay's sake I'll leave it as is. It is a rifle that comes with a story, and I prefer them that way. Oddly enough, Jay Carlson and Bill Ruger were friends, both hailing from Connecticut.
Bill Ruger was indeed an innovator; he seemed to have his finger on the pulse of what shooters—who appreciated form and function over bells and whistles—truly wanted. Thank you Mr. Ruger, for keeping the single-shot rifle alive; I hope you're traversing the Happy Hunting Grounds with an accurate No. 1 in hand.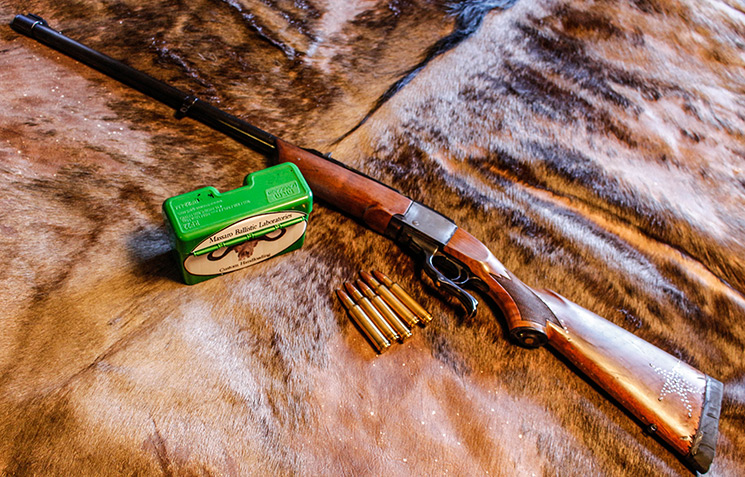 Want to read more from Philip Massaro? Check out the stories below:
• Top 10 Mythical Game Species
• Top 5 Monometal Soft-Point Bullets
• Top 5 Subsonic .22 Long Rifle Loads
• The Most American Rifle Cartridge
• Tips for the Traveling Hunter
• How to Choose a Gun Safe
• Best Gun Cases for the Traveling Hunter
• An Ode to the .30-06 Springfield
• Top 5 Boutique Bullet Companies
• Top 5 .22 Long Rifle Loads
• 5 Reasons Round-Nose Bullets Are Still Cool
• Top 5 Dangerous Game Loads
• Top 5 Turkey Loads
• 5 Rifle Cartridges That Need to Make a Comeback
• Top 5 Safari Calibers
• 5 New Year's Resolutions for Hunters
• What Your Favorite Rifle Cartridge Says About You
• America's Most Wanted Cartridges
• America's Strangest Game Laws
• What Your Favorite Rifle Cartridge Says About You, Part II
• Top 5 Overrated Rifle Cartridges
• Top 5 Underrated Rifle Cartridges
• 5 Cartridges You Might Not Know About
• Top 5 Wildcat Cartridges
• An Ode to the Ruger Mini-14
• Top 5 Hog Loads
• Top 5 Deer Bullets
• Why .30-30 Winchester Will Never Die