by
posted on May 16, 2016
Support NRA American Hunter
DONATE
You've spent countless hours obsessing over your rifle, the scope is adjusted perfectly and trigger feels like an extension of your finger. The stock fits perfectly, and all the metal is clean and oiled and it's ready for travel. Or, perhaps your favorite shotgun is all set to win a round of sporting clays at a far-off destination.
Do you know how many beautiful firearms I've seen placed into the cheapest gun cases on Earth? It makes me crazy; the cases are shoddily constructed, and fail to do the one job they were built for: to properly protect the firearm. You know that guy—the guy with a gorgeous gun and a twelve-cent case. Whether you're traveling internationally on an airplane, or driving across country for the hunt of a lifetime, a good gun case is a necessity. While a gun case is certainly not a very romantic part of our gear list, especially when compared to fine checkering or Circassian walnut, it is what keeps the beautiful firearms beautiful.
But that's not all that a good gun case will do. On long trips, where a rifle and scope are exposed to bumps in the vehicle, or even worse, where they are exposed to baggage handlers (I sometimes think these folks take a course in destruction of firearms cases), the riflescope that you spent so much time zeroing can be knocked way out of whack. To be honest, I've even seen iron sights bent or broken from travel, so I've become a firm believer in using the best cases I can get my hands on, both hard and soft, for handgun, shotgun and rifle.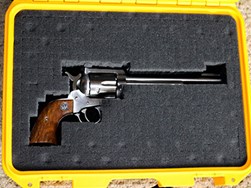 Now, there's many different makes and models to choose from, some good, some not so good. I like two types of hard cases: the heavyweight aluminum type and the dense polymer type. Some years ago—2003 or 2004, if I recall correctly—I purchased an aluminum gun case from a California company, Randolph I think. It was made to hold two rifles, with a barrel lengths up to 26", and I had the little name and address tag special ordered. It made the trip across the pond once, and when I picked it up in Johannesburg, it looked like someone took a pickaxe to it. The little brackets that held the detachable wheels were broken off, the rubber feet looked as if they'd died a horrible death, and the claw hinges didn't quite function like they did in New York. While that case has made three more trips to Africa, and four to Canada, I did need to modify it to function properly. Gist of the story? None of my rifles were harmed, nor lost zero. I like to think of those dents and dings as battle scars, and well earned ones at that.
My new favorite rifle case is made by Pelican—their Model 1750. It's a polymer case that has heavy-duty hinges and latches, with strong lock-holes, and is both light and strong. They offer a foam rubber insert that can be cut with an X-Acto knife for a perfect silhouette of your rifle, so nothing moves. I cut little compartments for the bolt and the scope (if in removable mounts), and obtain extra inserts for other rifles. Pelican offers several models, including the model 1770—which I also use and like—that is much deeper than the other models, and offers an entirely different level of firearm protection. There a good polymer wheels and a sturdy handle for dragging it through the airports, and while it may be a bit on the cumbersome side, I'd feel very, very comfortable transporting my more valuable firearms in the Model 1770. I also use Pelican's Model iM2200 for my handguns. It's big enough to handle my Ruger Blackhawk with a 7 ½" barrel, and has a valve to handle the difference in pressures on long flights.
Then there are the less-than-traditional cases. Tuff-Pak makes a gun case that resembles a golf bag more than a rifle case, and sometimes that's not entirely a bad thing; at least it may throw baggage handlers off the scent. You can pack your rifle in a soft case, then put that within the Tuff-Pak hard case along with your clothes and other P's & Q's, and lock it all up for travel.
As far as the soft cases go, I feel they play a huge role as well. Boyt's soft case is one of my favorites; it's light and flexible enough to be folded and packed in your luggage, yet padded enough to protect your firearm while carrying it in a vehicle. Boyt uses heavy duty brass zippers, and provide an nice sized accessory pocket on the side, as well as a military-style rifle sling to carry the loaded case. Legendary Arms Works (wisely) provides an embroidered Boyt soft case with all of their rifles; and it makes a great package. I also like the Uncle Mike's line of soft cases; they have many different models that will fit just about any firearm, and make a good choice if you're on a budget.
If you plan to travel for hunting, make sure you get the best gun case you can afford; I've been called off an airplane before when the baggage goons broke one of my cheap cases. It held up the flight, and didn't improve my popularity with the other passengers.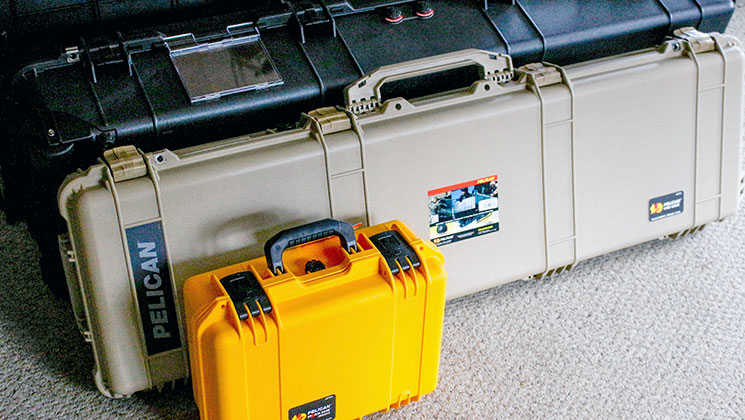 Want to read more from Philip Massaro? Check out the stories below:
• An Ode to the .30-06 Springfield
• Top 5 Boutique Bullet Companies
• Top 5 .22 Long Rifle Loads
• 5 Reasons Round-Nose Bullets Are Still Cool
• Top 5 Dangerous Game Loads
• Top 5 Turkey Loads
• 5 Rifle Cartridges That Need to Make a Comeback
• Top 5 Safari Calibers
• 5 New Year's Resolutions for Hunters
• What Your Favorite Rifle Cartridge Says About You
• America's Most Wanted Cartridges
• America's Strangest Game Laws
• What Your Favorite Rifle Cartridge Says About You, Part II
• Top 5 Overrated Rifle Cartridges
• Top 5 Underrated Rifle Cartridges
• 5 Cartridges You Might Not Know About
• Top 5 Wildcat Cartridges
• An Ode to the Ruger Mini-14
• Top 5 Hog Loads
• Top 5 Deer Bullets
• Why .30-30 Winchester Will Never Die