by
posted on June 29, 2017
Support NRA American Hunter
DONATE
Bushnell debuted its LRHSi 4.5-18x44mm riflescope last year right before hunting season, and I wish I'd had it with me that fall. The scope would've been a huge help on a couple of long-range shots I passed up because the optics I had at the time presented images that were simply too fuzzy at an extended range. For testing, I recently mounted an LRHSi 4.5-18x44mm on a Savage Model 11 Lightweight Hunter bolt-action rifle, chambered in 6.5 Creedmoor and loaded with Federal's 6.5 Creedmoor Fusion Soft-Point ammunition. I did several range sessions with this rig. Here are five things you need to know.
1. The Bushnell LRHSi a first focal plane scope, with a G2H-i mil-based illuminated reticle. This allows hunters to range targets at any magnification and easily make critical hold adjustments with .1 mil clicks. The low-profile, target-style elevation turret with RevLimiter zero stop allows shooters to quickly return to zero without dialing past it. The RevLimited lets you dial down to—though not past—your 100- or 200-yard zero; but you can also click up all the rotations you need to adjust for long-distance shots.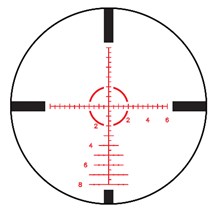 2. During a trip to the range, it didn't take me long at all to start shooting sub-MOA groups with the rifle and scope setup. The LRHSi presented very clear images from all lens points: edges, center, top and bottom. The scope also pulls in a large amount of light, and the colors you see with it are crisp, with very defined edges.
3. I also did the box drill with the scope. Once the LRHSi was zeroed, I gave the scope 15 clicks to the right, then 15 up, 15 to the left, and then 15 clicks down, firing a couple shots at each stopping point. My rounds moved over and up and back, and formed a nice little box. That tells me the elevation and windage adjustments on the LRHSi are precise and repeatable. You can count on them.
4. The scope's G2H-i Mil Illuminated Reticle is first rate, but it is definitely made for the long-range shooter. The reticle contains four heavy, short posts, a fine crosshair and a circular middle bracket, all of which light up. The many hash marks allow you to compensate for wind.
The stadia lines and hash marks below the center point look very similar to a Horus-type reticle, and when illuminated the entire set up has a "Christmas Tree" look to it. Which is just what you need when your target is a pronghorn antelope standing 543 yards away on a windy day, on the plains of Wyoming. But it's simply too busy for closer-up shots, especially where thick vegetation further clutters your sight picture.
5. The LRHSi also offers a fast-focus eyepiece, plus a side-parallax adjustment. An illumination control knob in located over the parallax adjustment. The lenses are coated with Bushnell's patented RainGuard HD, which creates a permanent barrier that beads water. When rain splatters your lenses, the water beads, scattering less light and still providing a clear view in conditions, which usually make untreated optics very blurry. The scope is also Argon-purged for waterproof integrity.
With an overall length of 14.2 inches and 3.94-inch eye relief, the LRHSi weighs in at just 26.5 ounces, making it a fairly lightweight scope. Suggested retail is $2,039.00. However, three Internet searches found the scope selling for an average of $1,446.