by
posted on May 27, 2016
Support NRA American Hunter
DONATE
Bushnell recently launched their new Trophy and Trophy Xtreme binoculars, reasonably-priced glass that will be a great fit for the weekend hunter chasing everything from turkeys to deer and most game in between. I had the chance to use both models of binoculars on a recent black bear hunt in Manitoba, and the binos were easy to use, very functional and quite rugged. Here are five things you need to know.
1. The Trophy models are available in 8x32mm, 8x42mm, 10x28mm and 10x42mm magnifications, with color options of Green, Realtree Xtra camo and Bone Collector Green. The Trophy Xtremes come in 8x56mm, 10x50mm and 12x50mm models, with Green as the only color available. Both versions of binoculars offer BaK-4 porro prisms, fully multi-coated in an armored chassis. The optics are waterproof, fogproof and built to take a beating. And a beating they took, in my backpack, on the hunting stand and slugging through some thick Manitoba brush. They have a large center-focus knob for precise focusing, too, even when wearing gloves. The Trophy Xtremes feature 3-step twist-up eyecups that allow quick adjustment for optimum eye relief, while the Trophy models come with 2 step eyecups. The Xtremes also feature slightly larger objective lenses and, all things being equal, should pull in a bit more light that the Trophy models.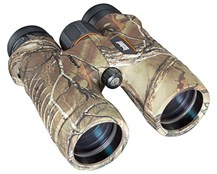 2. I used my pair of Trophy 10x42mm binoculars in close at the bait stands and at distances and the images were very sharp and clear, up close and far away. For example, I glassed the far shore of Lake Manitoba—a good 1,000 yards across at my location—and I could count the larger-sized rocks (briefcase-sized and bigger) on that shore. The binos provide good images right up until dark. Yet, unlike their top-of-the-line European cousins, these binoculars don't really provide much vision beyond dark. Sure, the Euro varieties can give you another ten minutes or more of vision once the sun sets, sometimes more. But at a price that's literally 8 to 10 times that of these Bushnell Trophy's.
3. Bushnell rates these binos as waterproof. So, while walking the shores of Lake Manitoba after my hunt had ended, I decided to find out. I laid my pair of Trophy's in eight inches or so of churning water just off the shoreline, and watched them get shoved and rolled around among the rocks for five minutes. When I retrieved them? The binos were fine. No sign of water inside the bino housing or inside the glass. The eye cups and center focus knobs worked fine, too; the grip on the armored coating was still very tactile even when wet. The next morning, I checked the binos to see if any moisture had seeped in overnight. Nope. The insides were clean and dry.
4. These binoculars are covered under Bushnell's new, "No Questions Asked Lifetime Warranty." If your trophy or Trophy Xtreme binoculars fail or are damaged, just send them back and Bushnell will fix or replace them. No questions asked. Bushnell will even pay for the shipping to their facility and back.
5. Suggested retail for the Trophy models starts at $79.99 and runs to $169.99. The Xtremes are priced from $199.99 to $249.99. Expect street prices around $20 less, and maybe even a bit more of a discount on the Xtreme models.