by
posted on January 18, 2018
Support NRA American Hunter
DONATE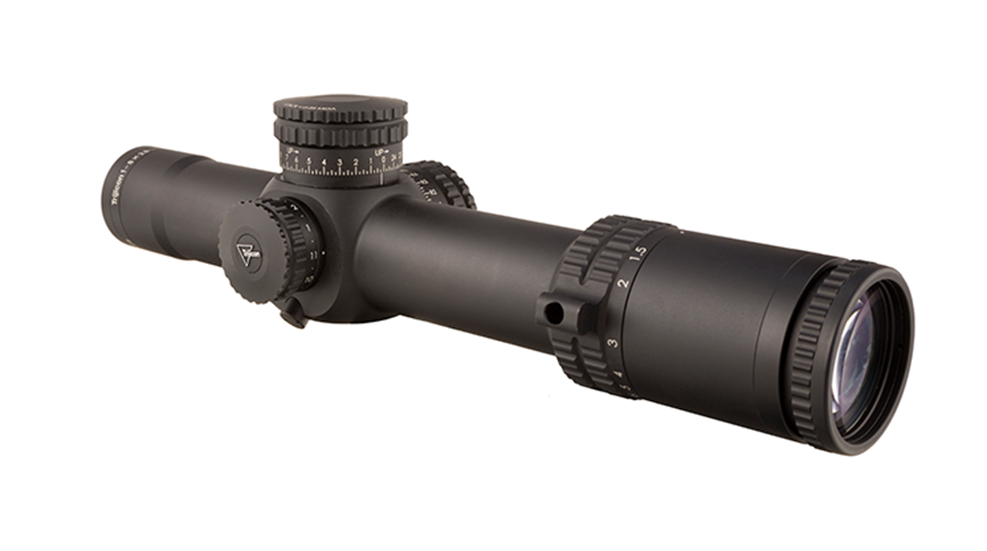 I was hunting with Wildlife Systems, Inc. near San Angelo, Texas, and had taken a whitetail buck that morning. Now I was after wild hogs, and the afternoon found me inside a ground blind about 70 yards from a feeder surrounded by mesquite trees. For most of the afternoon and early evening, all I saw were a couple does drifting through. But literally about two minutes before the South Texas sun went down for good, there was movement in the dark mesquite, a shadow moving among the shadows. 
I balanced my rifle on my shooting sticks and looked through my Trijicon AccuPower 1-8x28 riflescope. A young boar weaved his way through the brush on the way to the feeder. I had no trouble making out the boar with the high-quality Trijicon glass. But he was black and moving through shadow, and the black crosshairs of the scope's MOA reticle were invisible.

No problem. My fingers spun the dial on the left side of the AccuPower's tube, and the reticle lit up with red LED light. I set the illumination level on one of the lower settings, lined up my shot on the hog's low shoulder, let out my breath and pulled the trigger on the DPMS GII 260 Hunter. The young hog hit the ground, kicked a few times, and then went very still.
That might not seem like much—a 70-yard shot on a 125-pound pig. However, I've been in similar hunting scenarios with lesser-quality optics and haven't pulled the trigger. Why? I could not see the animal and/or the reticle well enough to take what I consider an ethical shot.
At some point, of course, it's going to be too dark for even the best glass to help a hunter take that ethical shot. But the Trijicon AccuPower 1-8x28 pulls in enough light to let me see animals a good ten to 15 minutes before sunrise and after sunset, when lesser scopes would have me already packed up and heading home. The AccuPower's LED reticle illumination also means the crosshair won't get lost in those same low-light conditions.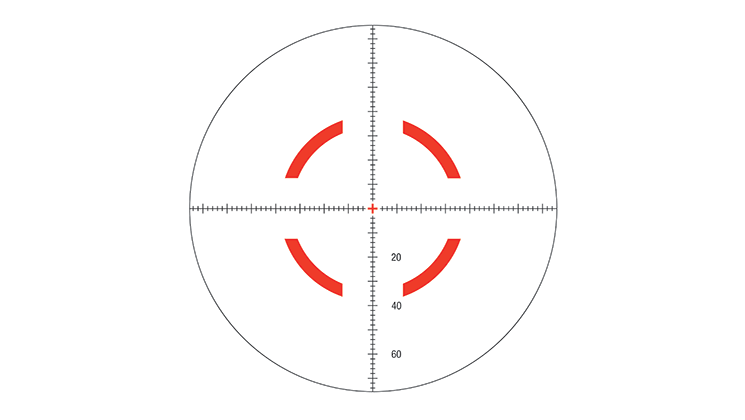 Over the last year, I have used my AccuPower on three different hunts. On the aforementioned hunt, the scope helped me take four animals, two deer and two hogs, at ranges from 70 to 140 yards—all with one shot. All of which explains why the AccuPower 1-8x28 is now one of my go-to scopes for any hunt when I can expect a shot at 300 yards or less. (After 300 yards, these aging eyes need a little extra magnification!) 
Built around a first-focal-plane reticle, the AccuPower gives the shooter edge-to-edge clarity, and bright, sharp images—thanks to Trijicon's multi-coated broadband anti-reflective glass. The 34mm main tube delivers better light transmission than standard 30mm tubes I've used. The one (1) power setting actually provides real magnification and sharp images. Zoom it up to the full eight (8) power, and the targets—animal, paper or steel—jump out at me.
Windage and elevation knobs are locking and resettable without the use of tools. Graduated in .25 MOA or .1 mils, the AccuPower 1-8x28 has a hefty 100 MOA or 29.6 MIL adjustment range. The LED illuminated reticle is available in either red or green. The illumination control knob is made with an aggressive knurling for precise adjustments, and the unit offers 11 settings, with an "off" setting in between each. Powered by a single CR2032 lithium battery that is easily replaced without tools, Trijicon rates the battery life at 31 hours at the maximum brightness setting.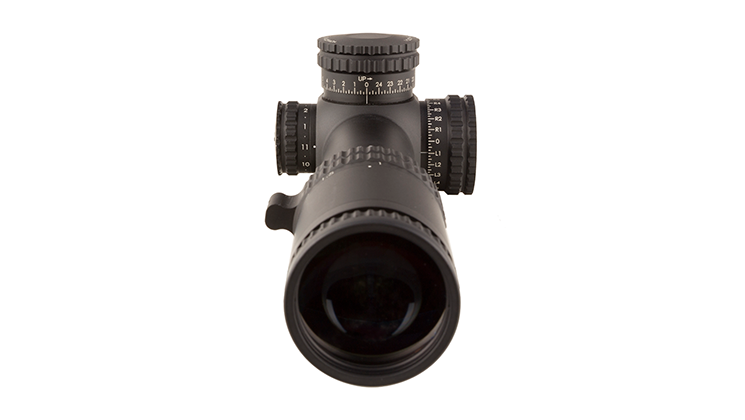 The 1-8x28 model is the newest in Trijicon's AccuPower line of scopes, a line based on Trijicon's AccuPoint series of scopes, which use a tritium filament to illuminate the reticle. I've used several AccuPoint models, and they work well, but the tritium does require a certain amount of ambient light to operate effectively. That can be tough to make work when you're sitting in a darkened blind in low light. Therefore, Trijicon created the AccuPower line—currently made up of five different scope options—using essentially the same glass and body construction as the AccuPoint series, but adding the battery-powered LED illumination.
The AccuPower scopes also feature a hard-anodized aluminum body that protects against corrosion, and is waterproof up to ten feet. The AccuPower 1-8x28 is available with either a MOA or MIL Segmented Circle reticle, both of which make it easy to range, hold and place accurate shots on target.
At 25 ounces, the AccuPower 1-8x28 is not a light-weight scope, but given its relatively compact length, it sits back on my rifle, and that extra weight has never felt like a factor in my shooting.
High-quality glass costs money, and the AccuPower 1-8x28's MSRP is just a shade under $1,700.00, but this scope is rugged. Plus, Trijicon's limited lifetime warranty will repair or replace any defect in workmanship and material for the life of the scope, so there's a very good chance the Trijicon AccuPower 1-8x28 you purchase now will one day be used by your children or grandchildren.
Technical Specifications
• Magnification: 1-8x28, First Focal Plane
• Objective Size: 28mm
• Tube Size: 34mm
• Weight: 25 ozs.
• Illumination Source: one CR2032 lithium battery
• Reticle Pattern: segmented Circle Crosshair MOA (also available in MIL version)
• Reticle Color: red (green also available)
• Eye Relief: approx. 4″
• Field of View (Degrees): 20° - 2.5°
• Field of View @ 100 yards: 109.2′ - 13.1′
• Adjustment @ 100 yards: 1/4 MOA per click
• Housing Material: 5056-Aluminum, black hard coat anodized
• Battery Life: 31 hours at max brightness
• Dimensions (LxWxH): 10.8″ x 3.1″ x 2.7″
• Waterproof: up to 10′
• MSRP: $1,699; trijicon.com