Support NRA American Hunter
DONATE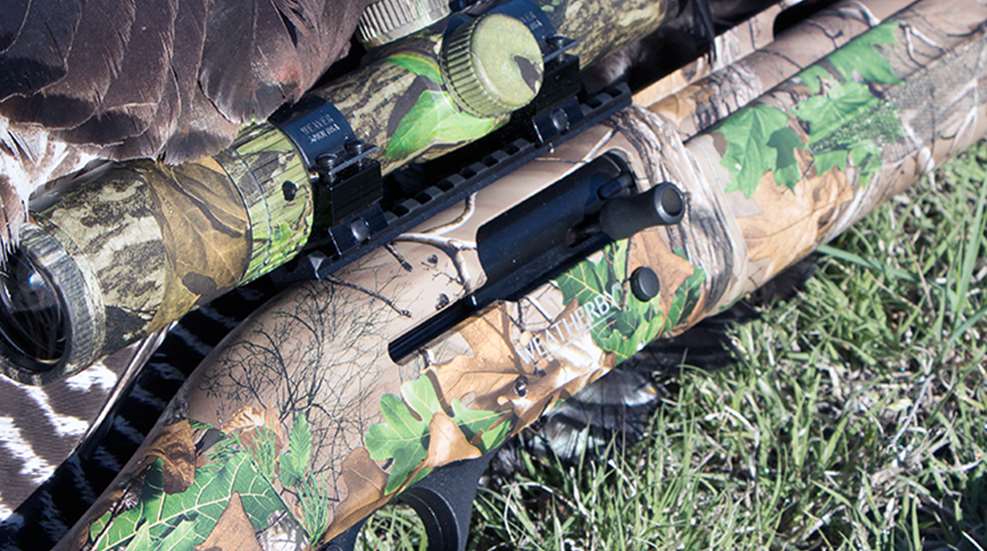 When reading articles about turkey hunting or viewing it on television or DVDs, have you ever wondered what gear the renowned hunters were using? Or, how it compared to what you carry afield each spring? As an ardent turkey hunter myself, I know that I have. To provide you with a glimpse into the equipment of some of the most recognized hunters, I contacted several such people and asked a series of questions. Their answers are listed below. From their responses, I was also able to assemble evidence of firearm and ammunition trends.
As you're reading, keep in mind that sponsorships can affect the brand of the ammunition used; however, although a specific manufacturer may be mandated, the rest of the decision-making process is left to the individual. For me, the importance is not found in brand, but in the specifics, such as shotgun, choke, gauge, shell length, and shot size and type. Although by no means a "professional," as an ardent gobbler hunter I included the specifics of my equipment, too. Now, without further ado, let's see what these hunters are carrying afield this spring.
Adam Heggenstaller, Executive Editor, American Hunter
Shotgun/Choke: Mossberg

Model 500 12 gauge with Accu-Choke XX Full (0.670" constriction)

Ammunition: Federal Premium

Mag-Shok 3", 1 5/8-oz., No. 7 HEAVYWEIGHT

Reason:

"Federal's Mag-Shok 3" No. 7 HEAVYWEIGHT has been my go-to load for years. I've yet to shoot any load in my Mossberg 500 (and several other guns) that patterns as densely and evenly as it does. I've killed more gobblers with it from 12 yds. to beyond 50 and, knock on wood, have never had to shoot more than once."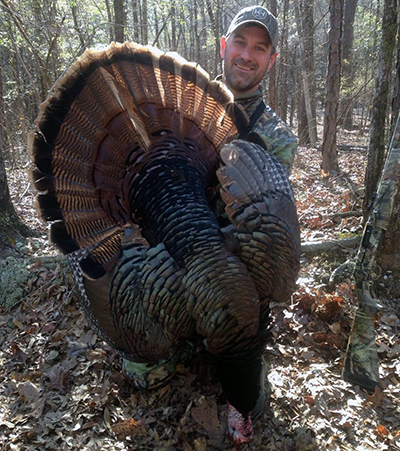 Melissa Bachman, Host "Winchester Deadly Passion"
Shotgun/Choke: Winchester SX3 NWTF Cantilever Turkey 12 gauge with Invector-Plus Extra-Full Choke
Ammunition: Winchester Long Beard XR 3½", 2-oz. No. 5 (copper-plated lead)
Reason: "Over the years I've tried a variety of shotshell combinations and believe I've come up with the perfect setup for my needs. The knockdown power of Long Beard XR is incredible at a wide variety of distances—both near and far. Usually I prefer to call bird inside of 30 yards, but there are times when they simply refuse to cooperate and hang up! This is when Long Beard XR makes all the difference and extends my effective range with tight patterns for those stubborn gobblers."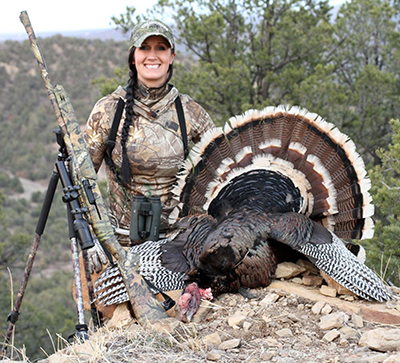 Jason Hart, Vice President, Business Development, Marolina Outdoor, Inc.
Shotgun/Choke: Assorted (depending on gauge)
Ammunition: Handloads using imported, extra-high-density shot in small sizes
Reason: "I am importing tungsten shot from China [the source of most tungsten], handloading them based on shared and pressure tested (safe) recipes for everything from 10 gauge to .410. I have killed a Grand Slam with every gauge using these loads from 10 gauge down to .410 and I just got my Osceola with a 28 gauge. It's pretty fun stuff to shoot an unmodified, factory 28 gauge with handloaded shells and knowing it will outshoot most 3" 12 gauges with factory loads."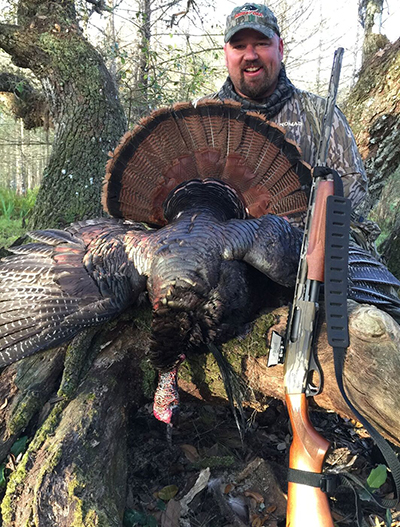 Will Primos, Founder of Primos
Shotgun/Choke: Side-by-side 20 gauge, 3" with factory full choke or 16 gauge double gun.
Ammunition: 20 gauge: Federal Premium 3rd Degree, 3", 1 7/16-oz. (No. 7 HEAVYWEIGHT, No. 5 copper-plated lead, and No. 6 nickel-plated FS lead); 16 gauge: Federal Wing-Shok Magnum, 2¾", 1¼-oz. copper-plated No. 6.
Reason: "I prefer the 20 gauge because it is smaller, lighter, and easier to handle. I choose the double gun because I am just old school and like the feel of a double gun."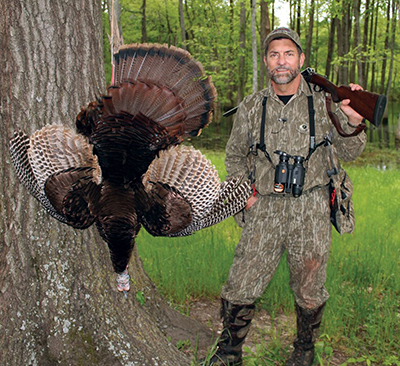 Jimmy Primos, Co-Host "Primos Truth About Hunting"
Shotgun/Choke: 20 gauge (no model specified) with Primos Jelly Head Maximum choke
Ammunition: Federal Premium Mag-Shok 3", 1½-oz. No. 7 HEAVYWEIGHT
Reason: "The 20-ga. guns are light and easy to maneuver in the woods. This [Federal] load, along with the Jelly Head Maximum choke, produces deadly, dense patterns out to at least 40 yds."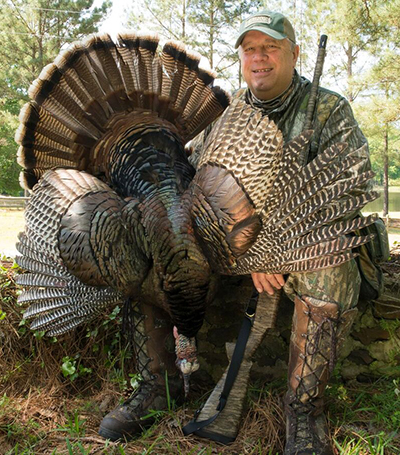 Mark Drury, Part Owner of Drury Marketing, Inc., Employee of M.A.D. Game Calls
Shotgun/Choke: Winchester 12 gauge with an Indian Creek choke tube (0.665" constriction)
Ammunition: Winchester LongBeard XR 3", 1¾-oz. No. 6 (copper-plated lead)
Reason: "The Winchester LongBeard XR No. 6s have proven to be a deadly combination out to 50 yds. and beyond. I actually played with LongBeard XR No. 4s the first year they were out and killed a turkey at 66 yds. The patterns are unmatched and the performance is unbelievable."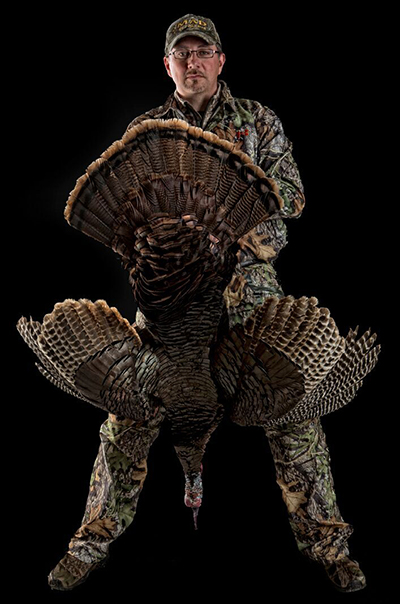 Aaron Carter, Field Editor, American Rifleman
Shotgun/Choke: Savage Model 24 12 gauge 3" with Extra-Full Choke; Remington Model 870 Express Super Magnum 3½" with Carlson Extended Turkey choke (0.660")
Ammunition: HEVI-13 3", 1 5/8-oz. No. 4 (in Savage); Federal Premium 3rd Degree 3½", 2-oz. (No. 7 HEAVYWEIGHT, No. 5 copper-plated lead, and No. 6 nickel-plated FS lead) (in Remington)
Reason: "Through the Model 24 the HEVI-13 load is pure poison out to 50 yds. Due to its modest payload (which the company changed to 1 7/8 ozs.) and velocity (i.e. subsonic), the load is pleasant to shoot, too; in fact, my 10-year-old son bagged his first gobbler with it at 36 yds. last year. As for the 3rd Degree shell, it patterns great both at close range and a far. It's especially effective up close at typical all-or-nothing distances. It saved my hunt last season when my weightiest Virginia gobbler to-date strolled by at 7 yds. in route to the decoy but unexpectedly spooked. A quick shot was necessary. Although the pattern's core missed slightly right, the fringe produced by the nickel-plated FS No. 6s brought the bird to bag."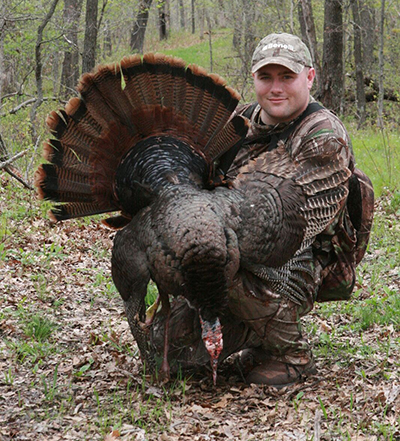 Sure, this is but a small sampling of what ardent spring turkey hunters are using, but it nonetheless shows the diversity of gobbler-getting gear and highlights some trends. Concerning the latter, perhaps most evident is the usage of smaller shot sizes, which is primarily driven by the use ultra-high-density, tungsten-based material for shot making. You get both high on-target energy and extra-dense patterns. As is evident, tungsten-based shot continues to increase in popularity for turkey hunting. Even when traditional, copper-plated lead shot is utilized, measures of delivering it are being reevaluated—for the better. Due to its Shot-Look technology, Winchester's Long Beard XR has forever changed the effective range of this go-to pellet type. It's quickly becoming a favorite. Lastly, the longtime darling of the spring woods, the 12 gauge, 3" No. 5s, appears to be fading somewhat. Because of technological advancements, the 20 gauge's popularity is growing.
I believe we're seeing a sea change in turkey hunting equipment. It'll be interesting to see what the future holds and how it affects those who are dedicated to pursuing the boisterous birds.