Support NRA American Hunter
DONATE
In general, spring gobbler hunting is a one-shot event; connect and there's an immediate sense of euphoria, while a gaffe garners an unsettling blend of despair, doubt, and ire. For that all-too-important first (and perhaps only) shot, the hunter should be armed with the best—and range proven—firearm/ammunition/choke combination within his or her budget. For the 20-gauge aficionado, finding a better-suited shotgun for tackling toms than the custom-made, bolt-action Savage Arms Model 220 turkey-specific variant would indeed be challenging.
The words "specialty" and "custom" typically evoke images of "best"-quality shotguns and rifles with equally breathtaking prices. However, the custom-made Savage Arms Model 220 bucks this popular perception; it's neither replete with purposeless, aesthetic-enhancing add-ons nor comes with a handsome price tag. Instead, its origins in the Special Order Dept. are due to its unique design. Before examining its exclusive features, though, let's examine the gun from which it emerged, the Model 220 slug gun.
In a relatively short time, the Model 220 slug gun has earned a stellar reputation for performance—and for good reason. Built more like center-fire rifle than a shotgun, the 3"-chambered Model 220 features a steel cylindrical receiver that's drilled and tapped for the addition of scope bases, and to which a 22" fully-rifled, free-floating barrel is secured via Savage's renowned locking nut system. Bed the aforementioned action into a synthetic stock, add the oft-replicated and user-adjustable AccuTrigger, and feed it from a two-round detachable-box magazine using a dual-opposed locking lug bolt with an oversized knob, and you essentially have the perfect platform to wring out maximum performance from shotgun slugs. From the Model 220, minute-of-angle three-shots groups are a reality.
Beyond its rifle-like construction, the Model 220 also benefits from the fact that, unlike semi-automatic and pump-action shotguns, there's consistent (and repeatable) lockup after each shot—the barrel's positioning is unchanged. Unless the barrel is pinned, semi-automatic and pump-action shotguns lack such consistency. Moreover, during firing there's numerous moving parts in a semi-automatic shotgun; no such problem exists in the bolt-action Model 220. That is why, typically, bolt-action rifles outshoot their semi-automatic and pump-action counterparts. Such features that befit a slug gun are also desirable in a turkey-specific shotgun, where a single, well-placed shot is needed to bring the bird to bag. Enter the Special Order Dept. Model 220.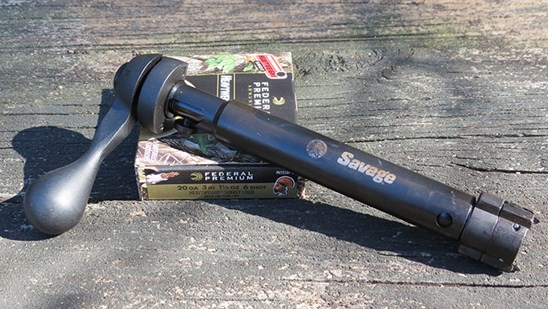 So good is the original Model 220 design that there are few changes made to it in the Special Order Dept. to make it well-suited for turkey hunting. Naturally, the company used a 22" smoothbore barrel in place of the rifled tube. Further, the builders threaded the barrel to accept choke tubes with the popular Winchester/Mossberg thread pattern. Included with the Model 220 is an extended, non-ported Trulock "Full" (0.590") choke that is rated to handle tungsten-based shot. The barrel is devoid of sights; however, the receiver is drilled and tapped and comes with Weaver scope bases. Although not offered as a package (at least as of this time), for testing the test gun came with a Weaver Kaspa 1-4X 24 mm, 30-mm turkey-specific scope that had Mossy Oak camouflage matching that of the shotgun. Black synthetic stocks are available, too. As it came from Savage Arms, outside of a more pliable recoil pad, there's little that I'd change on the Model 220—it's that good.
To test the custom offering I headed to the range with an assortment of 20-ga., 3" turkey loads and two choke tubes: the Trulock supplied and an extended, ported Pure Gold Hunting Series turkey choke with a constriction of 0.570". First, I tested paired the Trulock choke with Federal's Mag-Shok HEAVYWEIGHT 1½-oz. No. 6s. At 40 yds.—nearly any 20-gauge combination will kill a turkey at 30 yds., but 40 yds. is altogether different—the combination placed 72 pellets in a 10" circle surrounding the point of aim. Ten pellets struck the outlined vitals of the Champion Re-Stick turkey target. From a standard full choke, that's impressive performance.
Switching to the Pure Gold choke tube, the best performance came from HEVI-Shot's HEVI-13, which had 1¼ ozs. of No. 6 shot; it placed an amazing 97 pellets within the 10" circle and 17 in the designated vitals (even more were just below, where it's equally lethal). As such, the combination would easily be suitable for 45-yd. shots. With Remington's economical Nitro Turkey 1¼ ozs. of lead No. 5s, 63 pellets hit within the 10" circle and six impacted the "kill zone." Unlike with the Trulock choke, the Federal load performed unimpressively with the Pure Gold choke (it wasn't a surprise, though, as the FLITECONTROL wad suffers performance-wise when fired through ported chokes). Based upon the initial test, there would be little reason to purchase an aftermarket choke; the Trulock paired with the Federal load is a truly 40-yd. capable. But, the Pure Gold choke combined with the HEVI-Shot HEVI-13 load displayed just how capable the 20 gauge is. In fact, using this combination, there's little reason to take a 12 gauge afield.
Right now there exists only six of the custom shop Model 220 shotguns that I tested; however, you can order one directly from the Special Order Depart. for $750 (sans the scope). For the dedicated turkey hunter, it's well worth the price. For hunters who want a similar configuration but in 12 gauge, the company will also build you one based on the bolt-action Model 212 shotgun. Both black and camouflage stocks are available for each.
In addition to the aforementioned shotguns, the Special Order Depart. builds custom rifles, too. Simply contact them at (413) 568-7001 (ext. 4299) and inquire about your dream gun; chances are that they can create it for you, oftentimes at a price similar to that of the manufacturers suggest retail price (MSRP). Turnaround time is usually 30-45 days. Given the performance of the Savage 220 turkey gun, which will hopefully be a catalog item soon, it's a testament to the capabilities of the Savage Special Order Dept. Virginia gobblers take heed!
Technical Specifications
• Gauge: 20, 3"
• Action: bolt-action, repeating shotgun
• Receiver: steel
• Barrel: 22" steel; threaded to accept Winchester/Mossberg screw-in choke tubes
• Sights: none; receiver drilled and tapped for scope bases (included)
• Magazine: polymer, two-round-capacity detachable-box
• Stock: synthetic black or Mossy Oak camouflage (tested); length of pull, 13 5/8"; drop at comb, 1¼"; drop at heel, 1¾"
• Overall Length: 44" (with Trulock choke tube in place)
• Weight: 7.5 lbs.
• Accessories: owner's manual, Weaver two-piece scope base, Trulock extended, full (0.590") choke tube, ear plugs, AccuTrigger wrench, safety lock, target
• MSRP: $750