by
posted on October 30, 2019
Support NRA American Hunter
DONATE
Outside of certain locales, such as southeastern Virginia, where running deer with dogs is gospel, few hunters think of using anything other than a rifle or shotgun loaded with slugs for deer, hog and bear hunting. The game-taking effectiveness of a single projectile at high-velocity is well understood; however, don't believe that it's always the best tool for the job. It's not.
When shot distances are inside of 35 yards—especially in dense vegetation—the rifle's single projectile can be considered a handicap. In such situations, buckshot owns the day.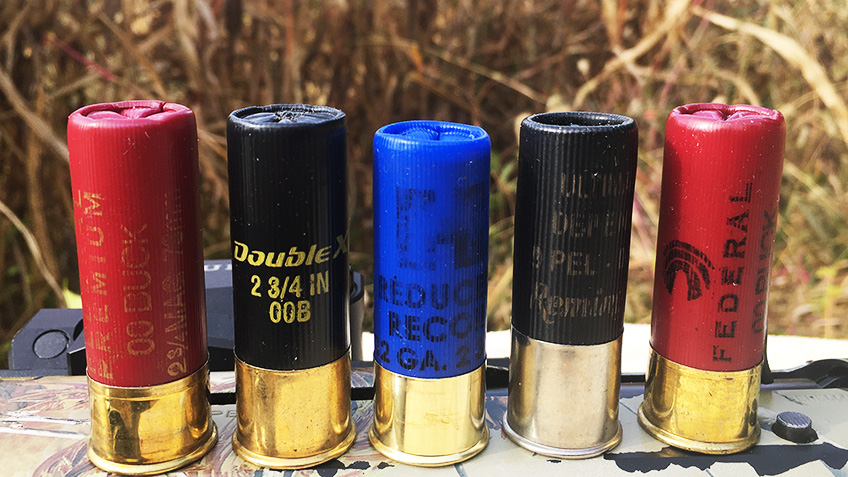 What to Know
Available in multiple diameters—typically ranging from No. 4 (0.240-inch) to 0000 (0.380-inch)—a single, well-aimed payload of buckshot provides a hunter the opportunity of inflicting tremendous damage to vital organs and structures for rapid expiration. Multiple wound channels trump one. Moreover, when utilized in dense cover, the odds that one or more projectiles penetrate the flora unaffected is greatly increased over the single rifle bullet or slug.
Most hunters, tactical shooters and personal-protection practitioners are familiar with 00 buckshot, which is the preferred size in 12-gauge. The number of the 0.33-inch-diameter pellets contained within the shell depends on its length; the utilitarian 2¾-inch usually holds eight to 12 pellets, depending on whether a wad with a cushion section and shot cup is utilized. The monstrous 3½-inch is loaded with upward of 18 pellets of 00 buckshot, but, recoil is vicious. The 3-inch is a compromise.
At 0.360 inches, triple ought (000) is noticeably larger, so there are fewer pellets per ounce. Generally found in 3-inch shells, 000 is considerably less popular than its smaller sibling. Counter to this is No. 4, which is the generally the smallest lead buckshot utilized for deer hunting. A 12-gauge, 2¾-inch load generally contains from 21 to 34 pellets, while the 3-inch variant is loaded with a whopping 41. As can be expected, No. 4 buckshot has limited range; however, within it, it's highly effective.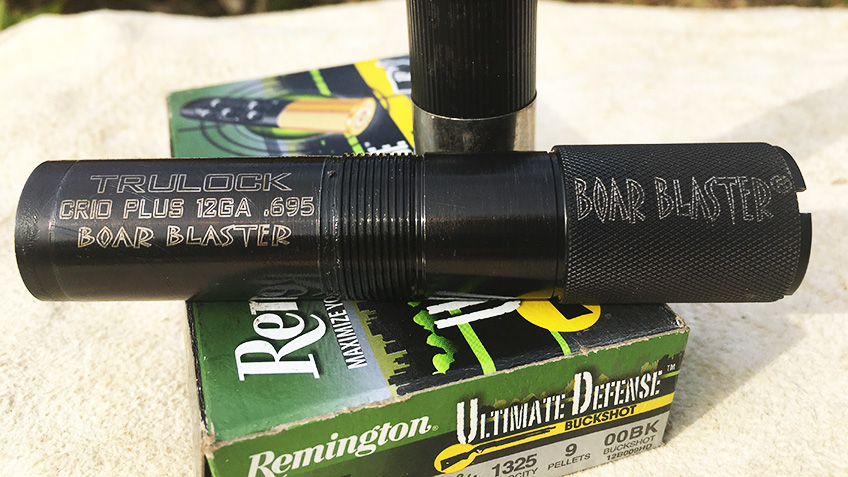 Whereas most buckshot is made from lead with elevated amounts of antimony for enhanced hardness—soft buckshot is undesirable, as it'll become misshapen during setback and when traversing the bore and choke, negatively affecting patterns—copper- or nickel-plated buckshot is preferable. Plating aids hardness and/or reduces friction for deeper penetration. Plated buckshot is generally found in pricier, "premium" loads.
Wad design influences the choke that you'll need to use to maximize pattern density at distance. Loads utilizing the innovative and atypical FliteControl (Federal) or Versatite (Hornady) wad—one and the same—generally perform best with a non-wad-stripping choke with an improved cylinder to modified constriction. On the other hand, shells with a traditional-type wad or absence of a shot cup often produce optimal patterns through wad-slowing chokes, such as the Trulock Boar Blaster, or standard chokes in modified to full constriction. Only through patterning process will you find the best choke for your selected load.
Concerning the aforementioned Boar Blaster choke tube, it's optimized for use with 00 and 000 buckshot. Unlike standard chokes, the extended, Boar Blaster has a series of five steps leading to the parallel section. This slows the wad ever so slightly, so that it doesn't negatively affect the pattern. It is not intended for use with loads featuring the FliteControl and Versatite wads. Carlson's and others also make buckshot-specific choke tubes.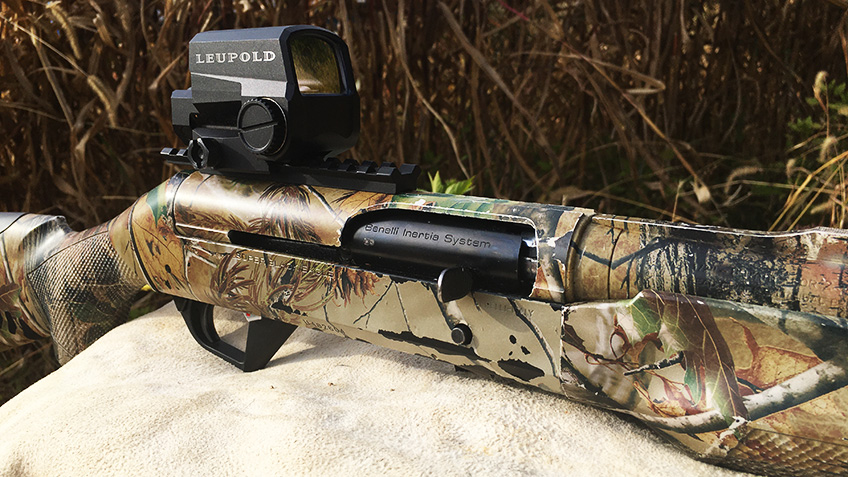 Testing
To evaluate the downrange performance of five selected 12-gauge, 2¾-inch buckshot loads, three of each was fired through multiple chokes (except the Hornady, which wasn't paired with the Boar Blaster) at 25 yards, and then for those showing promise, again at 35 yards. Not all were capable of such. Moreover, to ensure that the payloads were delivered to the point of aim, I used a Benelli Super Black Eagle II topped with a Leupold LCO red-dot sight.
Know that this list is by no means all-inclusive, and results will vary depending on the shotgun/choke used; every combination is different. Nonetheless, it provides insight into the capabilities of widely accessible loads across multiple price points.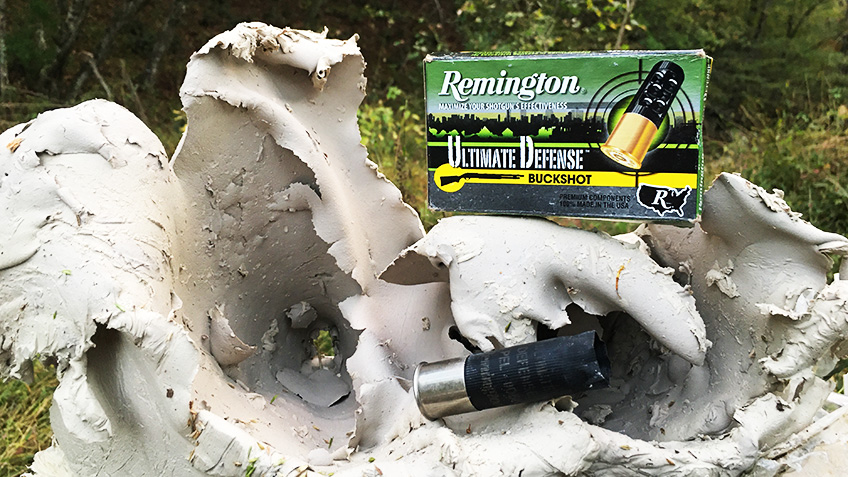 1. Remington Ultimate Defense Buckshot
As its name suggests, Remington's Ultimate Defense buckshot load is marketed for personal-protection use; however, it nicely pulls double-duty for hunting, too. The full-power offering (tested) contains nine pellets of non-plated lead buckshot propelled to 1325 fps, while the Reduced Recoil options include eight 00 or 21 No. 4 pellets at 1200 fps. The pellets are contained with a traditional-type wad and buffered to reduce deformation during firing. Price: $5.99 per 5-rnd. box at MidwayUSA.com.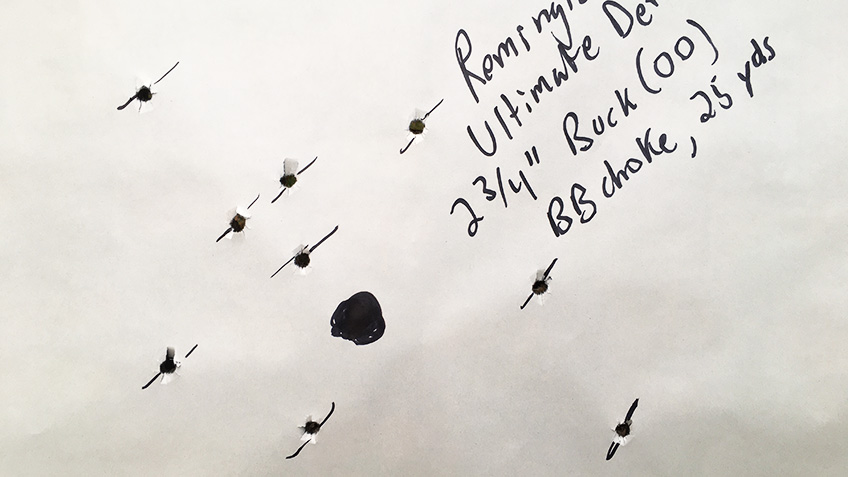 Results and Conclusion: This was a standout among those tested. It delivered focused patterns at 25 yards, and at 35 yards, pattern density was still such that a lethal strike was guaranteed—especially through the Boar Blaster choke. In fact, on one target, all pellets fell within 7 inches of the point of aim at 35 yards. Cycling was flawless, and recoil was mild to boot. For an all-around buckshot load, this one would be difficult to top.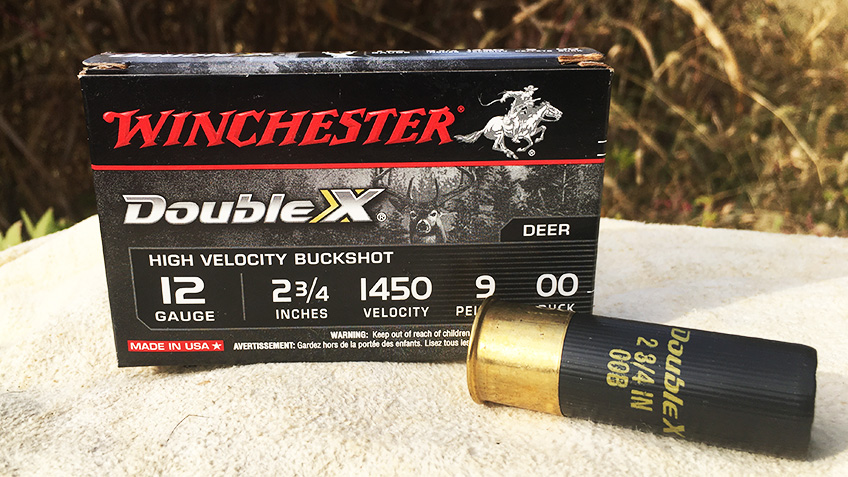 2. Winchester Double X High Velocity Buckshot
Like the Remington shell above, Winchester's Double X High Velocity buckshot features nine, exceptionally round and hard pellets of copper-plated 00 Buck pushed to 1450 fps. The company uses a unique wad for this load; although it's absent of a shot cup, the wad does have a crush section. Coarse buffering is present for preservation of pellet roundness. Price: $10.49 per 5-rnd. box at basspro.com.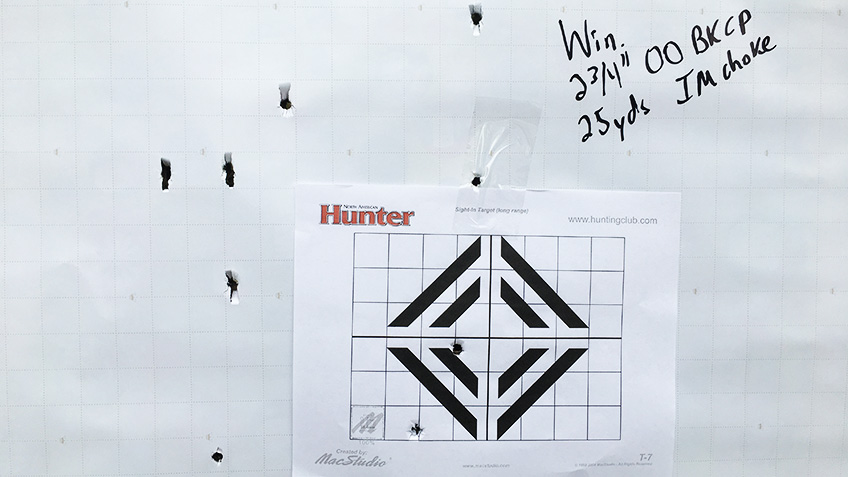 Results and Conclusion: Recoil impulse of a gun is determined by the weight of the projectile(s), muzzle velocity and weight of the propellant charge. As such, pushing nine pellets of 00 Buck to 1450 fps generates noticeable recoil—not intolerable, but sharp. Still, the animal on the other end of the shotgun gets the worst of it. As for patterning, this round proved to be the most difficult with which to attain satisfactory results; performance with Trulock's 0.710-inch extended choke, as well as the Benelli flush-fitting 0.703-inch, was unimpressive. Best results at 25 yards was found with an extended, Trulock 0.700-inch (light-full) choke, but the openness was still too much to continue testing at 35 yards. For example, in one of the best representative patterns, only three of the nine pellets impacted within 7 inches of the point of aim at 25 yards. The Boar Blaster's impact with it was marginal, too. Taking the aforementioned into account, I would suggest its use inside of 25 yards. There were no issues with cycling.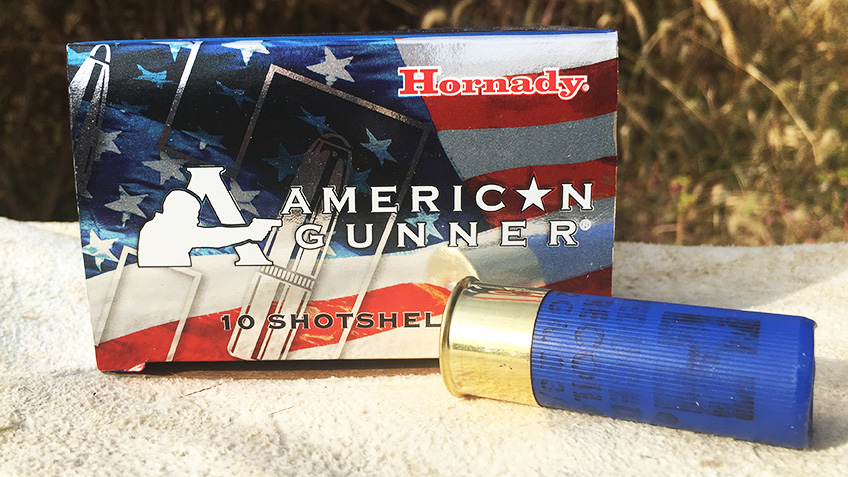 3. Hornady American Gunner Reduced Recoil Buckshot
The Hornady American Gunner Reduced Recoil buckshot load was unique in several ways. First, it was the only one utilizing a non-traditional-type wad. The eight, non-plated, high-antimony lead pellets were contained in the black Versatite wad. Moreover, the load was non-buffered. Marketed as "reduced-recoil," the shell nonetheless propelled its 1 ounce payload to 1350 fps. Price: $8.49 per 10-rnd. box at MidwayUSA.com.
Results and Conclusion: I was stunned by this shell's performance. Since it employed the Versatite wad, I restricted testing to the extended, Trulock 0.700-inch and 0.710-inch aftermarket chokes, as well as the factory, flush-fitting Benelli 0.703-inch tube. Interestingly, the latter enabled the best patterns. At 25 yards, the Hornady shells produced consistently tight patterns without abusive (but still noticeable) recoil. In its best showing at 25 yards, six of the eight pellets struck within 3½ inches of the point of aim—impressive! In fact, I was so confident with this load that I opted to test it at 35 yards, too. If pressed into service at that distance, it would certainly get the job done; however, it did open noticeably—generally a pair or trio of pellets were within 6 inches or less of the point of aim. Thus, I'd try to keep shots within 30 yards.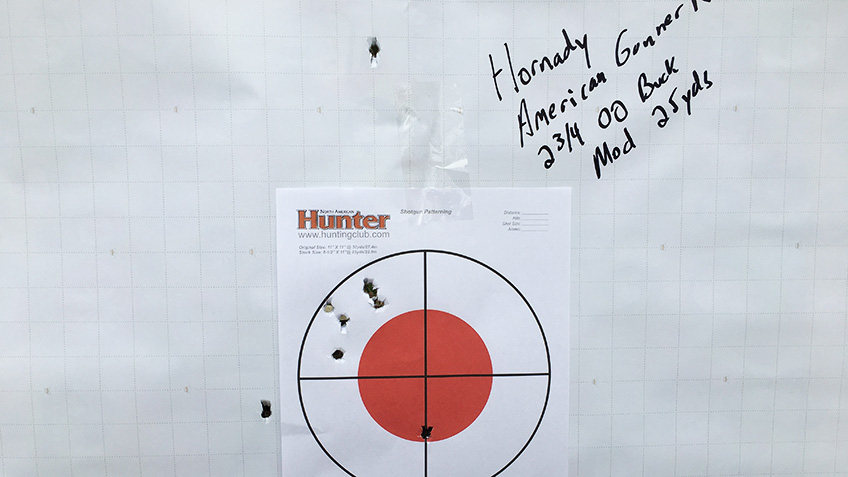 It's worthy of note that, although ejection in the Benelli was consistent with these shells, it failed to lock the action open on the final shot. Therefore, you must test them in your gun to verify reliable cycling, or use them in a pump-action, single-shot or double (over-under/side-by-side). For the recoil shy, and those without a specialized choke, this is a top choice.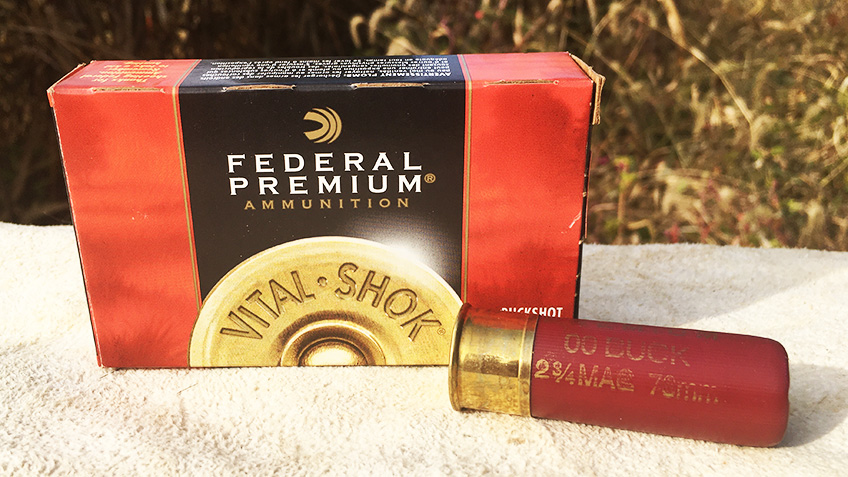 4. Federal Premium Vital-Shok Buckshot
A true magnum load, the Vital-Shok Buckshot offering from Federal Premium features 12, copper-plated pellets of 00 Buck—or 1½ ounces—pushed to 1290 fps. The buffered, extra-hard buckshot is contained within a two-piece wad with full-length cuts made to the shotcup. Price: $8.49 per 5-rnd. box at basspro.com.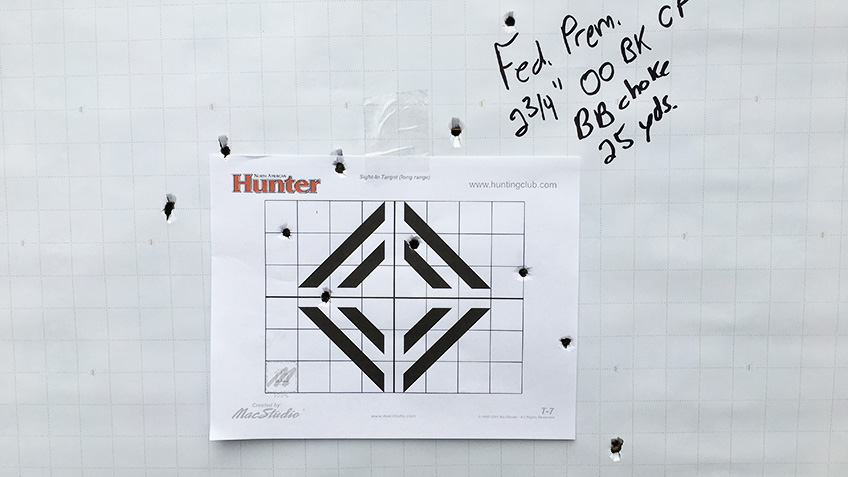 Results and Conclusion: This shoulder-jarring load opened my eyes to recoil—it's the equivalent of a 1½-ounce turkey load—and excellent patterning. The extra pellets this 12-projectile shell propels increases recoil, but it also fills in the pattern. In fact, when using the Trulock 0.700-inch choke tube, it placed six of the 12 pellets within 4½ inches of the point of aim. The Boar Blaster choke nearly replicated this level of performance. At 35 yards, the same combination kept five buckshot within 7 inches. Meanwhile, the Boar Blaster had three pellets strike within 4 inches. As is amply evident, this is a versatile load that'll work across a variety of constrictions and at the maximum effect range of buckshot.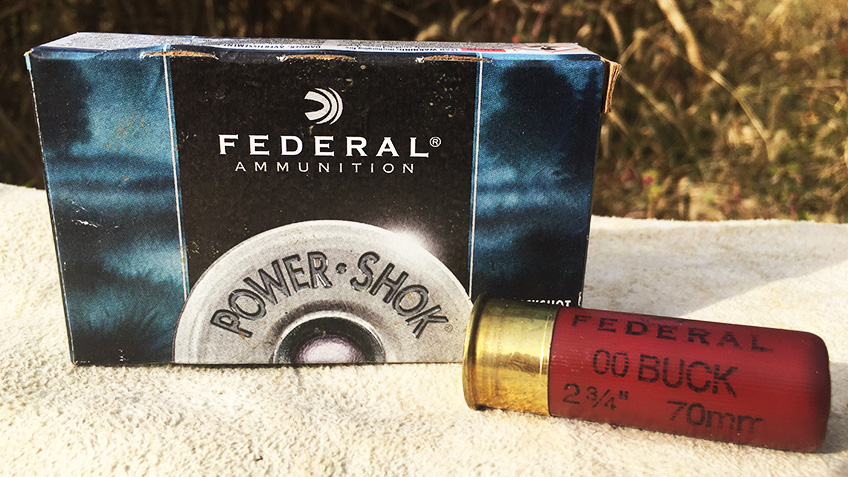 5. Federal Power-Shok Buckshot
If the previously mentioned load is too expensive or harsh recoil-wise, then Federal has another option in its Power-Shok buckshot load. Less costly than its sibling, the "blue box" shell has nine, non-plated lead buckshot at 1325 fps. The heavily buffered pellets are propelled by a two-piece wad with cuts approximately half the length of the shot cup—a reason as to why it patterned so tightly. Price: $5.99 per 5-rnd. box at fleetfarm.com.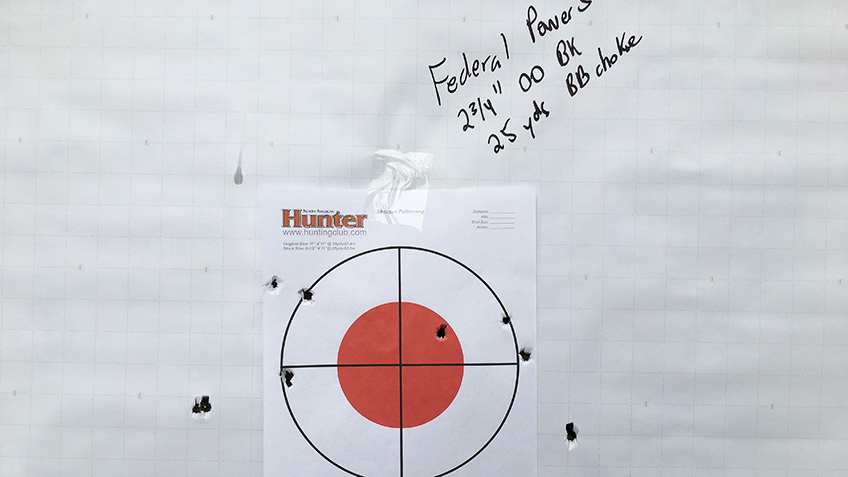 Results and Conclusion: As the last shell tested, the density of the patterns produced by this generic, economical load though both the Boar Blaster and standard choke tubes was refreshing. It certainly caught my attention. Take for example that at 25 yards, six of the nine pellets hit within 4½ inches of the target's center, and all were within 6½ inches of it. That particular target was the result using the Boar Blaster choke. At 35 yards, however, the eye opener was produced when using the Trulock 0.700-inch choke; four of the pellets hit within 3 inches of the point of aim—spectacular! Given the velocity of the load, its recoil is surprisingly mild. I experienced no cycling issues, either. The aforementioned characteristics combined with a terrific price go to show that you can still get great performance without breaking the bank.
By swapping your trusty rifle for a 12-gauge when hunting in dense cover, you'll maximize your odds of success. Now grab a few of the above options and head to the pattern board.