by
posted on March 23, 2020
Support NRA American Hunter
DONATE
Turkey hunting is unique in that it's one of the few shotgun sports requiring an aimed shot. As clays and wingshooters are well aware, you don't "aim" your shotgun at a moving target; instead, through extensive practice a series of steps are engrained into muscle memory and performed instinctually. These include bringing the shotgun to shoulder as the target is identified, tracking, leading, firing and follow-through. When focusing hard on the fleeing target, the bead is seen in the peripheral. It's not used to aim.
Given the nature of turkey hunting—more often than not, a shot at a semi-static target—and the relatively small "kill-zone" of the bird itself, an aimed shot is mandatory, but a shotgun bead is far from optimal for the task. Yes, a shotgun sends an ever-spreading swarm of shot downrange, thereby increasing the likelihood of scoring multiple hits and thus a kill, however, that supposes the shotgun patterns to the exact point of aim. Many don't due to off-center beads, misshapen ribs or poor gun fit. A quick patterning test will reveal how your gun patterns.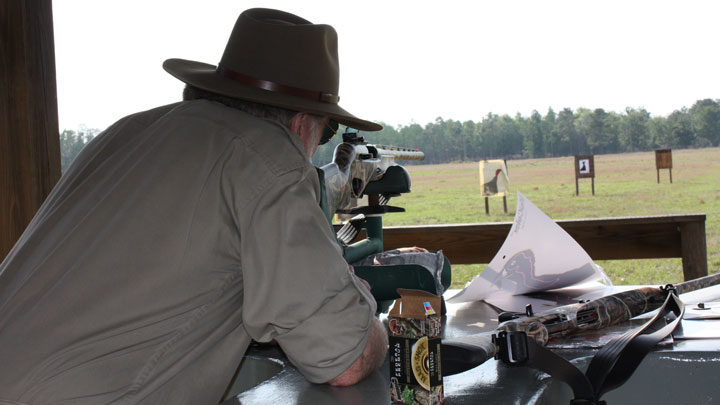 My preferred turkey gun, a Benelli Super Black Eagle II (SBE II), consistently places the dense core of the pattern high and left of where I aim. In fact, if I were to align the bead with the turkey's neck mid-height, I'd miss it altogether, or catch it with the fringe of the pattern. Rather than monkeying with a collection of cast-changing shims and spacers for a one-shot scenario, I found a better option. More on that shortly.

In addition to the above inadequacies, shotgun beads are frequently overly large. They're sufficient for turkey hunting at midrange, but not especially close or afar. When distance increases, aiming precisely using a sphere that's covering a majority or all of the bird—not just the neck and head—is undesirable, if not unethical. Today's ultra-tight-patterning loads, such as Federal Heavyweight TSS and Winchester Long Beard XR, among others, are designed to be employed at longer-than-normal distances (especially when fired through a premium, turkey-specific choke tube), so precise pattern placement is obligatory to maximize their benefits. This is true at close range as well. Because of the aforementioned combinations, grapefruit-size patterns at nearer distances aren't uncommon. As such, the margin for error on a small target is miniscule, meaning a bead isn't accurate enough for many circumstances encountered when turkey hunting—especially if the shotgun doesn't pattern where aimed.
Lastly, traditional bead sights can be difficult to see in diminished lighting, such as when a first-light strutting tom appears, or when it's raining or overcast. Fiber-optic sights have made this a moot point for many hunters, and turkey-specific sights akin to those on rifles certainly improve accuracy, but they're still not the best option available. A better choice is found in topping your cherished strut-stopper with an optic.
Turkey-gun-suitable optics come in several forms: there are variable-magnification scopes, not unlike those used on rifles, as well as dot-style sights, generically referred to as "red-dot sights." Included in this category are reflex, holographic and prism sights. Each design has advantages and drawbacks, though all trump a bead sight. Outside of the prism sight, I have bagged gobblers using each.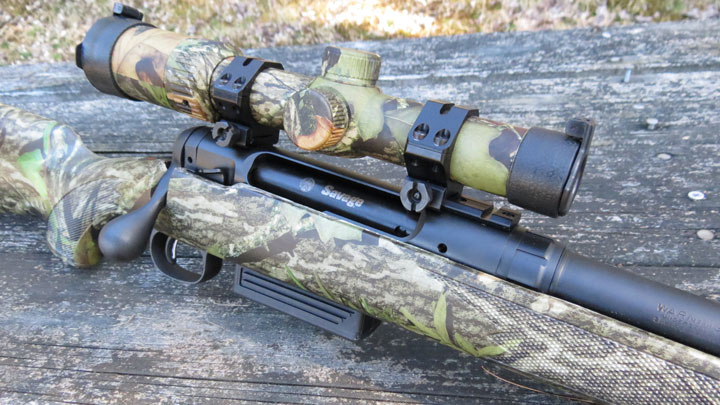 Less common than other types of turkey optics, scopes are still a solid choice. Benefits of scopes include: magnification (which is especially helpful for those with diminished eyesight); specialized, range-finding reticles (for those who are poor judges of distances); consistent, repeatable "clicks"; and enhanced durability (after all, they're typically built to withstand the harsh recoil of shotguns and/or rifles), among other things. On a dedicated turkey gun, the latter can help keep it zeroed from season to season, saving time, discomfort and considerable money.  
Conversely, scopes are oftentimes heavier and lengthier than their red-dot counterparts, and unless you're using a 1X model, eye relief is a major concern—too little and you'll have a split eyebrow or forehead, as magnum turkey loads generate fierce recoil. Additionally, on second-focal-plane scopes, which most are, the range-finding feature requires a specific magnification setting—usually the highest, or nearly so—where eye relief becomes an issue.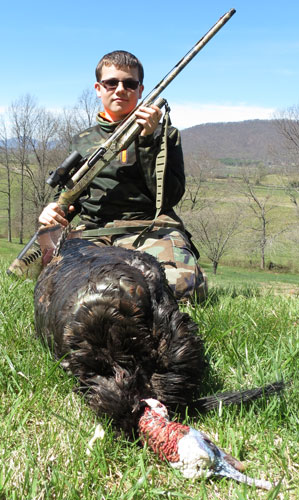 Unlike scopes, red-dot sights are usually compact and add minimal weight to your rig—a real plus for the run-and-gun turkey hunter. Advantages of dot-style sights include: an illuminated reticle or dot for fast acquisition, targeting and follow-up shots; both-eyes-open shooting; and a parallax-free design (on quality models). The latter quickens sighting, as the pattern will hit where the dot of the zeroed sight is covering—perfect cheek weld is thus made unnecessary. Prism sights can also offer magnification. Moreover, although eye relief can be important for prism-type sights, it's non-critical for holographic and reflex sights.
Like scopes, there are drawbacks to red-dot sights. Most are battery powered, so there's an opportunity for the battery to die at an inopportune time. That said, batteries can (and should) be swapped before season, so dead ones are a non-concern. Carrying extras and a means to replace them in your turkey vest is prudent. For models without motion detection or nigh-limitless battery life, you must remember to turn the unit on and OFF. As for dot size, I prefer those 2.5-MOA or less—5-MOA or larger dots are too big at distance. Remember, you're seeking precision. Also, the ability to adjust reticle/dot brightness is a must; outside of self-adjusting models, a rheostat with incrementally brighter settings is preferable. Avoid models without.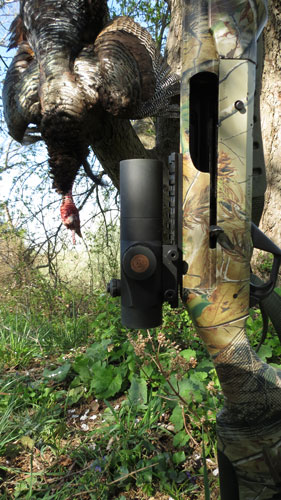 Lastly, open-type red dots are more susceptible to interference with targeting due to fogging and/or rain (common in springtime), and all have shiny coatings that can be seen by an approaching gobbler. To combat this high-visibility sheen, I drape a glove, face mask or similar shade over the sight until I'm ready to fire. At that point, I'll slowly slide it off for the shot.
Prices for red-dot sights run the gamut; there are very economical models—though I'm leery of especially inexpensive units—as well as substantially costly ones. I recommend buying the best you can afford. Considering the number of shot opportunities you'll get per spring gobbler season; each must count. To me, the extra cost of a premium optic is worth the knowledge that no matter what, when I pull the trigger, the pattern is going where it's supposed to—a turkey's vitals. But, as you'll read, I've had good success with less-expensive models, too.
Selecting a handful of shotgun-capable optics well-suited for turkey hunting is no easy feat—there are simply too many good choices out there. Nonetheless, here are five options that'll help you bag your next gobbler, near or far.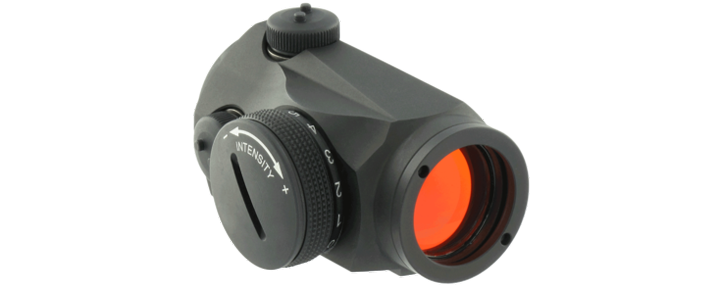 Aimpoint Micro H-1
If price is a non-concern, there's arguably no better turkey-gun optic than the Micro H-1 with a 2-MOA dot. Although the company makes the S-1 shotgun sight, a complement to the H-1, I prefer the latter. The compact, low-profile sight weighs only 3.77 ounces—including the Weaver-Style base for attachment (the S-1 affixes to the shotgun's rib). The unit is powered by a single CR2032 battery, which provides a runtime of 50,000 hours, so the likelihood of a dead battery is slim. The H-1 is submersible to 15 feet and has 12 brightness settings to handle all lighting conditions. MSRP: $568.00; aimpoint.com.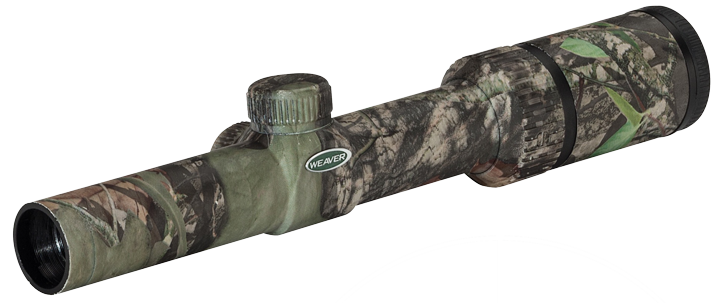 Weaver KASPA 1X-4X-24mm Scope with VZT
Prefer a traditional-type scope? Among Weaver's economical KASPA line is a camo-clad 1X-4X-24mm model featuring the Vertical Zone Turkey (VZT) reticle. The VZT consists of two straight-sided slots with a dot in the center. At 20 yards the turkey's crown and the base of its neck will fit within the larger, outer slot, and at 40 yards it'll fit within the smaller, inner slot. The nitrogen-purged, 10.5-inch-long scope has a one-piece, 30mm main tube and fully multicoated lenses. Depending on the magnification setting, eye relief is between 4 and 3.54 inches. Click value is ½-inch at 100 yards. MSRP: $298.45; weaveroptics.com.


Vortex Spitfire AR Prism Sight
Intended for the AR platform, this 1X-25mm prism sight will nicely pull double-duty for turkey hunting. Measuring 4.3 inches in length, the 11.2-ounce, parallax-free optic has a glass-etched, illuminated (in red or green) Dual Ring Tactical (DRT) reticle powered by a common AAA battery, which is provided. Depending on the setting—there are 12 from which to choose—battery life is upward of 3,000 hours. Eye relief is a respectable 3.8 inches, and the lenses are fully-multicoated. Adjustments are rated at .5-MOA. The unit has a machined-aluminum housing, and is touted as being waterproof, shockproof and fogproof. Accompanying the sight are lens covers, a AAA battery, wrenches and a 556 turret cap, which will come in handy if it ever serves on a 5.56x45mm-chambered AR. Of course, the sight is covered by Vortex's renowned VIP lifetime warranty. MSRP: $349.99; vortexoptics.com.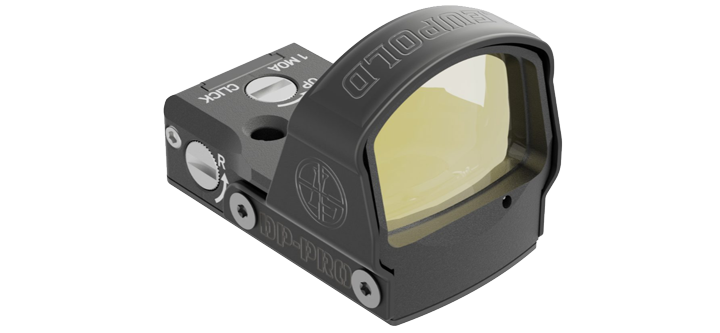 Leupold DeltaPoint Pro
Although I've successfully utilized both Leupold DeltaPoint and LCO optics for turkey hunting (an LCO resides on my Benelli at the time of this writing), the former makes the most sense size-wise. The smallest optic in this roundup, the DeltaPoint Pro is a mere 1.3-inch (height) X 1.3-inch (width) X 1.82-inch (length) and weighs only 1.95 ounces, yet it's chock full of features. For instance, the aluminum housing is shrouded by resilient stainless steel and has scratch-resistant lenses. To preserve battery, the unit has motion-sensing technology (MST); when not in use, the DeltaPoint will shut off, but it's instantly reactivated via motion. According to Leupold, the Twilight Max Red Dot System enables edge-to-edge clarity and true-to-life colors, while positioning of the 2.5-MOA dot is actuated via 1-MOA clicks. Available in dark-earth or matte-black finishes, the DeltaPoint Pro is waterproof, fogproof and accompanied by Leupold's lifetime warranty. MSRP: $519.99; leupold.com.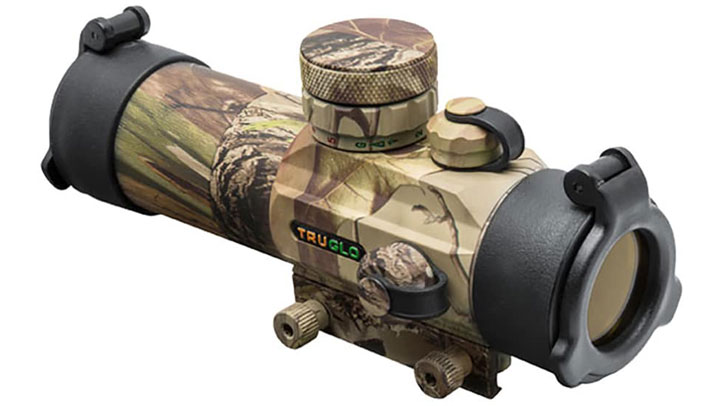 TruGlo Gobble-Stopper 30mm Dual Color
Designed for turkey hunting, this aptly named, dot-style 1X sight is powered by a CR2032 battery—one to power the unit is included, alongside a spare. The 3-MOA dot has a surrounding circle that measures 24 inches at 30 yards, and can be viewed as red or green with varying brightness. An integral Weaver-style rail makes attachment simple for the Gobble Stopper 30mm Dual Color, which is available in black and Realtree APG finishes. Though considerably larger than other dot-style sights on this list, the tradeoff is a lower cost, with the camo model retailing for slightly more than $100. I used a TruGlo Triton 30mm Tri-Color Tactical, which is only slightly different than the Gobbler-Stopper, for several succeeding seasons. Between my son and I, we bagged no less than a half-dozen gobblers without issue before I traded up to my current optic. Did I need to? Probably not, it always worked. MSRP: $87.99-$110.99; truglo.com.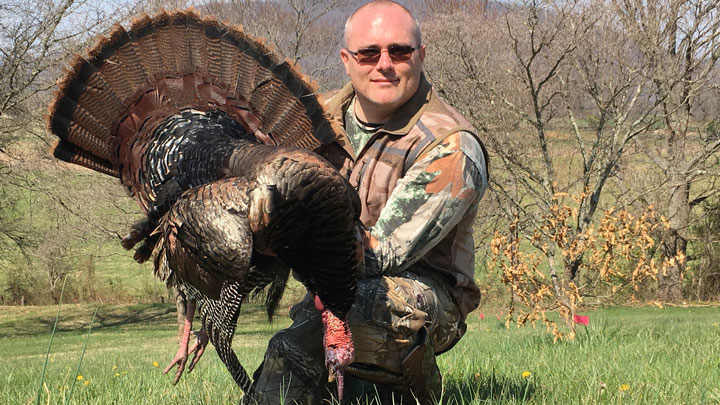 Turkey hunting can be accomplished using the standard shotgun bead, but it's not ideal; in fact, in time it can cost you birds. Why risk it? An optic will not only enable you extract the maximum benefit from today's high-performance loads and chokes, but will also help you connect with each trigger pull.