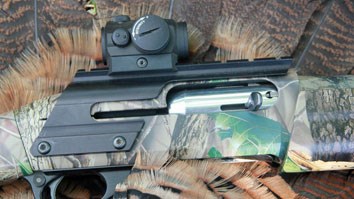 I've always hated hunting gadgets, which I define as "stuff" that might be cool to have but doesn't really help me be more efficient in the woods.
Before my eyes started going bad, I thought using a red-dot sight on a turkey gun was only for gadget guys, not serious turkey hunters. My eyes helped change that opinion, and now a red dot handles a couple of very important jobs for me. First, it helps cure the evil error of lifting my head off the stock—can you say, I shot high and over his head?—and it provides a very precise aiming point when birds are out at the 40-yard line, making it easier to center the pattern than when using open sights.
Lest you think the red dot is something a turkey might be able to see, rest easy. These are not laser sights that project light downrange. Instead the light hits the front lens and reflects back toward your eye. This provides single focal-plane sighting, which makes it much easier and faster to acquire the target and make a precise shot.
The last week of April, I successfully used a Remington 11-87 with an Aimpoint Micro during a South Dakota turkey hunt. Even in a steady rain the sight picture was crisp, providing a good shot. In fact, I loaned this gun to several friends and watched them bang birds at distances ranging from 9 yards to 53 steps.
Of course, mounting a scope to a shotgun is more difficult that a rifle, but many of today's turkey guns are drilled and tapped to accept a Picatinny rail, which makes mounting a sight quite easy. There are also mounts that clamp onto the barrel's vent rib, if it has one. I used an old cantilever mount on my 11-87 and that worked perfectly.
There are several companies that make red-dot sights that work well with turkey shotguns. A few of them are Aimpoint, Bushnell, Nikon, Truglo and Weaver. You can check them out at a local dealer, visit each manufacturer's website or find them in the major mail order catalogs like Cabela's and Bass Pro Shops.
However, if you go this route, remember that when it comes to optics, you get what you pay for. On a gun that will be dragged around the turkey woods in both good and bad weather, the last thing you need is a failure when it is time to put the hammer down. That said, as long as using a red-dot sight is legal where I am hunting, I won't be afield without one on my turkey shotgun ever again.