Support NRA American Hunter
DONATE
Year after year, my friends have urged me to give red-dots a go on guns other than AR-15s, and year after year I've refused. I like irons, I reasoned, and they've always worked for me. Recently, however, my Luddism has begun to wear thin. It started with red-dots on larger, competition-style pistols. I saw acquisition times improve, though I hung doggedly to the principle of co-witnessing my irons in case batteries failed. Slowly they've migrated from there, to guns I'd consider daily carries (though they still have not found their way atop my primary). But as spring has rolled in, the dots have made an even further foray—they now reside atop my turkey guns. While vanity still requires me to mention I have no problem with my beloved, traditional gold bead, the benefits of a red-dot have come home to roost, particularly during the sort of low-light conditions in which many gobblers like to appear.
As I type these lines, it is the beginning of May here in my home state of Virginia, which marks us at about halfway through turkey season. Hopefully, wherever you are, you've still some time left as well. If you're looking to upgrade your sighting system before the season is up, or want to get a jump on next year's setup, read on for a roundup on some of the most popular red-dots currently on the market, and how they performed in the field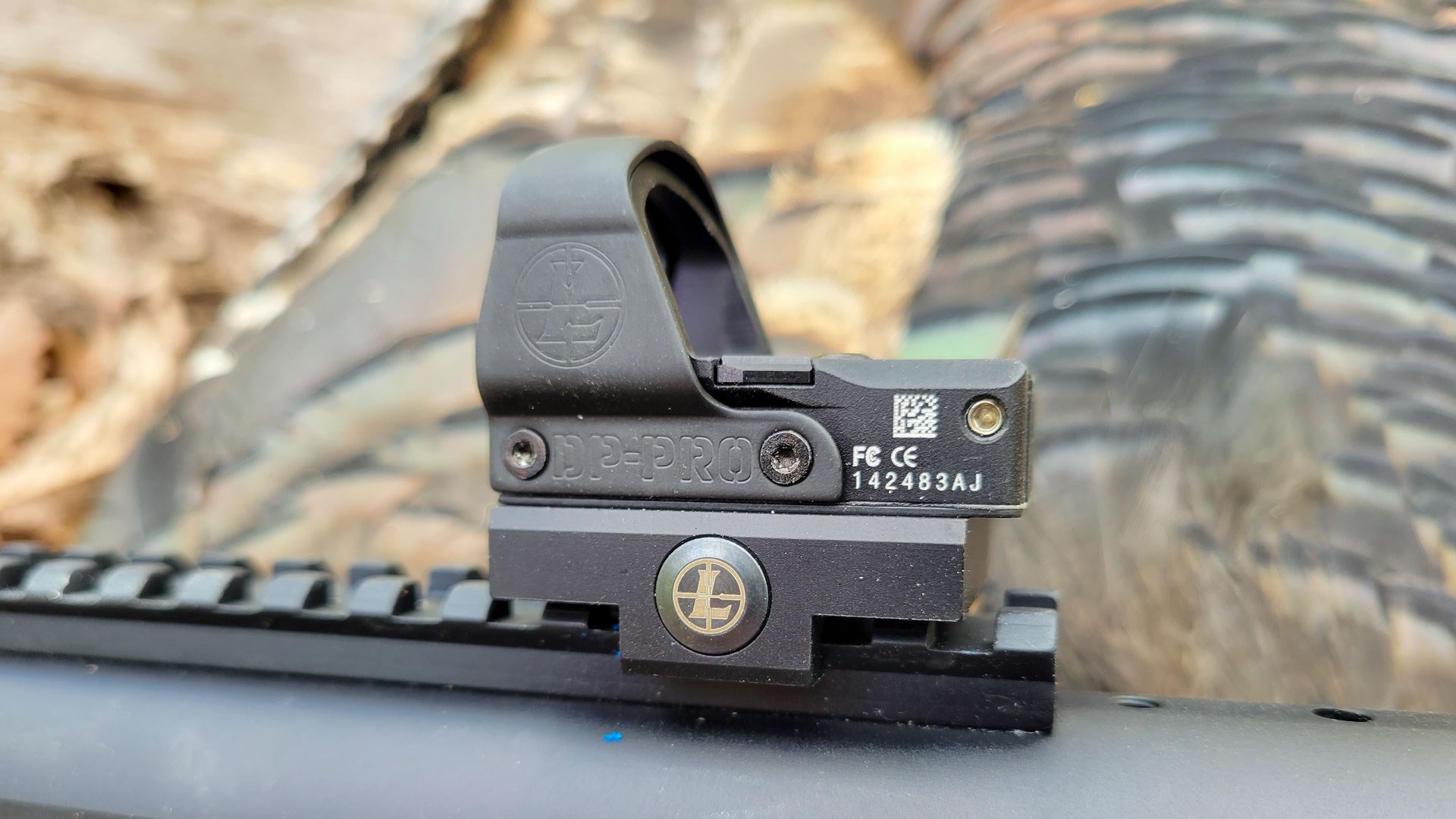 Leupold Delta Point Pro
First up is the Leupold Delta Point Pro (DPP). Though Leupold is a company long venerated for its riflescopes and magnified optics, the DPP has taken the market by storm, becoming a common sight on everything from service pistols to carbines. Among others, several U.S. Army units have chosen it to top the slides of their M17 and M18 pistols, and the U.S. Marshals service even selected it as their optic of choice for duty firearms. Thus it should come as no surprise that the high-performing little red-dot has caught the attention of turkey hunters nationwide.
Weighing in at two ounces, and measuring 1.8-inches long, the optic boasts an impressive field of view through its wide hood. Dots come in 2.5- and 6-MOA sizes. A top-loading battery means the sight does not have to be removed from the gun when its CR2032 needs changing, a handy feature for those who do not want to have to go through the trouble of re-zeroing (yes, I know most sights with the battery on the bottom claim to hold zero through removal and battery change, but let's be honest, have you ever *really* not re-zeroed afterward, just in case?). Battery life is some 1600 hours on the lowest, or 300 hours on the highest of its eight settings, and a version is also available with two additional settings for night-vision devices. My only concern coming into the test was durability. The gun world is rife with reports of supposed DPP fragility, so could it handle a rough hunt through the Virginia woods? Let's find out.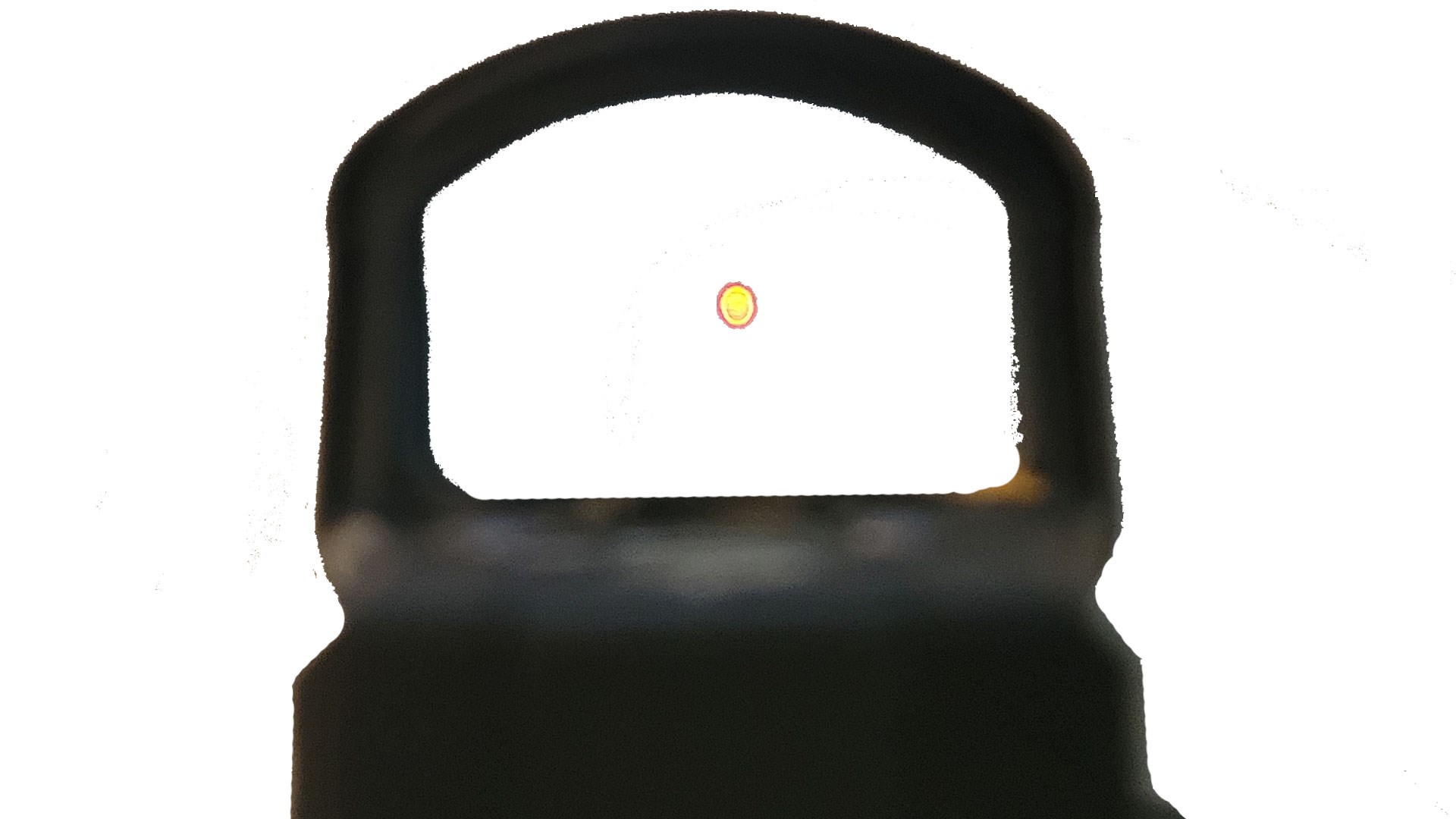 I won't keep you in suspense. It handled it, and then some. While mounting the optic, I even inadvertently knocked it off a ledge, dropping it some five odd feet onto solid brick. It hit on the side of its hood—a notoriously weak point as the primary forces it is designed to withstand operate longitudinally, rather than laterally—but other than a lovely little scuff, the sight sustained no damage and kept on ticking throughout the rest of the test.
Out in the field, the DPP  performed extraordinarily well. With a slightly taller profile than many other pistol-style red-dots, it aligned very naturally with the height of the eye. The dot on mine was 2.5 MOA, which afforded excellent precision, and really gave me confidence that when I squeezed the trigger, the center of the turkey's head was at the dead center of my pattern. As I plan to utilize this particular dot on several different styles of firearm, it is perfect for my purposes. However, if I were to buy one as a dedicated turkey optic, I would recommend the 6-MOA dot. Anywhere inside of 70 yards, the larger dot still provides plenty of precision, but with an added bonus to speed and acquisition that can come in real handy in the turkey woods. I did find that the 2.5-MOA dot on its highest brightness provides a nice compromise between (perceived) size and precision, at least to my eye. MSRP: $449.99-$549.99; leupold.com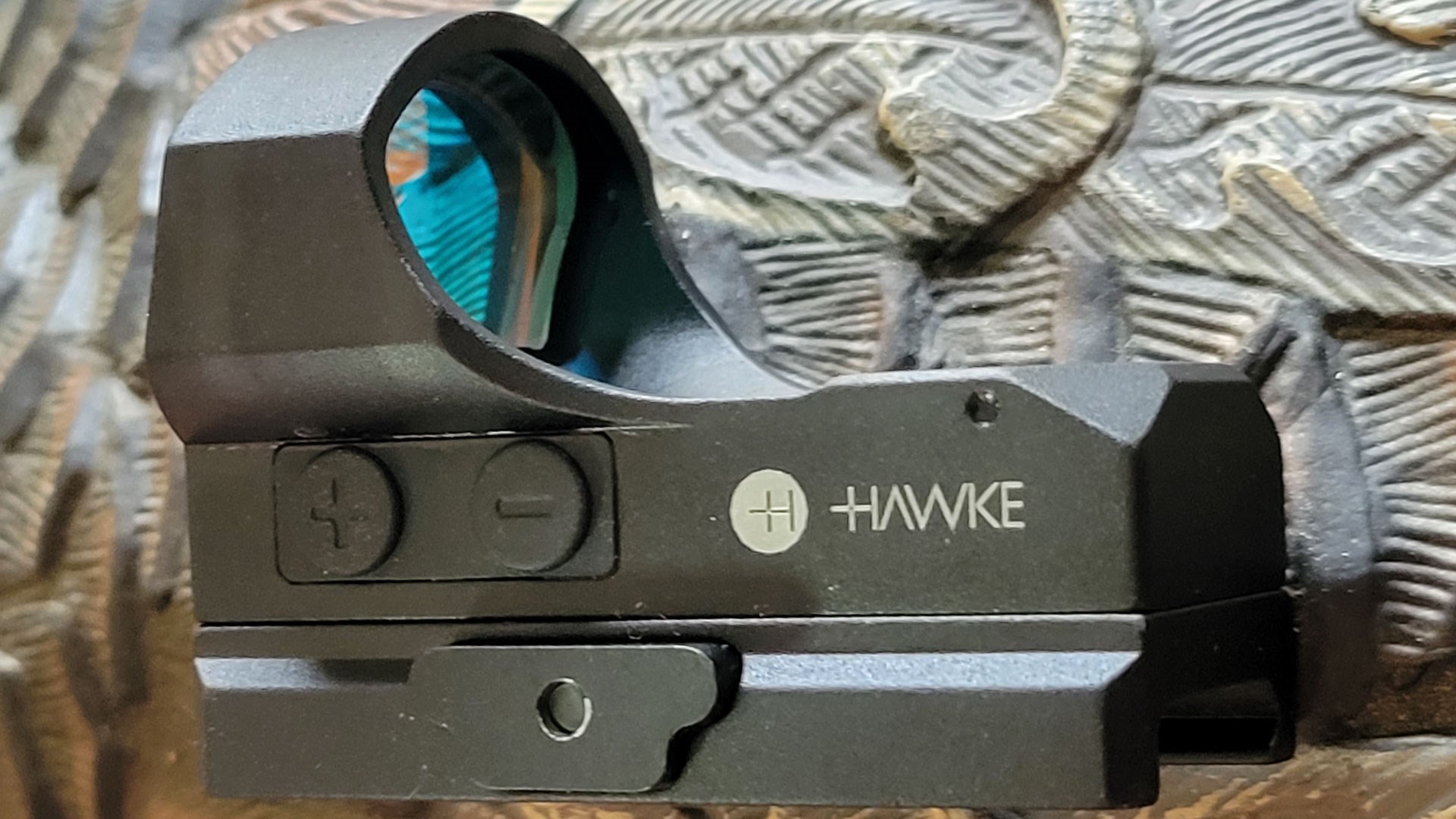 Hawke Wide View Circle Dot
Next comes Hawke. While the company's reflex sights have been around for a while, they recently sprung onto the scene with a wide-view variant sporting a circle-dot reticle, targeted largely at turkey hunters. The dot is 2 MOA and the surrounding reticle spans 35 MOA, while the lenses feature 25 layers of multi-coat for durability. Eight levels of brightness come standard, and if the sight is inactive for more than five minutes, it will enter standby mode to preserve its CR2032 battery. As with most reflex sights, parallax error is virtually nonexistent, only becoming a factor when the eye is more than 10 yards from the reticle—a veritable non-issue.
As far as dimensions are concerned, this sight is on the heavier side for micro-optics, weighing in at three ounces. A 2.3-inch length, of course, does have something to do with this, as does its width—this is the widest micro-sight (ie. excluding the Holosun) on our list by 2/10 of an inch. To be clear, I think this is a tradeoff that works in Hawke's favor. Were I writing a pistol sight review I may think differently, but for turkey hunting? I highly doubt you'll notice the extra ounce or two, and the wider field of view, not to mention wider reticle, could pay dividends on a longer shot. Much like everything else on this list, the sight uses an aluminum chassis, and is both shock and waterproof.
You can probably already tell I enjoyed the expansive view on this sight. Unlike some sights with smaller hoods, it was incredibly easy to pick up both the dot and target as soon as cheek dropped to comb, thanks to this wide profile. I am also thankful Hawke saw fit to equip this particular model with the "Circle" Dot reticle. The 2-MOA dot at its center, while extremely precise, is a little fine for speed at common turkey ranges. That 35-MOA reticle, on the other hand, is the perfect size to quickly acquire, cover and blast a turkey head anywhere within ethical shotgun range. Will you be picking your spot on the bird's head? Probably not. Will be gobbler be just as dead? Absolutely.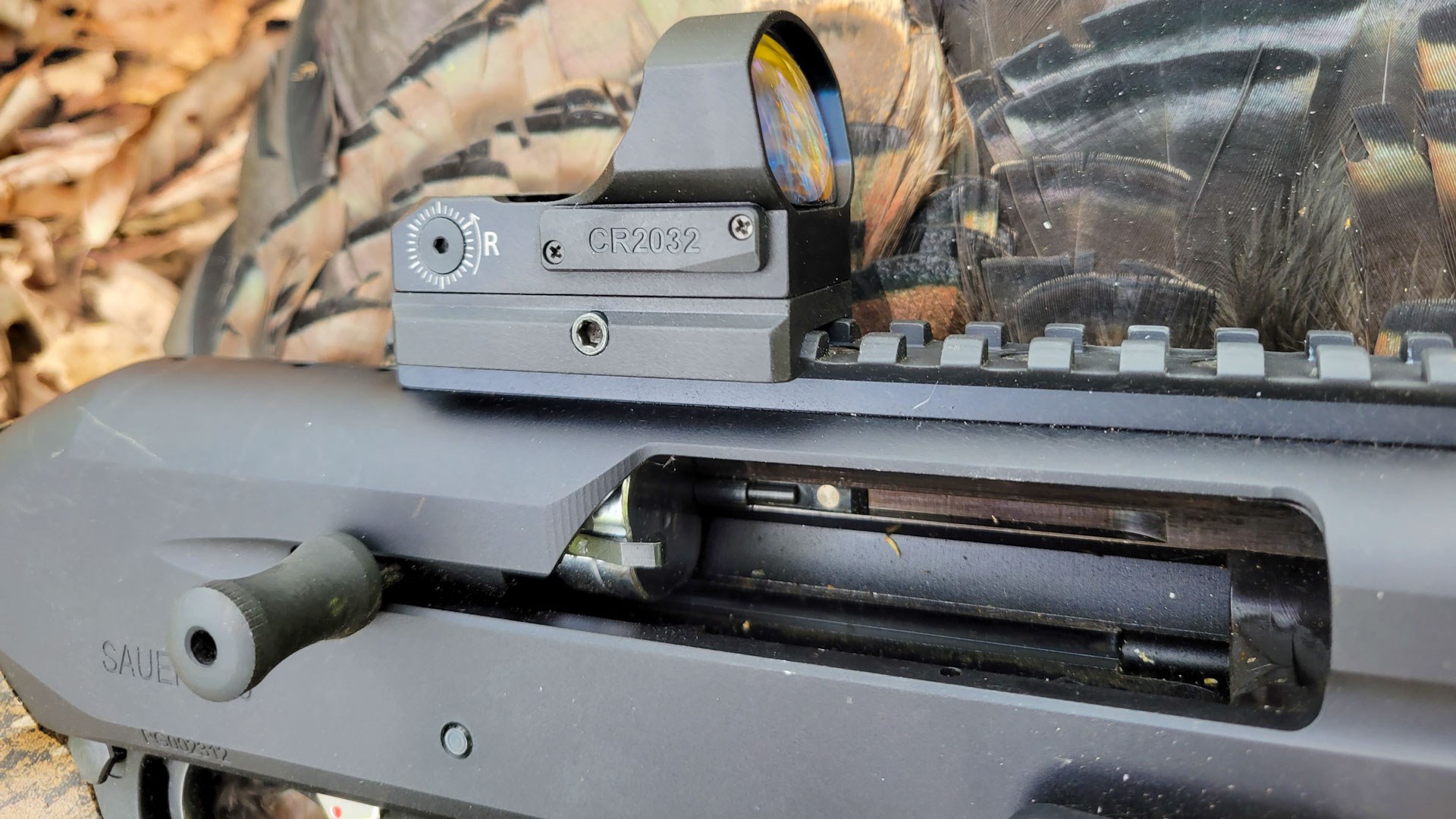 The only issue I had with the Hawke? The buttons are a little difficult to press for my wide thumbs, making it sometimes tricky to turn off (as both buttons must be pressed and held simultaneously). At its incredibly affordable price point, however, this is by no means a deal-breaker—more of an occasional annoyance—and will certainly not adversely affect your hunt. MSRP: $189; us.hawkeoptics.com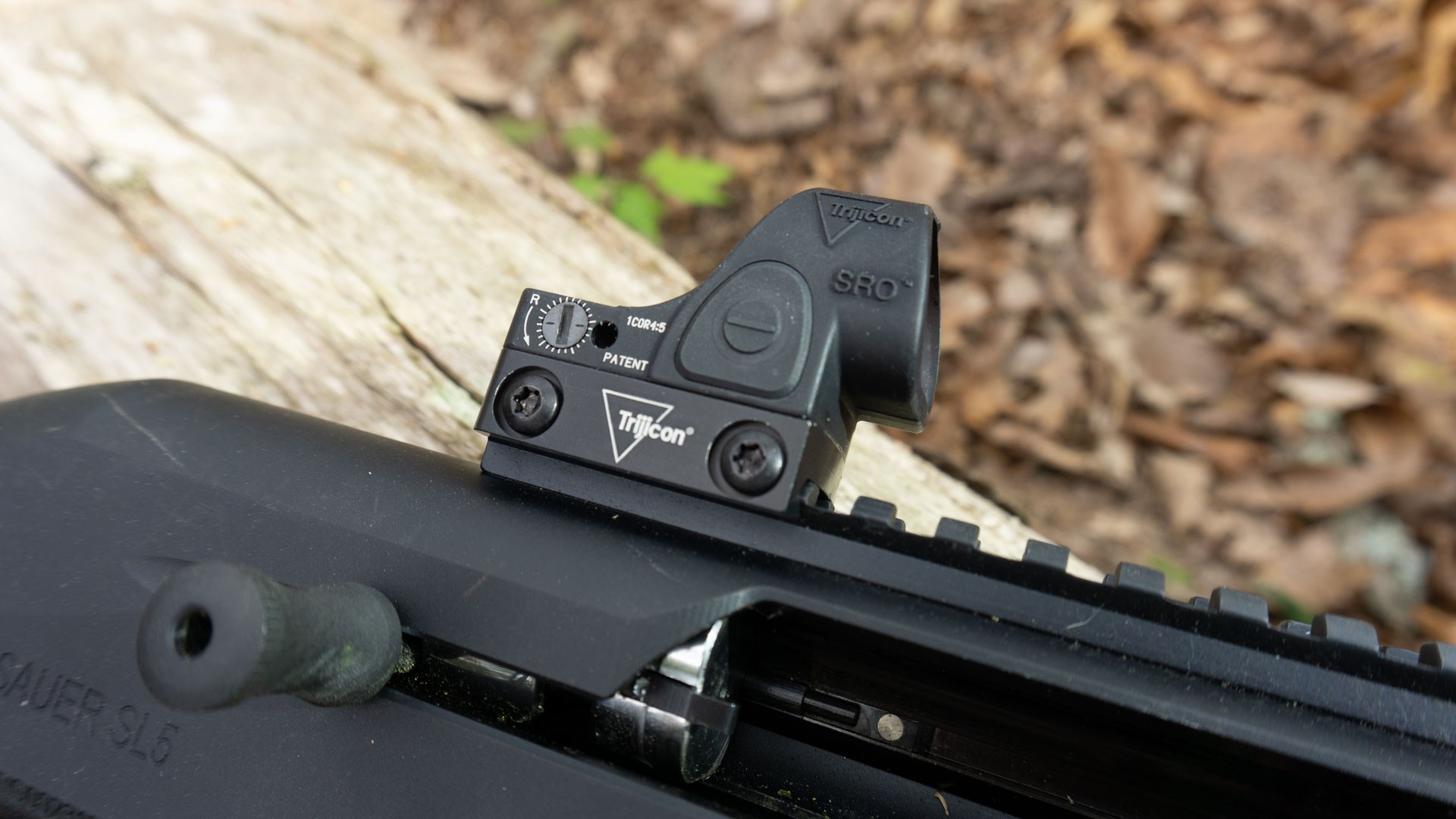 Trijicon Specialized Reflex Optic
Ubiquitous is an understatement when it comes to Trijicon. The RMR has become such a common sight on firearms, that some less-precise friends of mine refer to any pistol-mounted red-dot as an "RMR." A little less well-known, however, is the company's SRO. Standing for Specialized Reflex Optic, the sight boasts a wider hood and a more forward-pushed profile. Slightly less overbuilt than its ruggedized sibling, the sight is targeted squarely at competition shooters looking for an optic that is easier to acquire and faster on transition, with size being less of a concern. Enter turkey hunters.
Out in the field, we require many of the same things as competition shooters. Quick acquisition, excellent accuracy, and the ability to hold a point of aim through motion. While we do need a good measure of durability, the SRO is plenty tough for the purposes of any hunter (or ordinary shooter, for that matter). I saw a fair amount of confusion over this during the SRO's initial premier—many people were concerned it was too weak an optic for them just because it was less overbuilt than an RMR, ignoring the fact that they would likely never need to repeatedly rack their pistol on a jagged rock. As turkey hunters, this is even more of a non-issue. While an RMR is still an excellent choice to top any gun, the SRO offers a top-loading battery and wider field of view in a very durable package, at roughly the same weight as an RMR. Between the two, the edge in the turkey woods should go to the SRO. Even better for current RMR owners, the SRO sports the same footprint, so hardware can be used for both sights.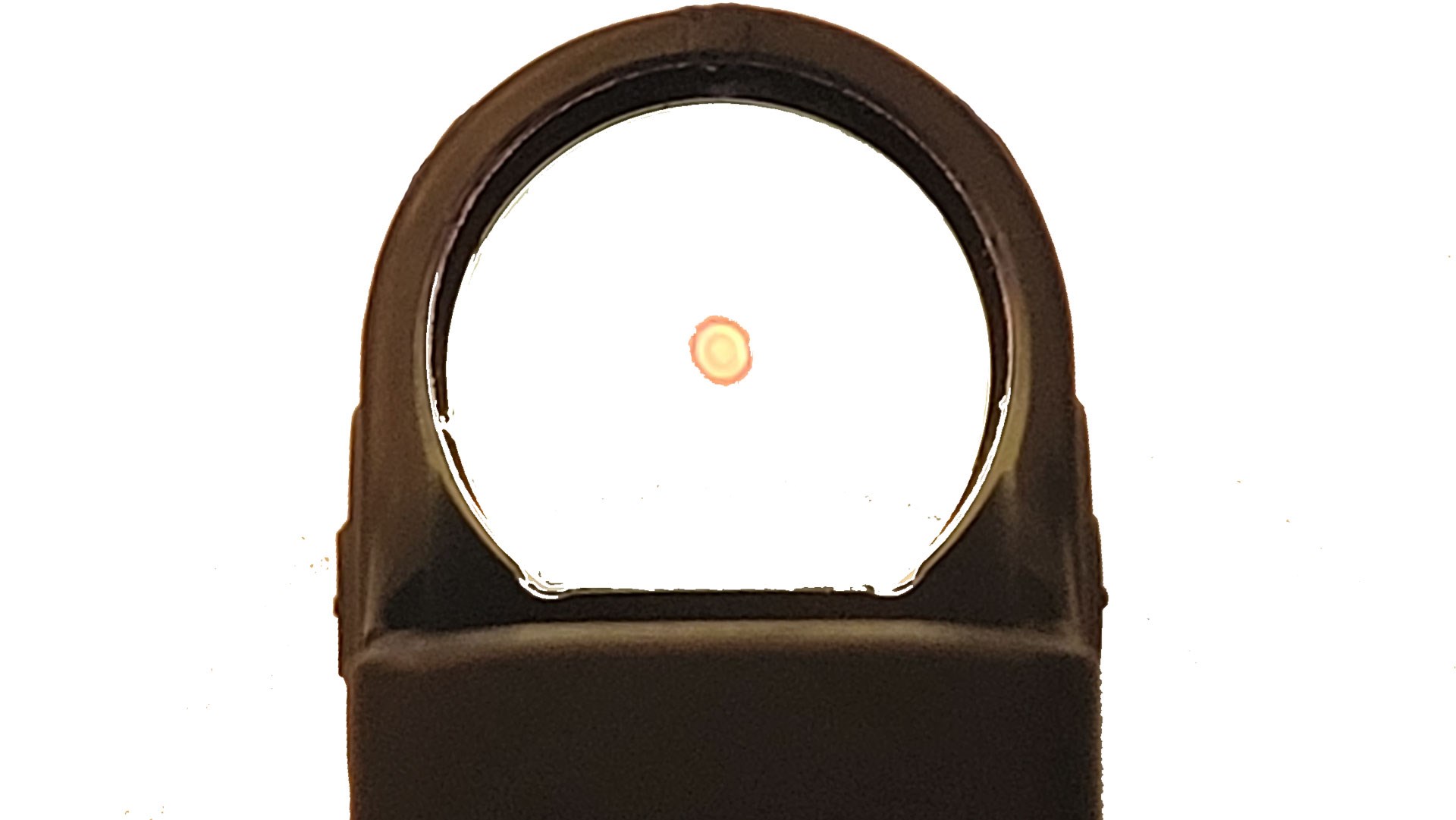 The SRO is available with the consumer's choice of a 1.0-, 2.5-, or 5.0-MOA red-dot. I tested out the 5.0 MOA, and couldn't recommend it enough for a turkey gun. Similar to what I mentioned with the DPP, a larger dot size allows for incredibly rapid acquisition, while still providing an accurate enough point of aim to drop birds. Though I had already seen this difference in acquisition speed on my pistols, it is even more pronounced when used on a shotgun, where the dot can run a tad closer to your eye. Also, as a note for all those with an astigmatism: I have a very slight one, which doesn't necessitate the use of glasses, but does make most red-dots a bit blurry. For me, this was hands-down the clearest sight on the list.
The 5-MOA dot pairs quite well with the wide hood of the SRO. Both work in concert to make it much more difficult to "lose" the dot outside of the window—a common problem when first transitioning to a reflex sighting system. Construction and zero held up without a scratch throughout field use, despite its incredibly light weight. Adjustments were crisp, and the range of brightness settings came in real handy when hunting—particularly "super bright." While the lower settings were perfect for use in dimly lit woods, and around twilight hours, the "super bright" made the SRO almost unbelievably easy to acquire when hunting fields in blazingly brilliant sun. The button lock-lout mode, which allows the sight to adjust automatically, was a real boon here, as it kept the sight visible without even having to think about it. MSRP: $749; trijicon.com
Holosun 510C
Once routinely mentioned as a dark-horse alternative to Trijicon across a variety of product lines, Holosun has made a name for itself as an optic company well worthy of standalone regard. From reflex sights to traditional red-dots, to even more cutting-edge technology like IR lasers and illuminators, Holosun seemingly makes it all, makes it well, and makes it at a price-point accessible to the everyday consumer.
The only optic on this list designed specifically for long-gun applications, the 510C boasts a 2-MOA dot in either red or green, a 65-MOA wide reticle around it, and up to 50,000 hours of battery life out of its CR2032 battery. Further shoring this up is Shake Awake technology, and a really neat Solar Failsafe system—the latter specifically is a cool piece of tech for hunters who will almost exclusively use the gun outside.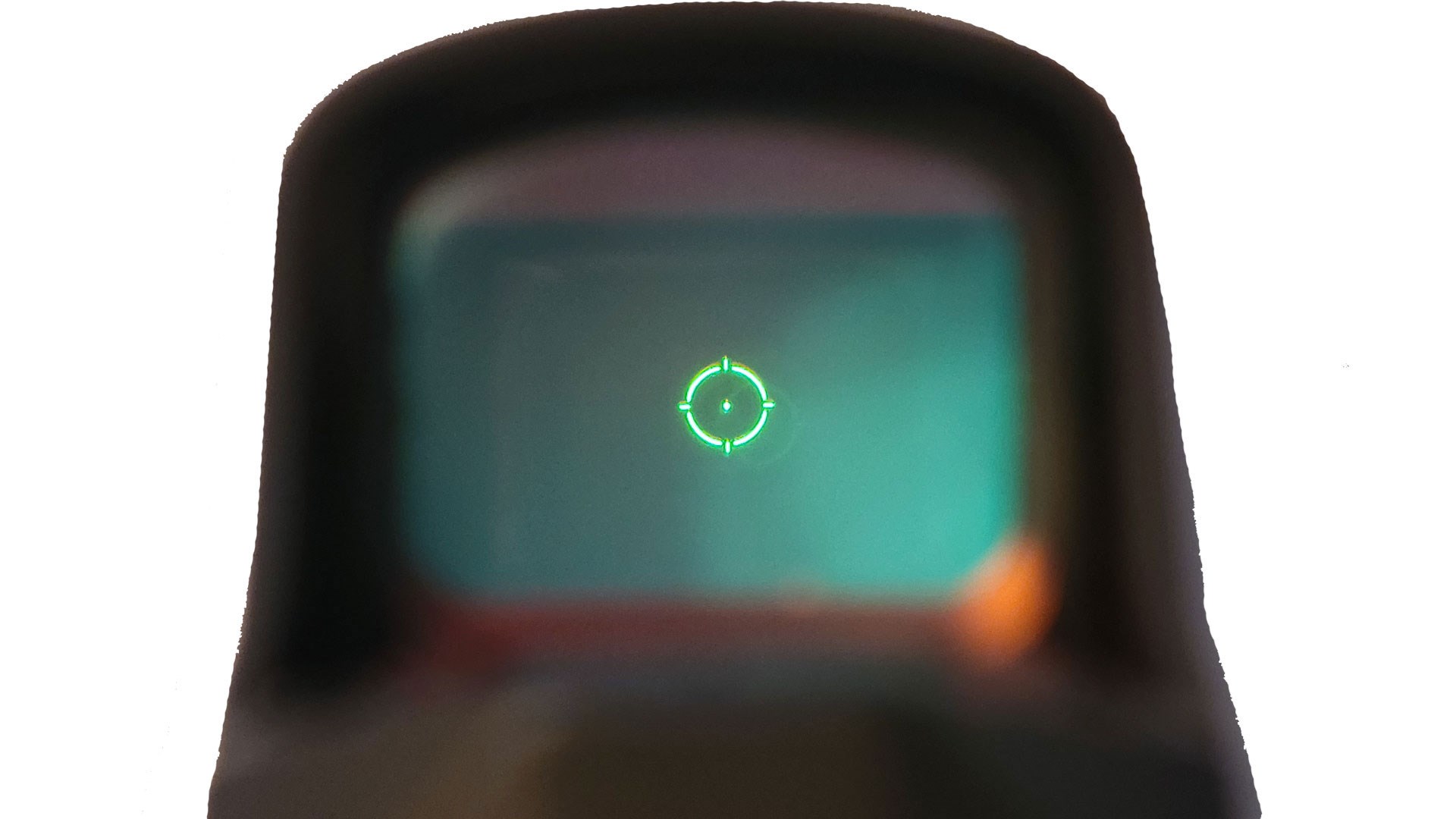 As the name implies, the system allows the sight to function off solar power if the battery takes a dive, and when engaged, automatically adjusts brightness in sync with environmental lighting conditions to keep the reticle visible. A titanium hood surrounding an aluminum housing makes the sight durable while keeping weight below five ounces, and a unique multi-reticle system allows the shooter to switch between using the 2 MOA dot, the 65 MOA reticle, or utilizing them both at once (my preference). Brightness levels include 10-daytime settings, and two compatible with night vision. All in all, this is quite a laundry list of features, particularly for a sight that is either second or third cheapest on this list, depending on how you option it. Finally, an absolute co-witness QD mount keeps the deck height of the sight nice and low to the bore, while providing for lightning-fast fitment.
If there is one word I would use to describe the 510C (and just about any piece of Holosun tech I have ever encountered), it is bulletproof. The sights run, and run, and run, and simply will not quit, no matter what you put them through. The 510C was the unfortunate recipient of some of the roughest weather and handling during this test—it was rained on, dropped in a puddle and knocked into trees—but it continued to hold zero without fail. This is, of course, the bare minimum a sight needs to accomplish, but the Holosun deserves special mention as it feels like it could take a whole lot more. Some of this is by dint of the fact that it is a true long-gun sight, taking advantage of the added weight and metal this allows (it weighs in at a comparably chunky 4.94 ounces), but I am confident the build quality would hold its own even in a test exclusively dedicated to such hardware.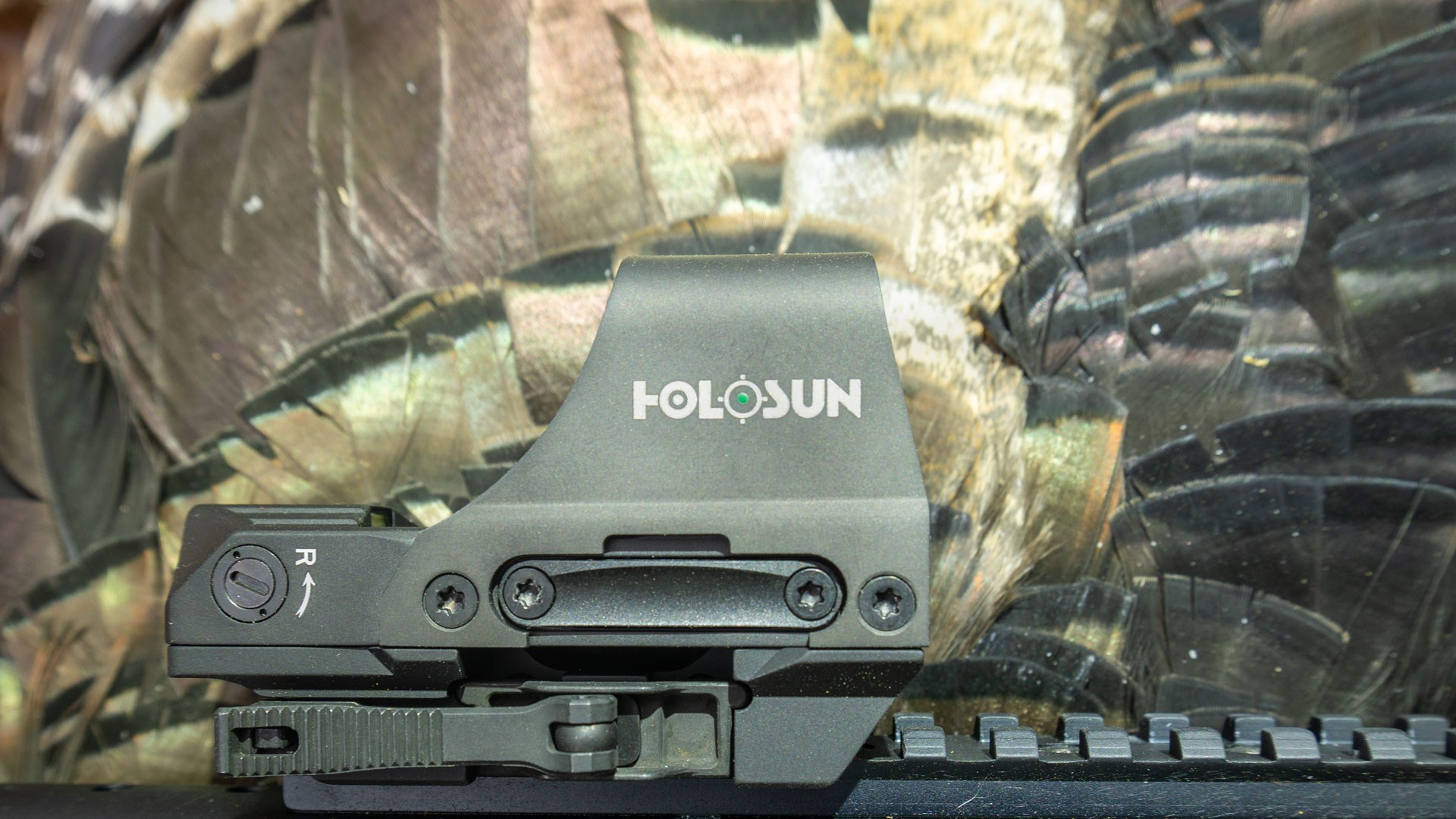 The buttons manipulated well when making adjustments, with a tactile feel and immediate response. While it is a little unfair to mention, given that several other options on this list are available in green, I did happen to have a "green dot" version of this particular sight, and absolutely love the contrast it provides. On birds, the color really pops, holding the eye ever-so-slightly better than its red counterparts, particularly on brilliant red, strutting heads. Southern hardwoods hunters be warned, though. The green is almost the exact shade of electric green our ground foliage takes on after a stiff rain, making it a little easier to lose on transition.
Even aside from the color, I really enjoyed the Holosun's reticle. The 65-MOA ring was just wide enough to make it a broader acquisition point for the more-precise dot, which I found led to quick and confident shot placement. Additionally, this was the second clearest sight on the list for my astigmatism, with no blurring on the outer circle, and only a small amount on the center dot.
Finally, while I did not have a real chance to try out the Solar Failsafe system in the field, as I always hunt with a charged battery, I did pull the battery out to test it. When I did, I was shocked to discover that the sight never lost its reticle, even though the sun was not terribly bright that day. Pretty dang neat as a system of last resort. MSRP: $364.49-$399.99; holosun.com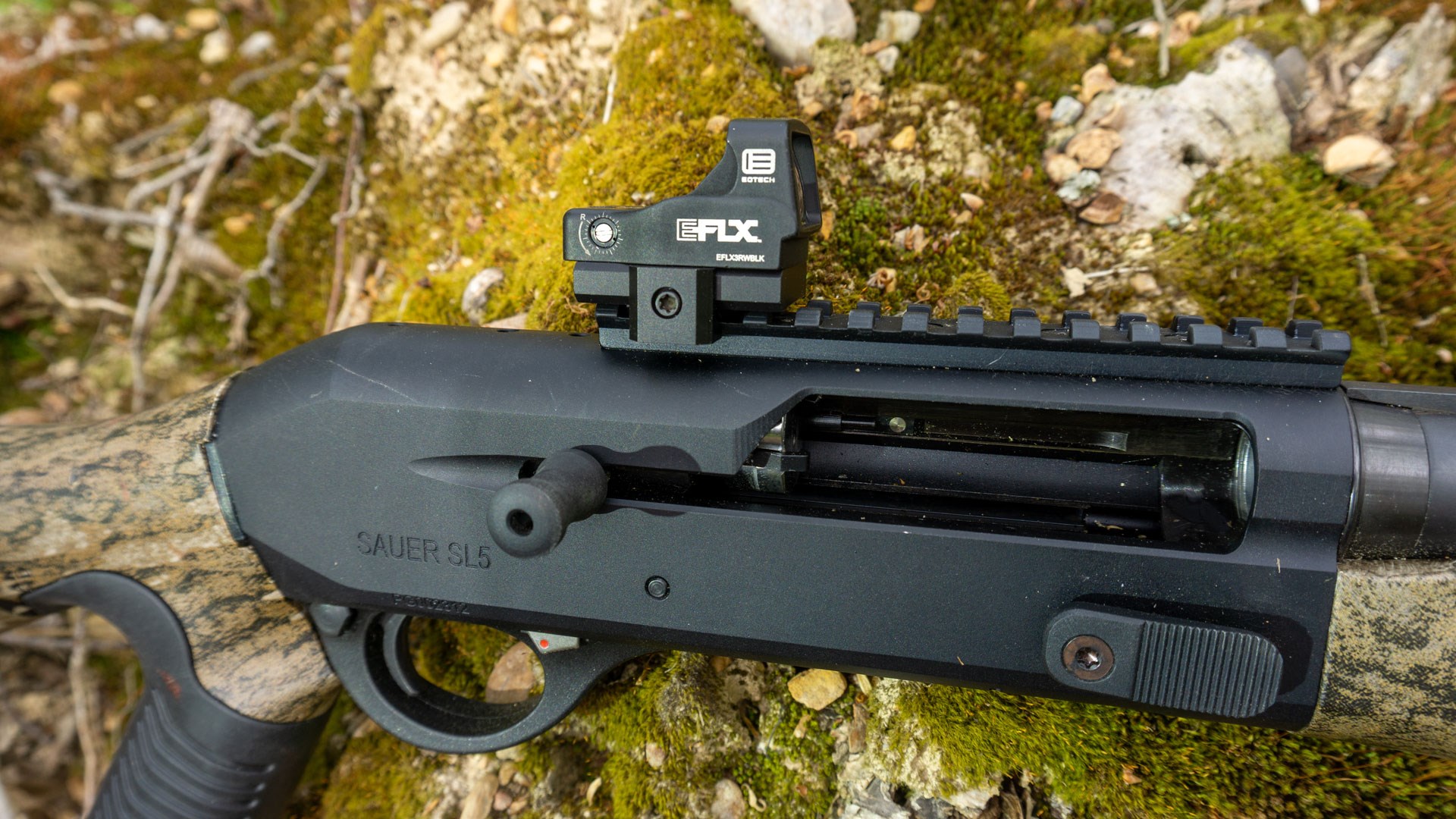 Eotech EFLX Mini Reflex Sight
Long regarded for its military hardware, Eotech has begun to push from its rifle-based focus into the world of pistol-mounted mini-reflex sights. While something like a classic 512 Holographic has always been and will always be a great choice to top a turkey gun, the new EFLX Mini Reflex Sight (MRS) drops the price point significantly, with a smaller footprint and a lighter profile that turkey hunters will appreciate. In fact, at 1.4 ounces, the EFLX is the lightest sight on this list, edging out the already lightweight SRO by .2 ounces.
Speaking of footprint, instead of utilizing its own proprietary pattern or stenciling the RMR (as many sights do), the MRS is compatible with the Leupold DPP footprint. Dots come in 3 or 6 MOA, and a top-load CR2032 provides some 20,000 hours of run time. This previous figure assumes a level-five brightness setting with the large 6-MOA dot, but there are nine brightness settings in total: seven daytime, one ultra-bright, and one for night vision devices.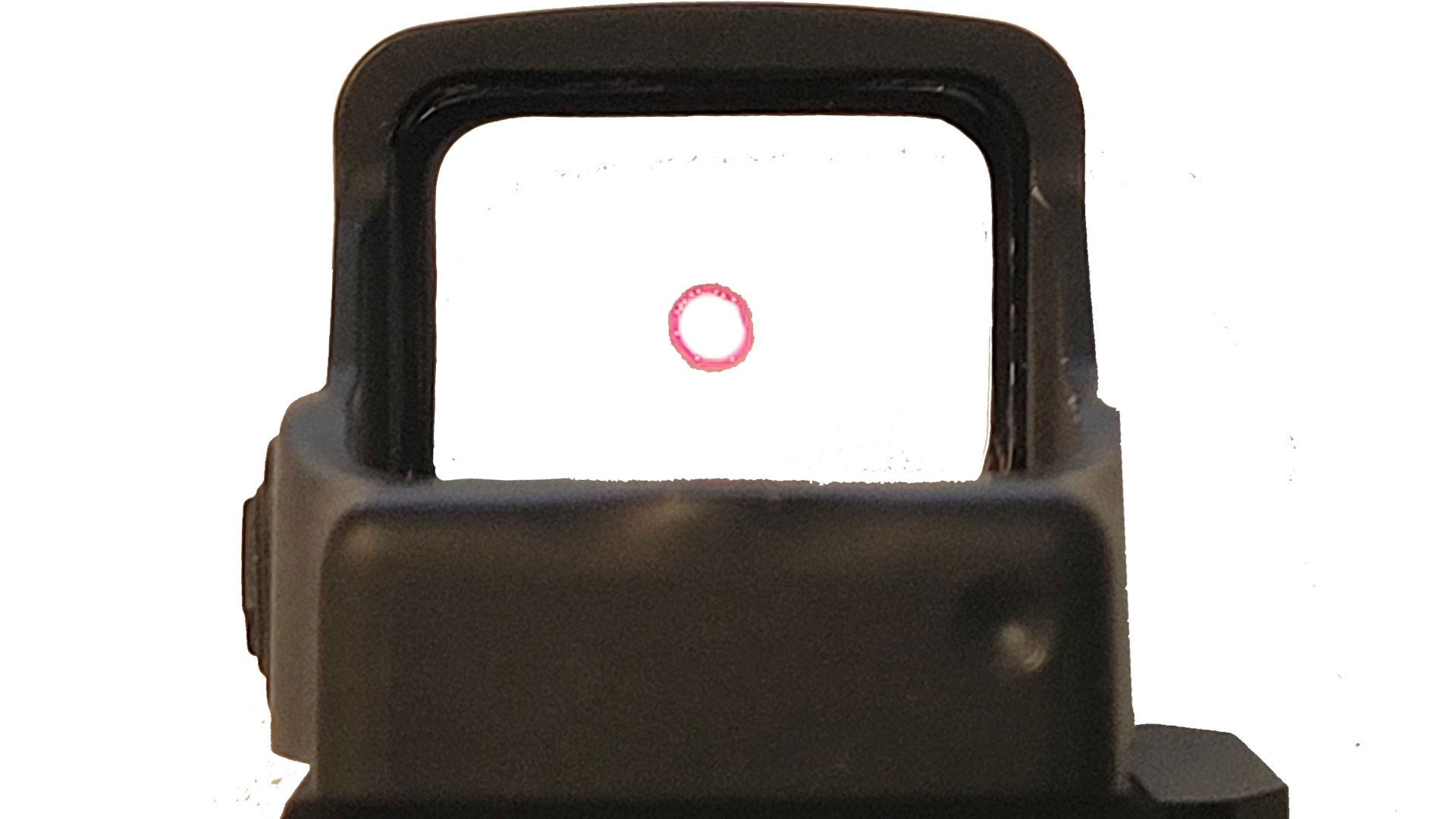 The EFLX was my favorite sight to hike with. Its diminutive dimensions and low profile mean you'll almost forget its on the gun as you hunt your way through the woods, as it rarely catches on trees or brush when you're working your way through tight spaces, but when you've got a gobbler on the line and drop your head to the comb, the dot is clearly visible and ready to find its target.
For those already accustomed to an Eotech, particularly the company's HWS, the shape of the EFLX will likely look familiar—it is essentially a scaled down version. I tested the 6-MOA variant, and found the view to be so similar that acquiring the dot was second nature from the very first time I stared down the receiver. When cranked up to maximum brightness, this sight was a standout performer in the sort of blinding daylight conditions that can wash out all but the brightest systems. My favorite part? For those used to Eotech's holographic prices, the retail value will come as an extremely pleasant surprise. MSRP: $389; eotechinc.com
The Bottom Line
When it comes down to it, all five of these sights are great choices for the turkey woods. All five of them will mount securely, hold zero through common use and kill turkeys. Which one you pick should depend primarily upon personal preference and application. Largely a backyard turkey hunter, who spends most outings in a stationary blind staring at a decoy spread? Consider affordability as a primary concern. More of a run-and-gunner, tackling rugged stretches of mountainous public land? Appraising durability as a principal factor may be wise. Pondering a dual-purpose application, utilizing the sight for turkeys in the spring, and for hogs or predators the rest of the year?  Think about its applicability across platforms, and even the potential for night-vision compatibility. Whatever you choose, it would be impossible to go wrong for turkeys with one of the models above.
I feel it would be improper to end this roundup without answering the one important question still left open, however: which sight dropped the most turkeys during my tests? The answer to that, of course, is