by
posted on February 8, 2017
Support NRA American Hunter
DONATE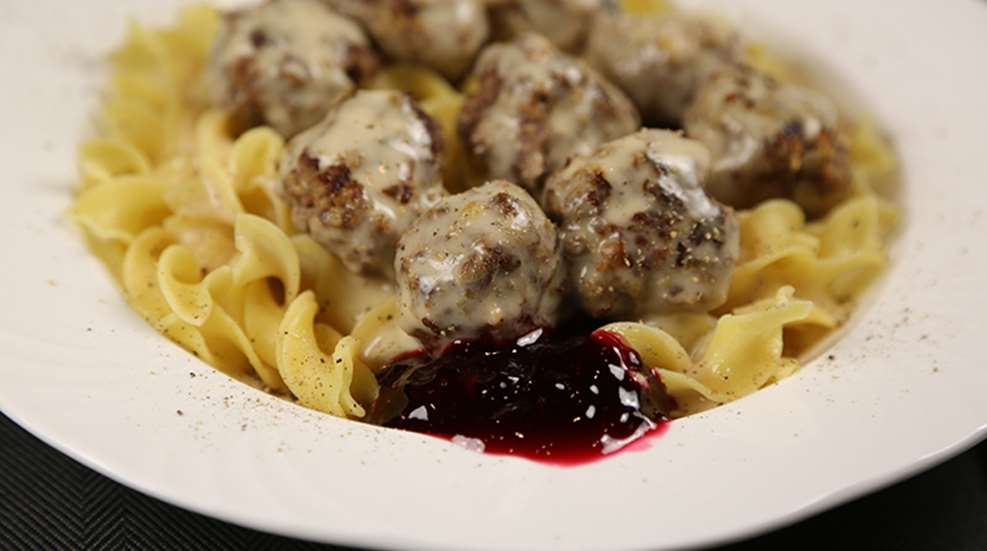 What is the first thing you think of when someone says Swedish meatballs? You wouldn't be alone if your answer was IKEA. The Scandinavian store is well known for put-together furniture projects, but anyone that has visited its cafeteria or frozen food section is undoubtedly familiar with its Swedish meatballs.
They are economically priced and people just seem to eat them up. Swedes have a long history with meatballs stretching back to the 1700s, which is strange considering there weren't any meat grinders at that time. Swedish meatballs are traditionally rolled smaller than most Italian ones, which can rival the size of an official Major League Baseball fastball. The unique part of the Swedish recipes is the meatballs were traditionally served with a cream gravy and lingonberry preserves. 
You can certainly cheat when making Swedish meatballs and go to IKEA to purchase a pouch of cream gravy mix for this dish. However, using fresh ingredients and cooking from scratch produce a much more flavorful dish in the end, and it is easy to do.
Ingredients: Meatballs
• 2 lbs ground venison
• 1 cup bread crumbs
• 1 cup milk
• 2 Tbsp butter, divided
• 1 large onion, finely chopped
• 2 eggs, lightly beaten
• 1 tsp salt
• 1 tsp ground black pepper
• ½ tsp ground nutmeg
• ½ tsp ground allspice
• ½ tsp ground ginger
• 1 cup beef broth
Ingredients: Gravy
• ⅓ cup all-purpose flour, or as needed
• 2 cups beef broth
• 8-ounce container sour cream
• ½ cup lingonberry jam (can substitute grape jelly or cranberry sauce)
Directions
1. Preheat oven to 350 degrees Fahrenheit.
2. Melt 1 Tbsp butter in a frying pan and cook onions over medium heat until translucent and slightly browned.
3. Place bread crumbs in a mixing bowl, and add milk. Mix well and let stand a few minutes until crumbs are rehydrated.
4. Place onions into a mixing bowl with ground venison, eggs, salt, pepper, nutmeg, allspice, and ginger. Mix in the bread crumbs and milk mixture and gently hand mix all ingredients together.
5. Form ingredients into 1-inch diameter meatballs.
6. Melt the remaining 1 Tbsp of butter in a frying pan and bring to medium heat before adding meatballs. Brown all sides, but don't fully cook them, leaving them pink or rare in the middle. Reserve pan for later.
7. Place meatballs in a baking dish and pour 1 cup of beef broth over them. Cover with a lid or foil, and bake for 30 minutes.
8. Remove meatballs and place on a serving dish.
9. To make the gravy, heat the frying pan up again and deglaze it with the broth used to bake the meatballs in. In a saucepan, whisk the flour with the 2 cups of beef broth until smooth. Add the deglazing juices. Bring the contents to a simmer and let thicken for 5 minutes. Whisk sour cream into gravy and add salt and pepper to taste.
10. Pour gravy over the meatballs and serve.
The meatballs and gravy can be served over egg noodles or rice, or simply on their own. For tradition, made sure to have a side of jam to eat the meatballs with.