by
posted on September 8, 2018
Support NRA American Hunter
DONATE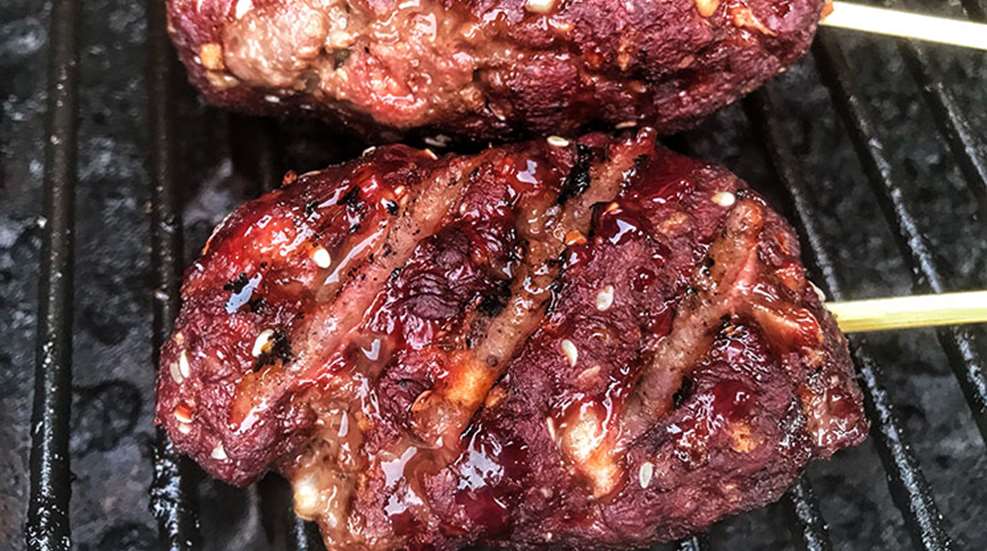 Korean bulgogi is a flavorful dish usually made with thinly sliced beef. In fact, bulgogi means "grilled meat," and with a little sesame oil and sugar in the ingredients, it is easy to get a nice char or caramelized edge. Bulgogi is traditionally made with a marinade, but here is a recipe to get the same flavors with a twist.
Thinking outside the box and taking the ingredients you would normally use as a bulgogi marinade, they were instead incorporated into ground venison to make bulgogi sticks. The garlic, sesame seeds and sugar make this recipe a natural for wild game and forming the meat mixture into sausage-shaped morsels that can be cooked and eaten off a stick make them ideal for barbecue get-togethers, hunting camp or when you don't know what to make.
They're easy to make and taste even better when you let the meat and ingredients refrigerate after combining to make the flavors pop in every bite.
Ingredients
• 2 lbs. ground venison
• 6 tablespoons soy sauce
• 3 tablespoons white sugar
• ¼ cup chopped green onion
• 1 egg
• ½ cup breadcrumbs
• 4 cloves garlic, minced
• 1 tablespoon sesame seeds
• 1 tablespoon sesame oil
• ½ teaspoon ground black pepper
Directions
1. Place the beef in mixing bowl and add soy sauce, sugar, green onion, egg, breadcrumbs, garlic, sesame seeds, sesame oil and ground black pepper. Grinding the mixture a second time will help create firm meat that will hold its shape well when cooked.
2. Roll out sausage links by hand, or in plastic wrap to help generate more pressure for compaction. Place in the refrigerator for 1 hour.
3. Soak bamboo cocktail sticks in cold water for 1 hour to prevent them from burning when grilling. Insert stick into each sausage so that it forms a handle to support the weight of the meat. Wide sticks that will insert half the length of the meat roll are ideal.
4. Preheat an outdoor grill to high heat. Place bulgogi sticks on the grill and cook each side until nicely grilled and caramelized. Cook through, about 1 to 2 minutes on each of four sides.
*Double grinding the venison will allow it to compact and form denser rolls for cooking and holding together.
**Bulgogi sticks can be made and frozen for taking on hunting and camping adventures where they can be quickly reheated without drying them out.