by
posted on July 8, 2017
Support NRA American Hunter
DONATE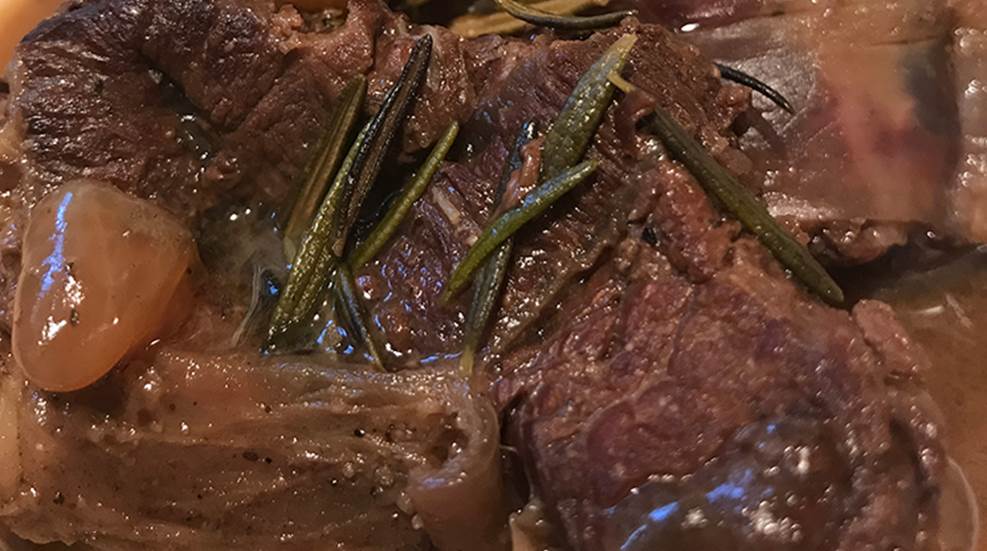 When you hear the word shank, your mouth either waters with the thought of tender, flavorful meat or turns in distorted dislike at the thought of chewy connective tissue. Braising is the technique of using both dry heat for browning, followed by moist heat for simmering to extract flavor and create tenderness. Some people would use the same process for a "pot roast," but the French word "braiser," which is where braise comes from, sounds more delectable. Italian braised meat is called Osso Buco and is traditionally done with veal or lamb.
Shanks are often cursed, as they can create chewy pieces in burger, and if you don't know how to prepare them, they are downright hard to get through. The secret is to know what shanks are made of and take advantage of their natural features. The silver and connective tissues in a shank break down into collagen and gelatin. When prepared properly, the meat is extremely tender, with rich, bold flavor. The silver will disappear, leaving pieces of meat that are fork tender. The secret is moisture in the pan and cooking at low heats for a prolonged period.
Ingredients
• 2 whole elk shanks (if doing deer or antelope, use all four)
• 4 small yellow onions
• 2 small red onions
• 6 cloves garlic, peeled
• 4 sprigs fresh rosemary
• 1 bay leaf
• 4 cups beef broth
• 2 cups red wine
• 2 Tbsp olive oil
• Salt and pepper to taste
• 2 cups diced mushrooms (optional)
• 4 celery stalks, coarsely chopped (optional)
Directions
1. Cut the shanks into 1½-inch steaks or pieces. You can do them bone in or boneless, but the bone does add flavor to the dish. You can use butchers twine to tie the shanks into servings before cutting.
2. Heat a Camp Chef cast iron frying pan to medium and add the olive oil. Place shank pieces in the pan, add salt and pepper to taste, and brown both sides.
3. Place browned shanks into a Camp Chef Dutch oven or a roasting pan with a lid. Add whole onions, garlic, and rosemary.
4. Deglaze the frying pan you browned the shanks in, by pouring the beef broth and red wine in while the pan is still hot. Use a fork to dislodge and blend the brown from the bottom of the pan, and bring to a simmer.
5. Pour the wine mixture over the shanks and add the beef broth. Place a tight-fitting lid on the Dutch oven or roasting pan, and put in the oven at 375°F. For smaller shanks, like deer, braise for four hours. Larger animals like elk, moose, or bison will need approximately 6 hours. When done, the shanks will be fork tender.
6. Serve with mashed potatoes and use the rich broth to drizzle over the meat and potatoes.
Shank Advice
Shanks and other connective tissues are often used commercially to produce collagen, which can be used as sausage casings. Gelatin is another product generated from reducing sinew, ligaments, bones, joints, and shanks.
The connective tissue in a shank takes time to cook and break down, which is why it doesn't make good burger or mince. Burger is usually cooked fast and doesn't allow enough time for the collagen and gelatin to cook out. Save your shanks for Osso Buco and chances are you'll be asking your friends to save their shanks for you too.
Summer Cooking Ideas
Cooking in the summer can be challenging with hot temperatures and high humidity. Cooking indoors can turn your house into a sauna, so consider any of your roasting or braising recipes as an outdoor activity, especially if you don't have an air conditioner.
Using a Camp Chef Pro 90, triple burner stove you can fry, bake, or braise with a Dutch Oven. A deflector shield under the oven and a heat dome over the top keeps consistent heat without hotspots on the bottom of the oven. Camp Chef also makes a Smoke Vault, which can double as an oven for baking bread, roasting or braising meat, or anything you'd do in your household oven.