by
posted on October 23, 2021
Support NRA American Hunter
DONATE
You made a pizza crust out of what? Lean ground duck mixed with some breadcrumbs, milk, egg and regular ground pork, makes a fantastic base for a unique pizza. The breadcrumbs also help bind and keep the crust from shrinking much.
Like figs, prunes, dates, and raisins, dried fruit always pairs well with wildfowl, and topping it off with the briny feta makes for a new and exciting meal, and can be made as the perfect keto recipe. It can also be made with gluten-free ingredients.
Ingredients
• 1 lb. ground duck
• 1 lb. regular ground pork
• ¼ cup breadcrumbs
• ¼ cup milk
• 1 egg
• 1 tsp salt
• ½ tsp garlic powder
• ½ tsp black pepper
• ½ tsp onion powder
• 6 dried figs, diced
• 6 prunes, diced
• ¼ cup seedless raisins
• 1½ cups crumbled feta cheese
• ½ cup cheddar or mozzarella, shredded
• parmesan to taste
• fresh herbs, chopped
• ⅓ cup sweet barbecue sauce (a sweet or fruit-based barbecue sauce is ideal for this recipe)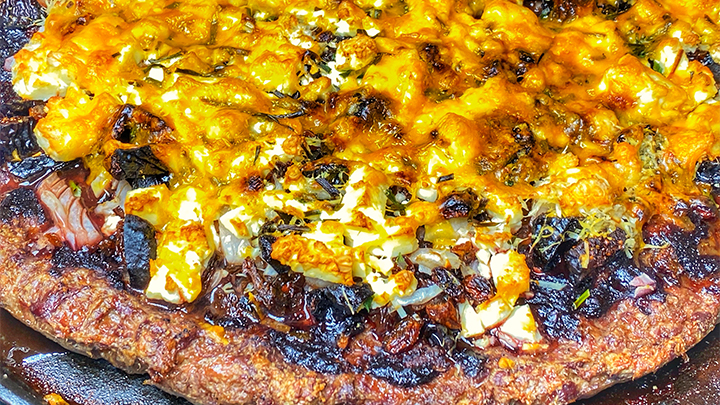 Directions
1. In a large bowl, combine the ground duck and pork, breadcrumbs, milk, egg, salt, garlic powder, black pepper and onion powder, and mix ingredients until uniform.
2. Place the meat on a large pizza pan (Camp Chef cast iron pizza pan preferred) and press it out to the edges until it forms an even layer. Use your thumb to build a raised edge, as with regular pizza dough.
3. Preheat the oven to 400°F and cook the meat crust for 15 minutes. Drain off any excess moisture or blot with a paper towel.
4. Brush a generous layer of barbecue sauce over the meat crust. Add the dried fruit with even spacing, and top with feta and cheddar cheese, and fresh herbs. Place the pizza back in the oven for 10 minutes. If the cheese does not brown, broil for 2 minutes to complete.
5. Remove the pizza from the oven and let it rest for 3 to 4 minutes before slicing and serving.
For more delicious wild-game recipes, click here.