by
posted on December 11, 2021
Support NRA American Hunter
DONATE
Most waterfowl hunters are familiar with duck or goose poppers. The recipe has different renditions, but most include jalapeño peppers, cream cheese, bacon, spices and duck cut into strips. The peppers are cut in half and stuffed with spiced cream cheese and marinated duck, then wrapped in bacon and cooked until golden brown. The poppers can be grilled, smoked or baked in the oven.
Deconstructing a popper, this receipe uses the same ingredients to make a spicy, creamy pasta sauce. If you are a fan of traditional poppers, this meal is sure to please.
Ingredients
• 6 large duck breasts, skinless
• 2 Tbsp olive oil
• 1 tsp sesame oil
• 1 clove garlic, crushed
• pepper and seasoning salt
• 4 jalapeno peppers, seeds removed and diced
• 8 ozs. cream cheese
• 8 strips of bacon, diced
• 1 cup cream
• 1 lb. dried pasta (bowtie or penne)
• fresh parsley, chopped fine (optional)
• cracked black pepper (optional)
Directions
1. Slice each duck breast in half across the meat grain. Then, slice ¼-inch strips with the grain.
2. In a sealable container or bag, add the olive oil, sesame oil, garlic, pepper and seasoning salt. Place the duck strips into the container, seal and shake well to coat all of the duck. Leave at room temperature while preparing the rest of the recipe.
3. Prepare the pasta as instructed on the package. It should be ready at approximately the same time as the duck and sauce.
4. In a large Camp Chef cast-iron frying pan, brown the diced bacon over medium heat. When the fat starts to render, add the diced jalapeños. When the peppers start to soften, add the duck strips and cook for three minutes.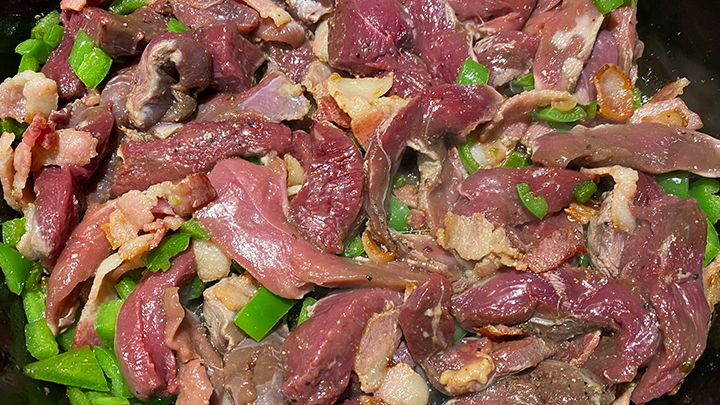 5. Cut the cream cheese into small pieces and add it evenly to the pan. Stir to get the cheese to melt into the rest of the ingredients. Add the cream and bring to a simmer for three minutes.
6. Serve the pasta in individual bowls and top with the duck popper sauce. Garnish with fresh parsley and cracked pepper.
For more delicious wild-game recipes, click here.