by
posted on June 5, 2021
Support NRA American Hunter
DONATE
Large ducks like pintails, mallards and gadwall, provide lots of protein to feed a family or hunting camp. Breasts are often removed skinless, and finding a way to maintain the right texture and flavor when cooking can be a challenge.
Curry is aromatic, and the smell could make someone think that the spices would overwhelm any protein cooked in it. However, duck is robust and stands up well, keeping its identity in a curry dish.
The duck is cut into small pieces, cooked with a curry paste, then coconut milk and chicken broth are used to simmer the birds until fork tender. Served on a bed of long-grain rice, the curried duck could quickly become your favorite aromatic fowl recipe.
Ingredients
• 6 large duck breasts
• 3 cloves garlic, crushed
• 6 sprigs thyme
• 1 Thai chili pepper, pierced
• juice of 1 lime
• 1 tsp salt
• 1 medium onion finely chopped
• 1 14-oz. can coconut milk, or cream
• 1 cup chicken broth
• 3 Tbsp canola oil
• 3 green onions, finely chopped
Curry Paste
• ¼ cup curry powder
• ½ tsp cumin
• 1 tsp garam masala
• 3 cloves garlic, crushed
• 5 sprigs thyme
• 3 Tbsp water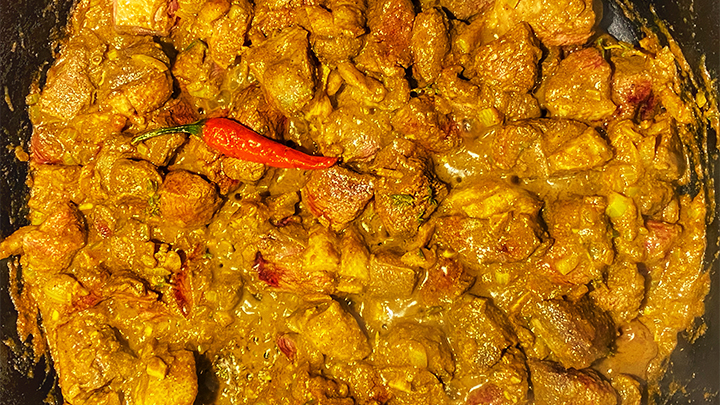 Directions
1. Place duck in a bowl and add garlic, thyme, scallion, Thai chili pepper and salt. Mix evenly. Squeeze the juice of one lime over the top. Add just enough water to cover the duck. Place in the fridge and let marinate for 12-24 hours.
2. Make a curry paste by adding the curry powder, cumin, garam masala, garlic, thyme and water. Stir gently until the paste forms.
3. In a deep Camp Chef cast-iron frying pan over medium heat, add canola oil. When the oil is hot, stir in the curry paste and onion. Cook for 7-10 minutes, stirring frequently. If the mixture sticks to the pan, add a tablespoon of water at a time until the mixture loosens.
4. Add the marinated duck to curry paste and stir to coat—Cook the mixture for 15 minutes on medium-low heat without adding any liquid.
5. Add the coconut milk and chicken broth to cover the duck. Use more than one cup of broth, if required. Bring the mixture to a boil, then lower heat. Simmer with a lid on for an additional 30-45 minutes or until the duck is tender.
6. When the duck is tender, remove from heat and garnish with chopped green onion. Serve over a bowl of long-grained rice, such as Basmati.
For more delicious wild-game recipes, click here.