by
posted on January 9, 2021
Support NRA American Hunter
DONATE
Waterfowlers sometimes overlook the flavor and volume of meat on the legs and thighs of ducks and geese. Hunters that have embraced taking the swimming and walking gear find they will quickly become a favorite.
Large ducks like mallards, pintails and gadwall have as much meat on their legs and thighs as they do on one breast. When cooked properly, they are tender, juicy and delicious. Legs can be skinned, but for extra flavor, pluck the legs and thighs so that the fat and skin remain attached.
Chicken wings and dry garlic ribs are staples at the pub but can also be made into a meal. If you like spicy wings and dry ribs, you'll love this combination of ingredients on duck legs. Crunchy and well seasoned, serve with carrot sticks and celery, like at the pub, or round out a meal with fries and coleslaw.
Ingredients
• 8 large duck legs
• ¼ cup cayenne pepper sauce
• 2 Tbsp flour
• 1 Tbsp cornstarch
• 2 tsp garlic powder
• ½ tsp black pepper
• 2 quarts frying oil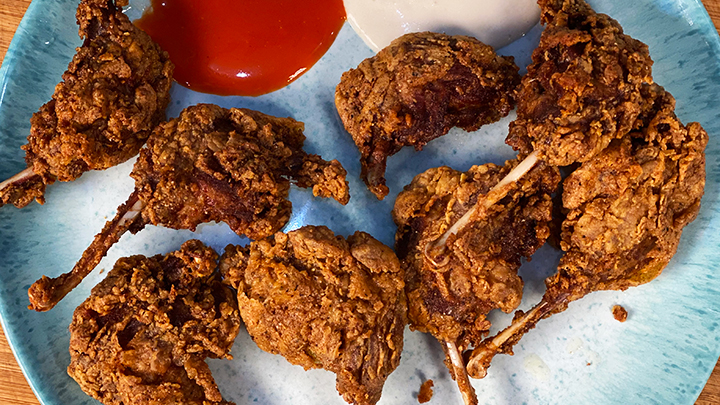 Directions
1. Place duck legs in a plastic bag and pour pepper sauce over. Shake well to coat the legs.
2. Place flour, cornstarch, garlic powder and pepper in a plastic bag and shake to mix. Add the duck legs coated in pepper sauce and shake again until the legs are coated with the dry ingredients.
3. In a 10-inch Camp Chef Dutch oven or another suitable vessel for deep frying, heat oil to 360°F. Gently place the legs one at a time into the hot oil and cook for 5 minutes. Use tongs to keep legs separated.
4. Remove legs and place them on a paper towel to drain for one minute. Serve with hot sauce, ranch or blue cheese dressing.
For more delicious wild-game recipes, click here.