by
posted on June 22, 2019
Support NRA American Hunter
DONATE
Spring has sprung, and waterfowl hunters either have fresh snow goose to prepare meals, or they're searching the corners of their freezers for any remaining ducks harvested last fall. A steaming pot of gumbo is a wonderful way to utilize any ducks or geese you still have hidden away.
Gumbo is a creole dish that is recognized as the official dish of Louisiana. Some gumbo is thickened with a roux, and or okra. Classic gumbo is made with what the Cajuns refer to as the Holy Trinity of vegetables, being celery, bell pepper, and onion, but there are lots of variations that still taste incredible. This recipe would be considered a hunter's gumbo, as it doesn't contain celery or seafood.
This recipe is ideal for those that pursues big game and waterfowl, as you can use a spicy, smoked venison sausage with the duck for the ultimate hunter's meal. One of the best things about making gumbo is that it is easy to prepare, and a long simmer does the rest of the work.
Ingredients
• 4 skinless, boneless duck breasts, cubed to 2-inch pieces
• 1½ cups buttermilk
• Salt and pepper to taste
• ¼ cup vegetable oil
• ¼ cup flour
• 1 large yellow onion, diced
• 1 large green bell pepper, diced
• 2 large shallots, diced
• 5 cloves garlic, pressed or minced
• 3 cups beef stock
• 4 bay leaves
• 2 teaspoons Worcestershire sauce
• 1 teaspoon dried thyme
• Pinch of cayenne pepper
• 10 oz. frozen, sliced okra, thawed
• ¼ cup tomato paste
• 1 28-oz. can diced tomatoes
• ½ lb. spicy smoked sausage
• ¼ cup fresh parsley, chopped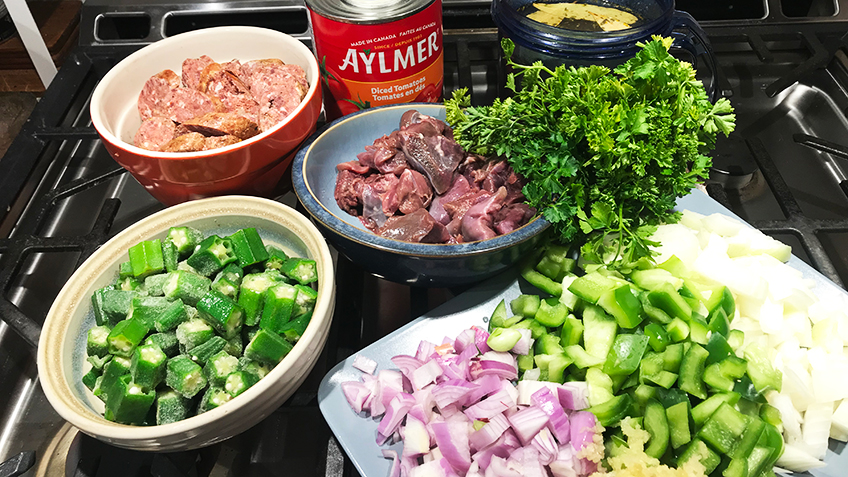 Directions
1. Soak duck in buttermilk for one hour or up to overnight. If you don't have buttermilk handy, pour milk into a bowl and add 2 tablespoons lemon juice, then stir and let stand a few minutes.
2. Rinse duck. Heat oil to medium-high in a large Camp Chef Dutch oven or other heavy-bottomed pot. Add duck, season with salt and pepper. Cook until duck is browned and then set aside.
3. Whisk the flour into the oil, and cook for 2 minutes, stirring constantly.
4. Reduce heat to medium, then add onion, green pepper, shallots and garlic and cook for 5 to 10 minutes, until the onions are tender. Add the stock, bay leaves, Worcestershire sauce, thyme, cayenne, okra, tomato paste and tomatoes. Simmer for 20 minutes, stirring often.
5. Add the duck and sausage, and simmer uncovered for about 40 minutes, until duck is tender and gumbo has slightly thickened. Stir in parsley just before serving. Serve over rice cooked with a ½ teaspoon of turmeric.